REDDCOIN: Replacement for Social Media Like Button
Reddcoin is consolidating much like the rest of cryptocurrency. They all follow bitcoins movement unless there is some dramatic news that can serve as a catalyst. We did see a fairly strong move in Feb 2018 after being listed on the Korean Yobit exchange but has since faded following the fate of bitcoin.
However, Reddcoin is currently being used by content creators and you can check the sign-up rate on Twitter's Reddcoin Tipbot where members can sign up for a wallet and accept tips and contributions. There are over 20 thousand members who have already signed up for the twitter wallet and that number should continue to increase.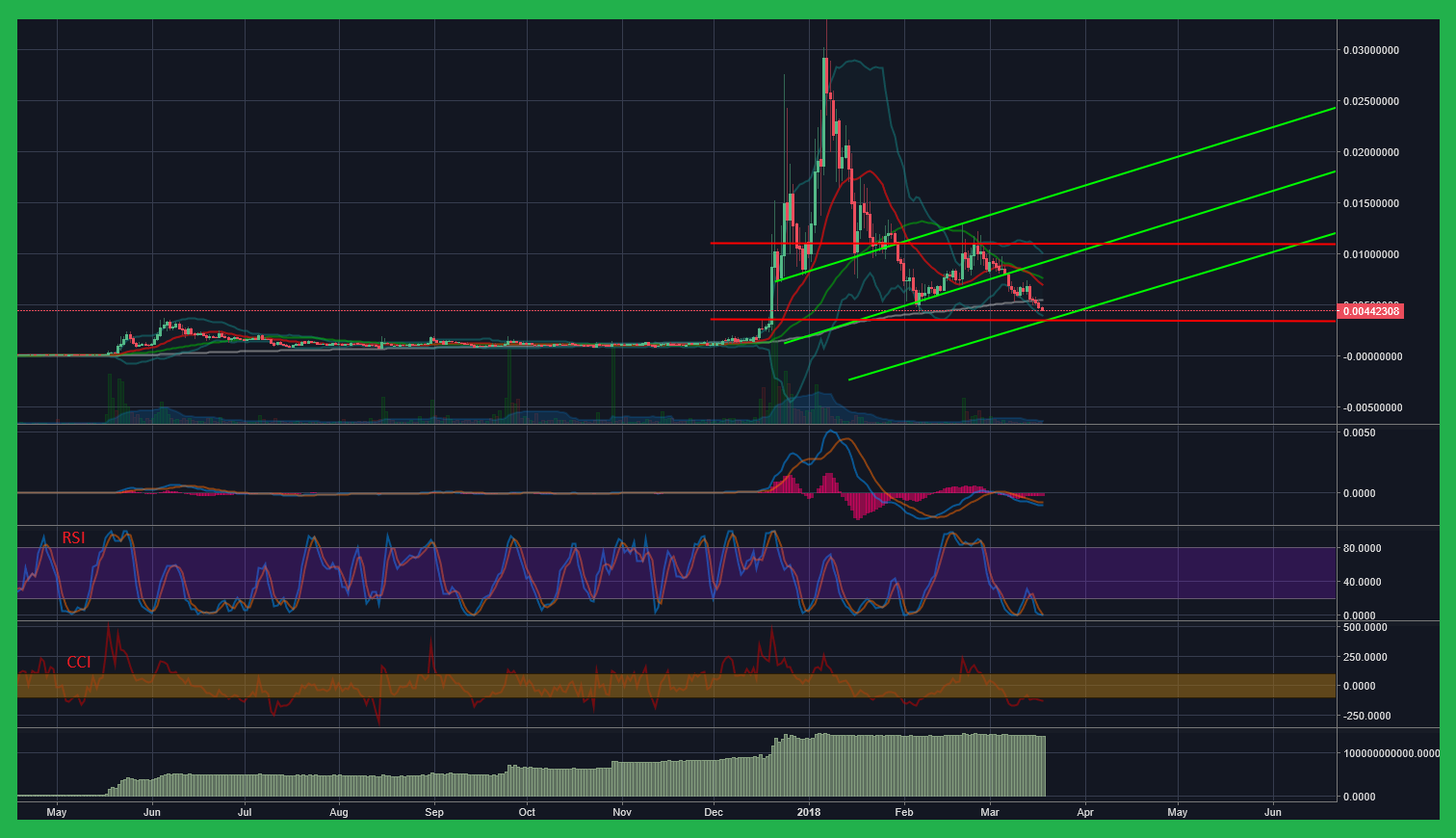 Looking at the chart, it doesn't look too promising at the time of this post as the 200 day moving average didn't provide much support and was quick to break that level to the downside but should be able to test that area again.
From here, it can move sideways in the red channel or upwards in the green channel. Even a move in the lower half of the green channel would be a good sign that this won't just implode. I expect it to move in the red channel for the foreseeable future and hope that it can switch path into the lower green channel. If it goes back up to the upper green channel, we can certainly argue that crypto's parabolic movements are back.
The next parabolic move can be supported if a social media platform like facebook or google's youtube implements it on their site. It's a big if but the revelation of Steemit may have now spoiled the big content creators and I'm sure they'll continue to find paths to further monetize their work.
If you're new to investing in cryptocurrency, Coinbaseis the easiest way to get started. Using the link will help support new posts and you'll get $10 bonus for signup.
DISCLAIMER: All statements and expressions are opinions, and not meant as investment advice. Information provided in this post is not personal investment advice and should be used as informative or entertainment purposes only. Seek guidance from a professional investment advisor or due your own due diligence before trading or investing.