PixelProperty.io - White Paper Overview - Income Model (Part 4)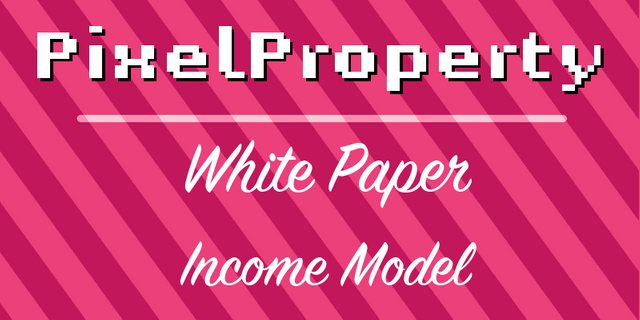 Today we're going to break down the income model section of our white paper and explain how our developers will receive funds in a way that is in the best interest of our users. We've seen many projects abuse users, and wanted to create a system which inherently gives users confidence in us.
If you are looking for information on the PXL and Property tokens distribution model, we suggest reading the PXL and Property Distribution overview.

Mining & ICOs Flaws
In the cryptocurrency space, a coin or tokens distribution model is also the developers source of income. Many different methods have been tried, each with their own pros and cons. Bitcoins system divided users, miners and developers, creating a misalignment interests, giving users the lowest share of the coins and the least amount of power. Ethereum and the ICO model improved user experience in certain aspects, however it allowed for abuse by richer users, while turning the platform into a "stock like" investment system which may have legal consequences for users. It also gave funds to developers at coin and DApp launches, lacking in financial incentive for future ongoing development.

Our Desire
We wanted to create a income model that favoured every day users. One which rewards our developers based on product adoption, rather than minimum viable product completion. A system which supports ongoing development and allows for us to achieve our long term roadmap items, such as the development of the live updating billboard.

Short Term Funding
Our initial income comes from the sale of system-owned Properties. Early on, the system price is low to incentivize investors. The 10,000 properties for sale increase in PXL or ETH system prices with every system-property purchase.
Long Term Funding
To sustain future payments, we make a sustainable long-term income through a 2% fee on all property sales between users. This small fee is taken from the seller's cut. There is no fee for simply transferring property ownership, only for listed and completed sales.

Explanation
PixelProperty was designed so that users and owners generated PXL based on canvas usage, however the PixelProperty Team is paid based on Property purchases and sales. Both initial system-Property sales and sales between individual users pays towards development.
This decision was made because the canvas and DApp does not require properties to be purchased in order to function. Users can play with the canvas, and generate rewards without us ever receiving funding. Properties are essentially an optional part of the system which enriches a users experience if they choose to buy it. This was designed intentionally, as it aligns our financial success as the PixelProperty Team with the overall success of the PixelProperty ecosystem.
We only get paid if users decide to optionally buy more features in an otherwise free-to-play game.

If you have any questions about our white paper or PixelProperty in general, feel free to leave a comment below!