Justin Jovanovic Has Joined PECUNIO's Advisory Board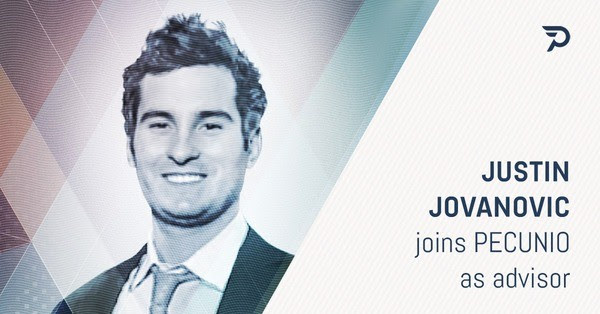 Hello PECUNIO fans!
It is with great pleasure that we announce the latest addition to our Advisory board: Justin Jovanovic.
Take a look at a recent email from our CEO, Reinhard Berger, for more info:
Dear PECUNIO member,

I'm delighted to announce that Justin Jovanovic has joined PECUNIO's advisory board.

Justin is the Chief Operating Officer of investFeed - the leading cryptocurrency social network – powered by over 105,000+ crypto specific investors and enthusiasts since transitioning into Beta in January 2018.

Justin has been a part of several successful ICOs, including investFeed's, and has a passion for progressive decentralisation and blockchain innovation.

Previously, Justin had a lengthy career in traditional equities, specifically supervising risk management for several US proprietary trading groups in addition to creating and operating a disruptive software and event ticketing business.

Justin will add a lot of value to our advisory board and we are looking forward to a great partnership!
For the latest insights about PECUNIO join us on Telegram!
Kind Regards

DI Mag. Reinhard Berger MBA
CEO of PECUNIO
Our ICO starts in less than a week!
At PECUNIO, our mission is to bring cryptocurrency investing to everyone. With our revolutionary gold-backed token and our easy-to-understand crytocurrency funds, we hope to make that dream a reality.
Coming off the success of hitting our $4.5m hard cap for our pre-ICO, we would like to invite you to participate in our main sale which is starting very soon. For more information, please head over to our website.
Also be sure to join our Telegram chat for the latest news as it develops!