MobileBridge Momentum ICO Review - Next Generation Loyalty Program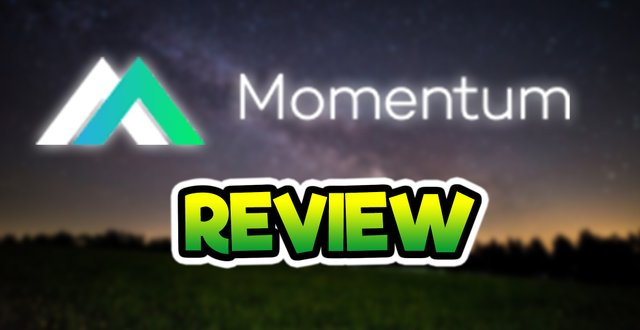 Introduction
More than new customers coming to purchase products or avail of services from a business, loyal patrons are more important because they also serve as a walking advertisement for establishments. They wouldn't keep on coming back if they were not satisfied right? That is why loyalty programs are such a big market nowadays which is expected to be valued at more than
$500 billion USD annually
. However, most of the loyalty programs take up so much of a client's time and effort that they lose interest in them. In fact, in North America alone, rewards points amounting to an estimated $100 billion USD remains unused and unclaimed because of the complicated nature of redeeming rewards.
In today's article, we will be talking about a project that aims to revolutionize traditional marketing and the loyalty and rewards industry with the aid of the blockchain. This is the Momentum ICO.
 

What is Momentum?
Momentum is a blockchain-based platform that aims to reward customers with cryptocurrency by patronizing a product or advertising it to other people. In the Momentum platform, business owners or merchandisers are allowed to create their own unique branded crypto-token which they can use to reward their clients. This is a good move in lieu of reward points because tokens earned can be exchanged with other branded tokens and can be used to pay for purchases or services. Customers will become more motivated than ever to support a brand by means of purchasing or spreading awareness about it because the crypto-tokens given as rewards have real monetary value, unlike reward points.
Aside from clients earning crypto-tokens, Momentum also gives great values to the retailers themselves as they won't have to spend as much on their marketing strategies. Real-life experiences and reviews from their consumers will serve as a better advertisement because they are the ones who can really attest and give an unbiased review as to the quality of their products. Also, this will allow retailers to get to know and build a long-lasting relationship with their valued clients by collaborating with them and using the clients' experiences as an important tool in developing their product.
What makes it better than existing rewards platforms?
Competing with the Momentum platform and other blockchain-based rewards platforms that also rewards consumers by patronizing a product from an affiliated retailer. However, Momentum has an edge amongst other because it not only rewards consumers by purchasing products but also by promoting or advertising a product to other people. Supporters of a product will be given a chance to earn cryptocurrencies without spending on purchases as he/she can simply write reviews or spread awareness about it. Also, unlike other companies conducting ICOs nowadays, the MobileBridge Momentum is an already established company which has been in operation for more than 15 years. Compared to others who have not yet found a solid reputation, Momentum is definitely and obviously the better choice when it comes to blockchain-based marketing and rewards platform.
MobileBridge Momentum ICO
MobileBridge Momentum is conducting an ICO to introduce the Momentum token which will serve as the main currency inside the platform. The Momentum token is an
ERC20 standards-based utility token
from the Ethereum blockchain. Branded tokens rewarded to customers can be exchanged into the Momentum token which can then be traded with other cryptocurrencies or converted into fiat as the owner decides.
The Momentum tokens or MMTM will have a fix total supply of 1 billion wherein 50% amounting to 500 million tokens will be available for the token sale. A soft cap of 2.5 million Euros and a hard cap of 42 million Euros have been set for this Token Generation Event. Each MMTM will have a price of 0.10 Euro or around $0.12 in USD. All < style="text-decoration: underline;">unsold tokens after the ICO will be burned to support the demand of the tokens in the future.
Team
The team of Momentum is the kind of team all of us wish were behind all our investments. They are all experienced professionals with years and years of experience in various fields such as E-commerce, technology, sales and management and many others.
The CEO Kees de Vos has over 15 years of experience in global leadership including the partnership with some of today's biggest retailers such as Walmart, Tesco, and Argos. This is just an excellent example of what the team is made up of and what they can do in order to actualize the vision and mission of the Momentum platform.
 

Video Review