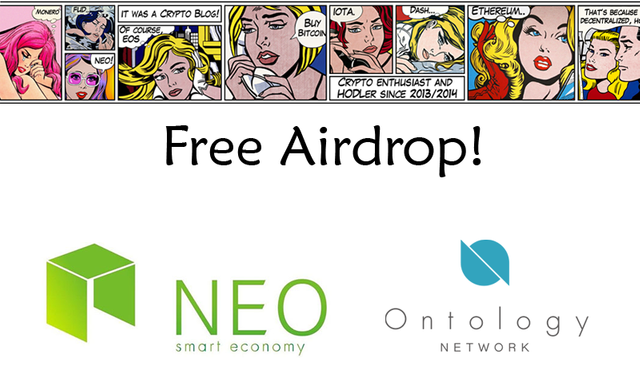 Ontology, the blockchain being developed next to NEO by the parent company OnChain, has announced that they will be dropping 20 million ONT tokens to holders of NEO. These will be airdropped and a snapshot will be taken on March 1st 2018 to determine who gets airdropped.

ONTOLOGY
NEO is the open source blockchain created by the parent company OnChain. However, OnChain is
also
developing the Ontology blockchain which is meant for corporations who desire a private blockchain that is interoperable with the NEO blockchain. Ontology will allow companies to create private blockchains whose contents are not publicly visible - a key component that many corporations desire.
In essence, you could say that NEO and Ontology complement eachother in the smart economy ecosphere. In many ways projects will develop tools on both networks. An example is the TheKey (TKY) token, which will be using elements from the NEO blockchain as well as the Ontology network to provide a digital identification solution that can be used by both. As you can start to see, NEO's plans are much wider than just NEO and there is actually a pretty wide vision for the future.

AIRDROP
Many NEO investors were confused when they discovered about the Ontology project, and many feared that these are two competing blockchains. To support a joint ecosystem the Ontology project has decided to hand over a significant portion of the ONT tokens to be managed by the NEO council. The NEO council has in turn decided to airdrop the tokens to the NEO holders.
On march 1st 2018 a snapshot will be taken of the NEO blockchain. Every private wallet which holds NEO on that moment will receive the ONT airdrop. Each NEO will be aidropped a total of 0.2 ONT tokens, of which 0.1 become available immediately and the other 0.1 will be locked up and made available at a later stage. So if you own 10 NEO you will automatically get 1 ONT when the airdrop occurs, and another 1 ONT later on.
Usually airdrops are 'shitcoins' trying to market, and usually you're best off just selling them as soon as possible. But in the case of Ontology tokens I would advise a different approach. ONT is actually a very promising token and is likely to appreciate in value over time, just as NEO is. Holding ONT is more or less the same as holding NEO, as both projects are closely interlinked and dependent on eachother. You're basically investing in the NEO ecosphere by investing or holding ONT. And if you believe NEO's future is bright, then you should hold on to these ONT tokens too.
All private wallets holding NEO will receive the airdrop. Kucoin also announced they will be distributing ONT tokens to NEO holders on their exchange. Other exchanges may follow, but may also not. If you want to be sure to receive these tokens, be sure to put your NEO on a private wallet before the snapshot date.

I think it's pretty cool of Ontology to airdrop these tokens! Ethereum was great to hold last year because of the airdrops, but they seem to have dried up. NEO seems to be the new go-to place for exciting airdrops and such, and I'm very happy about that. It only adds to the excitement that is already very high in the NEO ecosphere. I've never regretted holding NEO yet, and only am loving the project more as time progresses.



(Art by Roy Lichtenstein)