Binance rapidly turning into Bittrex 😞Lots of new issues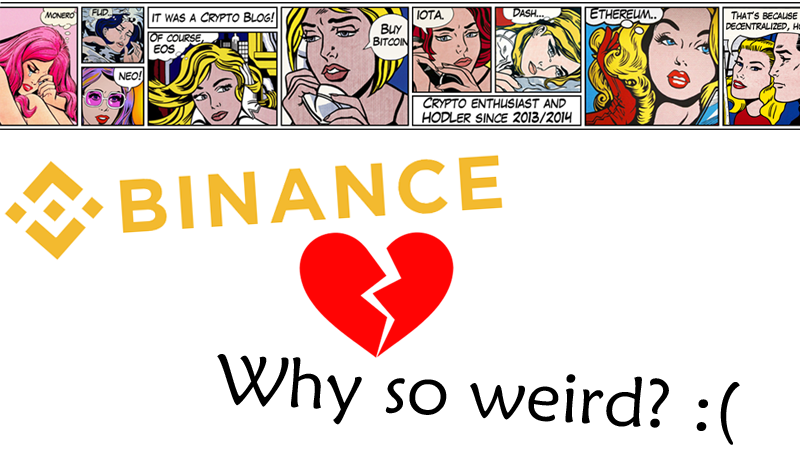 It wasn't too long ago I promoted the Binance Exchange as a better option than Bittrex. Not long after I also discovered some of the downsides of the exchange. Now, it seems as if many of the things that attracted me to Binance in the first place no longer apply.

THE OLD PROBLEMS
I pointed out the problems on Binance with collecting 'dust', regarding the fact that Binance will often only let you trade full coins, however if you purchase them without having BNB tokens you don't actually get a
whole
coin because of the fees, resulting in an untrade-able coin afterwards. This can be avoided by purchasing the BNB tokens first, but this is quite a costly thing in itself too (which kind of negates the trading discount it offers).

Secondly, I also reported in the same post that they seem very quick to suspend their wallets and make it so you cannot withdraw due to maintainance.

NEW PROBLEMS
Now, it seems there are new downsides to using Binance. I was first most excited about their low fees, and
especially
the low withdrawal fees. I like to withdraw to my private wallet, so the 0.0005 BTC fee as opposed to the 0.001 BTC fee on Bittrex was very appealing! It seems now, they have silently changed the withdrawal fees to match those of Bittrex.
In some cases the fees are crazy currently. For example it costs 5 ENG, which is about $20 to withdraw Enigma. Overall, don't be surprised if it costs you atleast $10 and up to $30 to withdraw a single type of crypto. Even if the transaction fees aren't nearly that high on the network (keep in mind Binance bundles transactions to save on costs, too).
Not only that, they have also secretly increased the minimal trade amounts! Where before it was possible to trade a minimum of 0.001 BTC they have upped it to 0.002 BTC, and the same goes for ETH which was tradeable for 0.01ETH and now requires you to trade 0.02 ETH. It has caused some traders who trade in smaller amounts to get 'stuck' on trades which they can now no longer sell without adding more money to their account first, and which they cannot withdraw due to the high withdrawal costs.

Additionally, I've read reports that the BNB trading pairs on Binance have had their minimum buy amount highered. This user on Reddit mentions how he cannot buy less than 5 BNB ($80) if trying to buy with IOTA.
Lastly, just like Bittrex and other exchanges, Binance has temporarily closed down new account registrations.

THE NEW COMPETITION
Additionally, it seems Binance is quickly losing ground as the 'go-to' place for the latest cryptocurrencies. Kucoin.com is rapidly growing and adding new coins faster than Binance is. There are crypto's on Kucoin of which I have no idea when they'll ever get added to Binance: it seems that Binance has slowed down to about 1-3 new coins a month, whereas the amount of new crypto's is only growing.

Not only does KuCoin offer crypto's Binance doesn't, it also has NEO-based trading pairs which is nice for NEO hodlers.

The only real benefit to Binance that's left for me is the lower trading fees. And since I only trade a little bit now and then, that is not really significant to me. I guess I am just a little bummed out on the fact that I choose Binance for the low withdrawal fees, but now face high or even higher fees at the time when I wanted to make use of the low fees. There are some crypto's that Binance offers that other platforms don't, but most of them you can find elsewhere too.
I must admit that the recent developments surrounding Binance have made me less of a supporter of the platform. I feel like they're using some very weird tricks and loopholes that are costing users money one way or another. There is also very little communication from the team about all of this.
I guess as usual: don't keep your funds on the exchange. There's fishy stuff going on, in all of them it seems. Too bad it's so costly to withdraw and I am getting the feeling that no matter what I do, at the end there's going to be $10-15 worth left on the exchange that I won't be able to get out.
I can't help but wonder: Binance, why so weird? :(

(Art by Roy Lichtenstein)