Crypterium is Going to Revolutionise the World of Banking
Sweeping away the arcane and outdated modus operandi of the old institutions and replacing it with a bright, new and shiny, low cost, efficient, BlockChain version of 21st Century banking. It's so full of stand out features which set it apart from others trying to emulate a similar framework, it's going to take a bit of explaining. It's a democratic and inclusive model and one for the people. You definitely can't say that about the old guard. Seamless integration from fiat to crypto conversion is one of the major obstacles to mass adoption at the moment. Crypterium solve that with their total integration strategy. This is not Bitcoin. This is the beginning of something much bigger.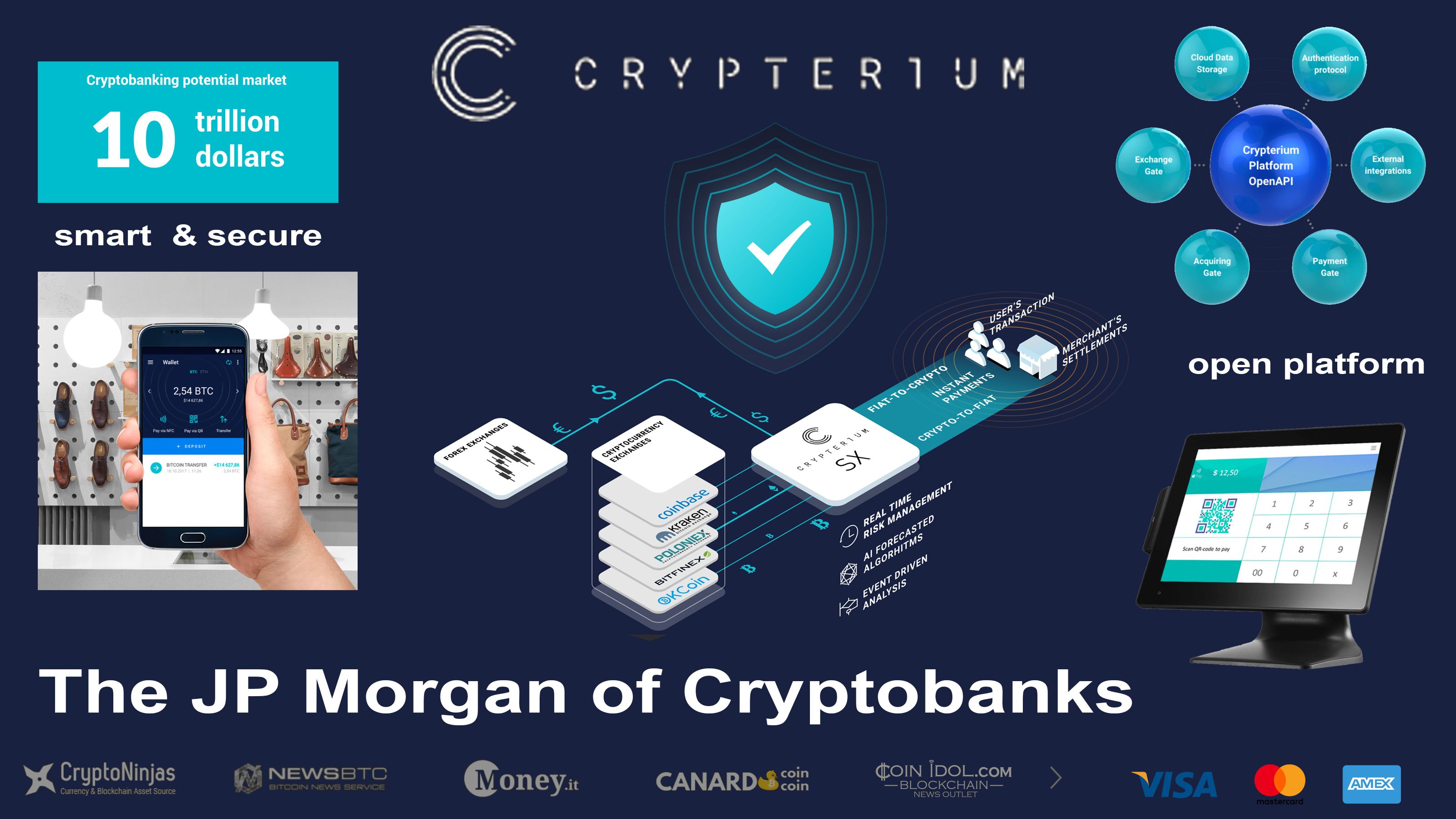 Potential Market
Cryptobanking has an enornmous potential market of 10 trillion dollars. To put that in perspective, the market cap on all cryptocurrencies today 21.12.2017 (the shortest day of the year), including bitcoin is (was) about 5% of that potential market. $601,847,461,356 / £450,002,961,917 / €507,013,837,162
How Will they Achieve this Amazing Transformation?
A no limits virtual card with a mobile payment system working across 42,000,000 stores, integrating with Paypal, Wechat and PayTM, etc. You will also be able to use contactless, ApplePay, SamsungPay, AndroidPay and you will be able to split that lunch bill, buy the new t-shirt or pay for your custom Yacht / Beach Condo / Private Island with your hard earned money at the flick of a swipe on your mobile screen. Up to 30% of Crypterium's transactional income will be shared as a loyalty reward between token holders and active users. Profit share banking ? Sounds positively BlockChain Revolutionary to me. Flawlessly performed by Smart Contract. CRPT tokens as Gas will be burned at 0.5% per transaction, ensuring a constant demand for the token.

Why CryptoBanking?
Why Crypto in the first place. The whole ecosystem has emerged as a natural reaction from the extended fallout from the CRASH, made by the banks and paid for by the taxpayers. So it naturally follows that for the BlockChain Revolution to be complete, the banking industry needs to be replaced with something fit for purpose and that integrates with the new landscape. Traditional methods of business are soon going to be a thing of the past. This is the economic revolution following the information revolution and it's being driven by advanced technology. As we know from history, new technology makes the old way of doing things defunct and although we will still need money for the same things; utilities, food, fuel, clothes and entertainment, the way we pay for them will change almost overnight when it's cheaper, more secure, efficient and trustless.

Smart eXchange
This is smart. You can aggregate all your cryptoassets into one view. Crypterium doesn't have access to them but can debit whatever you want to use. It's very elegant and overcomes a whole bag of obstacles in one sweep.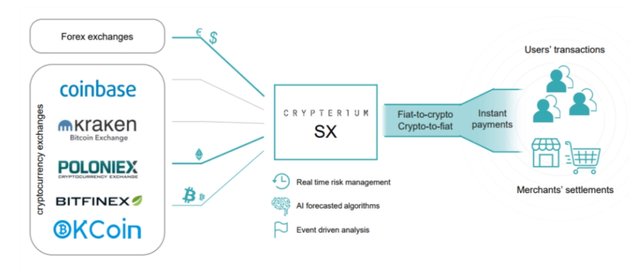 Crypterium is a Glimpse of the Near Future
A Global Crypto Payment Infrastructure. It will usher in a new relationship in consumer banking where customers are stakeholders. This is one of crypto's main benefits over the old model. It's much more efficient, transparent and with lower fees. You are as a token holder or active participant, part of the equation. Your bank might still be charging you $20 for sending you a letter. Crypterium are more likely to be sending you $20 for making your transactions. That's progress. There's also an open platform for developers to integrate a whole range of functionality from wallets to exchanges to billing to auto payments. This is the kind of joined up thinking which could ultimately change not just banking, but eventually governance itself. It's a project that public bodies and global institutions (no names mentioned The UN), may watch closely and end up basing their own futures on.
ICO
You can buy tokens now and you'll also be able to trade them. 180,000 + people have already invested. You have until the 13th January when the ICO will be over and all unused tokens will be sent to Mordor (Burned forever)
For more information
crypterium2017