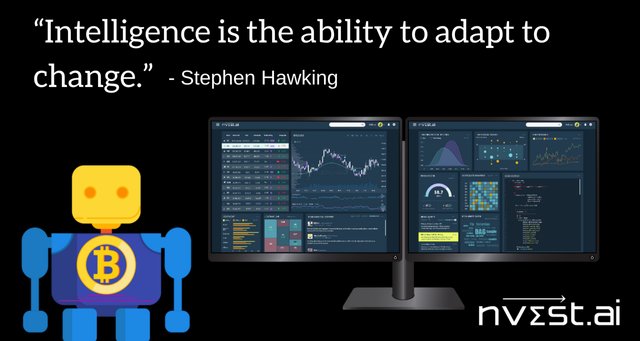 "Intelligence is the ability to adapt to change." - Stephen Hawking
Intelligence and Success for Cryptocurrency Traders and Investors
Although cryptocurrency trading is not a new concept in the market, it is yet to see a significant amount of attention. In fact, a study conducted in 2015 showed that only about 6% of crypto consumers had a high level of understanding about the cryptocurrency industry. And what better time to chip in than when virtually everyone else out there is still in the dark? Well, you might not be that much conversant with the new currency market either. Remember what Stephen Hawking said about intelligence and adapting to change? That could be your breakthrough.
Artificial intelligence has been used by a few very smart stock market investors for over 40 years. But the problem is that these investors have been very secretive and have no incentive to share information with others. Only recently, as advances in AI, made mostly by academics, have investors begun to realize what is possible. Today, almost every hedge fund has some sort of AI strategy.
And AI can bring forth a considerable success for a cryptocurrency trader as well. AI tools are crucial in comparing cases of precedents. It also helps in reading financial results or reports by analysts. Artificial intelligence can also help you understand the correlation existing in prices of stocks. But what makes it exciting is the astonishing speed at which the tool can do all these actions.
The capability to process and understand data faster than any human can achieve means this intelligence is a notch higher. Thus, you can use it to cope with the ever-changing world a cryptocurrency trader has to weather. This tech helps you cut the endless hours you spend on chat groups, social media, news sites or forums. It can also give you an edge over the technical analysis as you execute trades.
As it turns out, intelligence is sure to play an irreplaceable role if you are to adapt to the change that cryptocurrency comes with. And if you are to keep pace with the changing crypto world, then intelligence is going to take the center stage. There's virtually no better way to prove that indeed intelligence is an essential aspect when it comes to adapting to change. And this is one of the most practical ways to put Stephen Hawking's words to the test.
Would you upvote this post and follow us because this will encourage us to write more articles like this one?

Crypto data & analytics powered by Machine Learning and Artificial Intelligence.
Nvest.ai is helping crypto traders and investors make better decisions with next generation tools and leading them to the next level.
Visit our website: http://nvest.ai