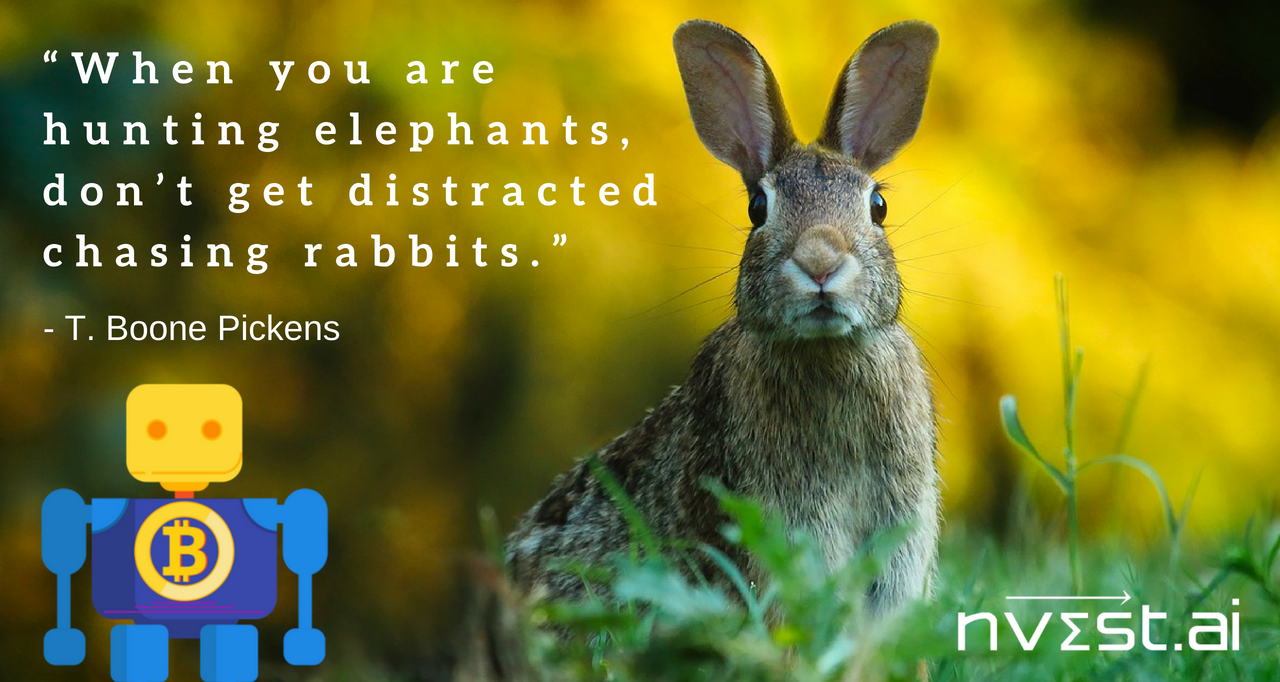 "When you are hunting elephants, don't get distracted chasing rabbits." - T. Boone Pickens
(Famous Oil Trader & Hedge Fund Manager)
How to Remain Focused When Investing in Cryptocurrency!
T. Boone Pickens once said that when you set out to hunt elephants, make sure not to allow chasing rabbits distract you. And in the crypto world, this statement holds true. If there is one investment that necessitates ultimate concentration, it has to be trading cryptocurrency.
Almost any type of investment out there calls for keeping a close eye on every detail. However, cryptocurrency stands out as a quite volatile market. This nature makes trading cryptocurrency a risky business. So, how do you keep your eyes on the key goal and avoid distractions along the way? Well, keep reading to find out what it takes to remain on track.
One of the best options is keeping other work out of the way. In most cases, traders think that investing in crypto can come in as a part-time endeavor. Some even consider trading while at work, but there's always a reason why this is a bad idea. First, if you don't have the permission, you will mostly be subject to high levels of stress. This compromises your ability to make the right decision at the most crucial moment.
You may also have a hard time finding the right trades to enter. This can be the case too if you want to go for every coin out there. So why not keep all that aside and decide on which path to follow? Crypto trading might make you a little fortune if you give it due attention, so consider your options for the best results.
Of course, you will most likely need another job before you get into crypto trading, but if you have a few hours you can set aside for this type of investment, then that could be your best option. Even then, you may decide to stick to one coin, like for instance, Bitcoin. This will help you avoid stepping right into the fog as the volatility takes the best of the market.
With this type of approach, you can always stay at the top of your game when investing in cryptocurrency. Other things to consider include entering any trade for a reason. Don't go in just because the trend is moving in a certain direction. Besides, consider risk management, remember, going for any opportunity that seems fruitful could expose you to more risk. It thus becomes crucial to be wary of the risks too, which can increase with any distractions.
Would you upvote this post and follow us because this will encourage us to write more articles like this one?

Crypto data & analytics powered by Machine Learning and Artificial Intelligence.
Nvest.ai is helping crypto traders and investors make better decisions with next generation tools and leading them to the next level.
Visit our website: http://nvest.ai