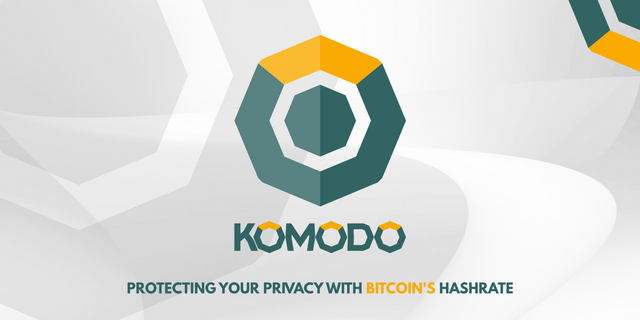 source
Hello steemians!
In this article, we will be discussing the future of blockchain, fundamental analysis as well as the technical view point of Komodo and see the the opportunities through which investors and other decentralized developers can take part in.
From day to day interactions and forums discussion we find out that there are many who have the believe that cryptocurrencies, in the near future, will reduce to quite a handful of coins that dominate the blockchain ecosystem while the other cryptos will gradually fade away (just as the stock market did in the early days did), but this is a fallacious concept although judging from the current state of market distribution and usage this may sound true to most people,from market survey, BTC, LTC, BCH, XRP and USDT take 69% of the trading volume on the cryptocurrency market. And this is only 0,36%❗️ of the existing number of coins — more than 1600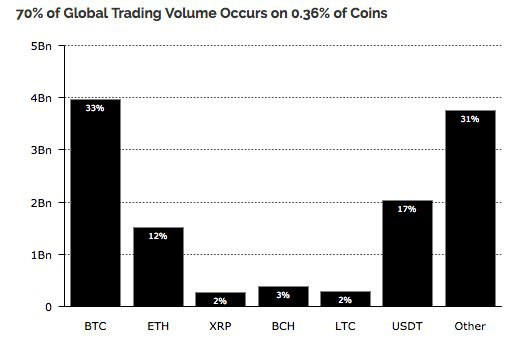 source
The BTC has a lion's share of 33%, USDT is 17%, ETH is 12%, BCH is 3%, LTC and XRP are 2% each. This is actually one of the major reasons which create the fallacious concept of future dominance of crypto amongst a selected few. However, the fact and the truth is blockchain technology is is not just limited to exchangeable currencies or trading and way much beyond that, those who take their time to study the technology should understand more than to simply believe that they'll all converge/evolve into a handful of major entities, this is a total misconception of the idea of blockchain technology altogether.
I dont just have the personal believe but reality speaking the future is likely to see a vast amount of blockchains and cryptos in thousands, each being dedicated to a specific purpose, only the shitcoins which have no value or purpose will be dismissed.
From my viewpoint the future will reshape the concept through which crypto and blockchains are being valued, blockchains will no longer be tied to the purpose of goods exchange payment or based on its trading volume with respect to bitcoin or other major pairs on exchangers but rather with the purpose through which it serve and its application to the specific ecosystem or environment in which its falls within.
Take for instance a blockchain technology built for the purpose of VOTING to be used in the conducting of elections, stipends for electoral bodies and commisions, reward for good electoral practices while completely eradicating the scandals of election rigging, lowering the cost of conducting elections, reducing outdoor polling risk and maximizing the effectiveness of the electoral sector, such a blockchain in this ecosystem does not necessarily need to serve the purpose of mobile recharging like ETN Electroneum or for sales of groceries like INS, but rather the blockchain application should be focused on the enhancement and improvement of the electoral sector.
Taking this perspective into consideration it is clear enough to see that more blockchains and crypto will evolve as more technological needs will arise in different sectors of the economy ranging from the public to the private and domestic sectors. And i believe when this reality fully unfolds the concept of having one currency (BITCOIN)as the base unit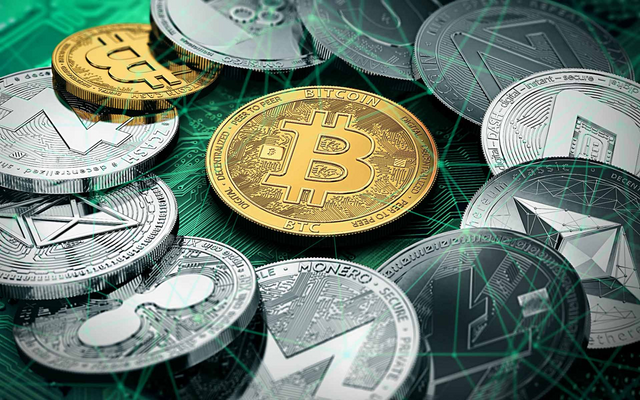 soure
of account will be eradicated and this is why i personally believe in the future BITCOIN will not be the #1 crypto dominant coin.
In addition to what have been said earlier i believe the exhange between of blockchain and cryptos in the future will not necessarily have to be done on a third party exchange like binance or huobi rather in a more direct and more eco-friendly way just like the steem ecosystem with the steem dollar, steem and steem power, each used for specific purpose within and outside the community via steem connect. Exchanges will be done in respect to the ecosystem in which the blockchain operates on, for instance a blockchain technology in the gaming industry will have a direct link of exchange between disc makers, game developers, marketers, retailers and several related gaming blockchain tech.
TECHNOLOGICAL VIEWPOINT
This is the reasons which makes me believe so much that the technology(BARDEX) which Komodo is working on is of great paramount to the blockchain future.



source
Atomic swaps(a process of exchanging/trading cryptos right from your private wallet without the need of a third party) will likely be the way in which ALL blockchains interact in the future and KOMODO though still in its early stage of development(as at the time of writing a beta version of bartex is available for testing on the komodo platform) might just be what we need to actualize the flexibility and interconncetivity between blockchains.
FUNDAMENTAL POINT OF VIEW
In addition, KOMODO is one of the leading exchanges in Europe, Bitpanda announced that IOTA and Komodo are now available in 400 post offices throughout Austria. She got to the list, which contains only top-10 coins BTC, BCH, XRP, LTC, ETH and DASH. Operations with them can be done with the help of EUR, CHF, GBP or USD. Although the coin itself is on the 60th place in coinmarketcap as at the time of writting.
KOMODO appears on the #1 place on the site Cryptomiso. This is "crypto evaluation website" that logs and charts the Github activity for more than six hundred currencies, and then ranks them using a host of specialized parameters. The higher in the coin rating, the more team pays attention to it🔍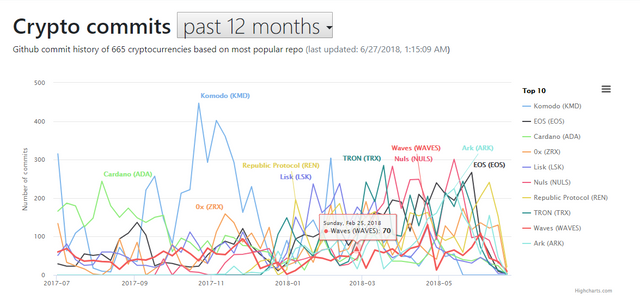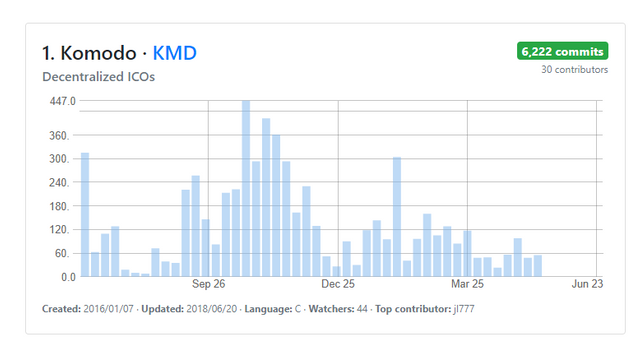 source
Komodo surpassed Visa. 45,000tps against 24,000 transactions per second, almost twice. You can compare also with other coins in the photo, which is below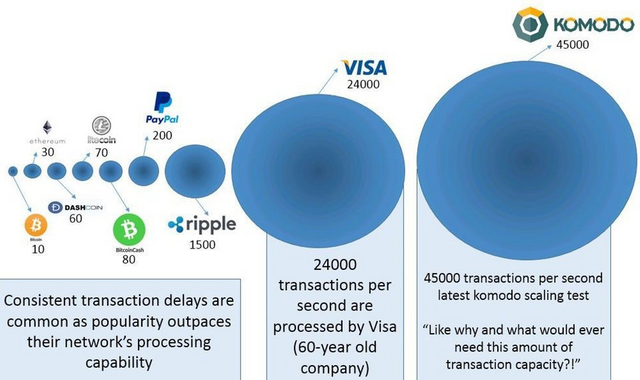 TECHNICAL VIEWPOINT
You all know i need not say much here on technicals as we all know its currently a good time to buy any alt coin base on the current market situation, however From a technical viewpoint taking into considerations of the Fibo Retracement level, stochastic, moving average and trends.
We can see from the chart below,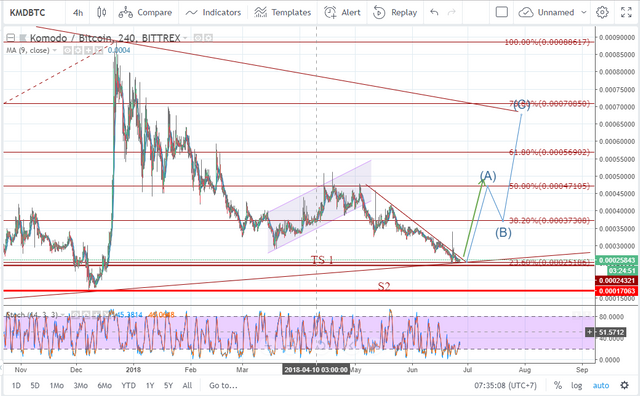 price is currently consolidating at the 23.6% fibo level taking fibo swing levels from march 2017 and dec 2017, as well as price movement below the 40% stochastic level which reflects exhaustive bearish strength however theres a possibility for a bearish price movement before expecting a breakout above 28,000 satoshis.
Unlike Forex in crypto when you purchase a coin you actually hold the coin so i would say anytime around now is good for a BUY, however for a more conservative trade you can wait till a breakout by setting a pending order at 28,000sat. or purchase IF( i totally doubt this) price drops below the trend support labelled TS on the chart.
Market looks really ripe and ready for a bullish run however for now as earlier said price movement are all in respect to BTC so no matter how good the chart looks right now it still depends on the actions and bitcoin price growth.
THIS HAS TO END SOON!!!!
Years back google was only classified as a search engine but now its applications on the internet is so vast ranging from Android, IAAS via Chrome, Google drive and so on.... which makes it stands out as the number #1 in the world.
WHO WILL BE THE GOOGLE OF BLOCKCHAIN??????????
Disclaimer: This article is only intended for educational purpose, i am not a financial adviser, all i say is from my view point, Please conduct your own thorough research before investing in any cryptocurrency.
Thanks so much for reading.
Nicholas Ilechie
---
SPANISH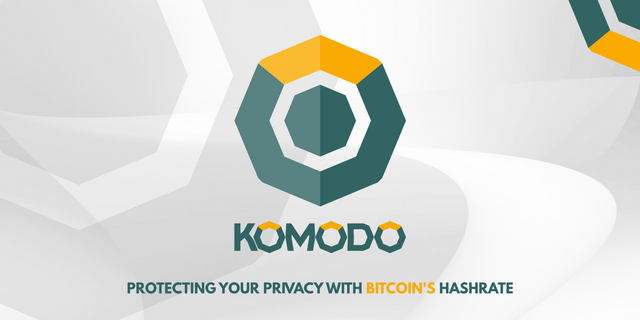 source
Hola Steemians!
En este artículo, discutiremos el futuro de blockchain, el análisis fundamental y el punto de vista técnico de Komodo y veremos las oportunidades en las que los inversores y otros desarrolladores descentralizados pueden participar.
A partir de las interacciones cotidianas y la discusión de foros, descubrimos que hay muchos que creen que las criptomonedas reducirán en un futuro cercano a un puñado de monedas que dominan el ecosistema blockchain, mientras que los otros cryptos se desvanecerán gradualmente (solo como lo hizo la bolsa en los primeros días), pero este es un ** concepto falaz ** aunque a juzgar por el estado actual de la distribución y el uso del mercado, esto puede sonarle verdad a la mayoría de la gente, desde estudios de mercado, BTC, LTC, BCH , XRP y USDT toman el 69% del volumen de negociación en el mercado de criptomonedas. Y esto es solo 0,36% ❗️ del número existente de monedas - más de 1600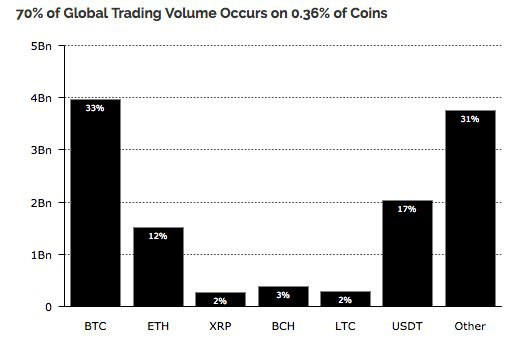 source
El BTC tiene la mayor parte del 33%, USDT es del 17%, ETH es del 12%, BCH es del 3%, LTC y XRP son del 2% cada uno. Esta es en realidad una de las principales razones que crean el falaz concepto de predominio futuro de la criptografía entre unos pocos seleccionados. Sin embargo, el hecho y la verdad es que la tecnología blockchain no se limita a monedas intercambiables o de trading y mucho más allá de eso, aquellos que se toman su tiempo para estudiar la tecnología deberían entender más que simplemente creer que todos convergerán / evolucionarán en un puñado de entidades principales, esta es una idea errónea total de la idea de la tecnología blockchain en conjunto.
No solo creo en lo personal, sino que la realidad que habla del futuro es probable que vea una gran cantidad de blockchains y cryptos en miles, cada uno dedicado a un propósito específico, solo los shitcoins que no tienen ningún valor o propósito serán descartados.
Desde mi punto de vista, el futuro remodelará el concepto mediante el cual se valorarán los crypto y blockchains, blockchains ya no estarán vinculados al propósito del pago de intercambio de mercancías o en función de su volumen de negociación con respecto a bitcoins u otros pares principales en exchangers sino con el propósito a través del cual sirve y su aplicación al ecosistema o entorno específico en el que se encuentra.
Tomemos por ejemplo una tecnología blockchain construida con el propósito de ** VOTAR ** para ser usada en la conducción de elecciones, estipendios para cuerpos electorales y comisiones, recompensa por buenas prácticas electorales mientras se erradican completamente los escándalos de fraude electoral, reduciendo el costo de conducir elecciones, reducir el riesgo de encuestas al aire libre y maximizar la efectividad del sector electoral, una cadena de bloques en este ecosistema no necesariamente tiene que servir para recarga móvil como ETN Electroneum o para ventas de comestibles como INS, sino la aplicación blockchain enfocarse en la mejora y mejora del sector electoral.
Teniendo en cuenta esta perspectiva, es lo suficientemente claro como para ver que evolucionarán más blockchains y crypto a medida que surjan más necesidades tecnológicas en diferentes sectores de la economía, desde el sector público hasta el privado y el doméstico. Y creo que cuando esta realidad despliegue por completo el concepto de tener una moneda (BITCOIN) como la unidad base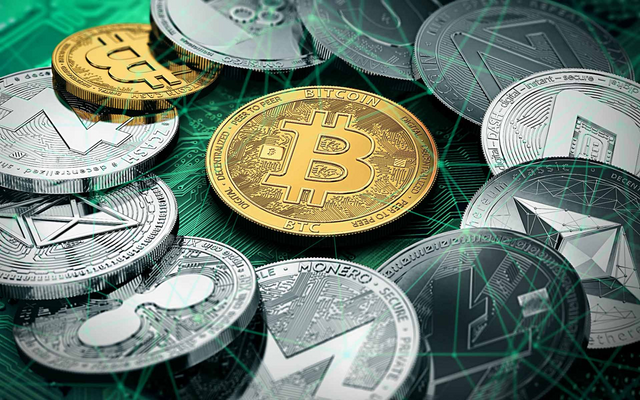 soure de la cuenta será erradicada y es por eso que personalmente creo en el futuro BITCOIN no será la moneda cripto dominante número 1.
Además de lo que he dicho antes, creo que el intercambio entre blockchain y cryptos en el futuro no necesariamente tendrá que hacerse en un intercambio de terceros como binance o huobi, sino de una manera más directa y ecológica, al igual que steem ecosistema con el poder de Steem Dollar, Steem y Steem, cada uno utilizado para un propósito específico dentro y fuera de la comunidad a través de Steem Connect. Los intercambios se realizarán con respecto al ecosistema en el que opera blockchain, por ejemplo, una tecnología blockchain en la industria del juego tendrá un enlace directo de intercambio entre creadores de discos, desarrolladores de juegos, comercializadores, minoristas y varios juegos relacionados con la tecnología blockchain.
PUNTO DE VISTA TECNOLÓGICO
Esta es la razón que me hace creer tanto que la tecnología (BARDEX) en la que Komodo está trabajando es de gran importancia para el futuro de blockchain.



source
Los intercambios atómicos (un proceso de intercambio / negociación de criptos directamente desde su billetera privada sin la necesidad de un tercero) probablemente serán la forma en que TODOS los bloques de bloques interactúen en el futuro y KOMODO aunque todavía en su etapa inicial de desarrollo (como en el el momento de escribir una versión beta de bartex está disponible para probar en la plataforma de Komodo) podría ser lo que necesitamos para actualizar la flexibilidad y la interconexión entre las cadenas de bloques.
PUNTO DE VISTA FUNDAMENTAL
Además, KOMODO es uno de los principales intercambios en Europa, Bitpanda anunció que IOTA y Komodo están ahora disponibles en 400 oficinas de correos en toda Austria. Ella llegó a la lista, que contiene solo las 10 mejores monedas BTC, BCH, XRP, LTC, ETH y DASH. Las operaciones con ellos se pueden hacer con la ayuda de EUR, CHF, GBP o USD. Aunque la moneda en sí está en el lugar 60 en coinmarketcap como en el momento de la escritura.
KOMODO aparece en el lugar # 1 en el sitio Cryptomiso. Este es el "sitio web de evaluación de criptografía" que registra y traza la actividad de Github por más de seiscientas monedas, y luego las clasifica utilizando una serie de parámetros especializados. Cuanto más alto en la calificación de la moneda, más equipo le presta atención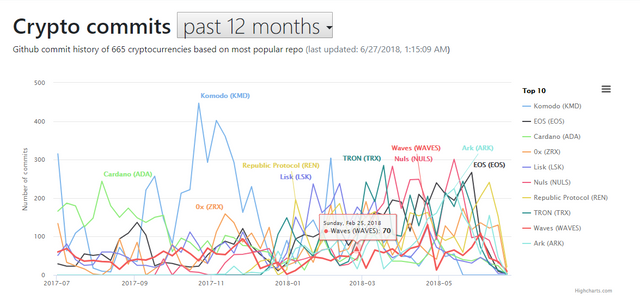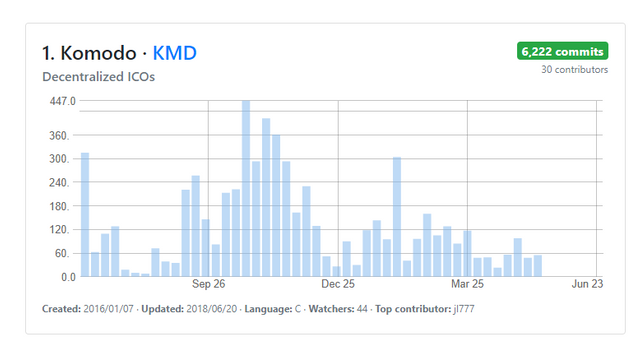 source
Komodo superó a Visa. 45,000tps contra 24,000 transacciones por segundo, casi el doble. Puedes comparar también con otras monedas en la foto, que está debajo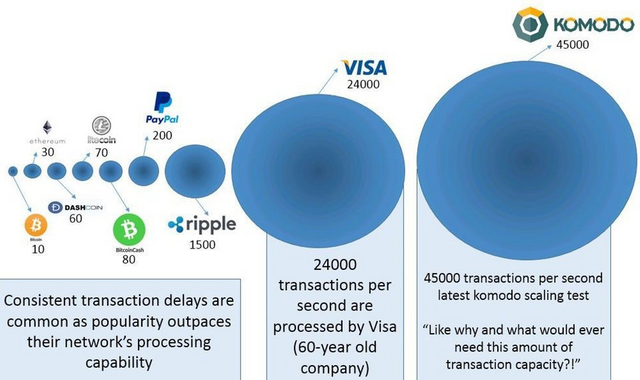 PUNTO DE VISTA TÉCNICO
Todos saben que no necesito decir mucho aquí sobre aspectos técnicos, ya que todos sabemos que actualmente es un buen momento para comprar cualquier moneda alternativa en la situación actual del mercado. Sin embargo, desde un punto de vista técnico teniendo en cuenta el nivel Fibo Retracement, stochastic, moving average y tendencias
Podemos ver en el cuadro a continuación,
! [] (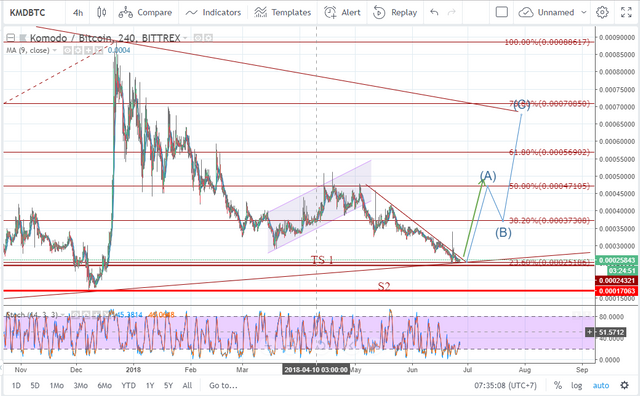 )
El precio se está consolidando al nivel de fibo 23.6% tomando niveles de oscilación de fibo de marzo de 2017 y diciembre de 2017, así como movimiento de precios por debajo del 40% de nivel estocástico que refleja fuerza bajista exhaustiva sin embargo existe la posibilidad de un movimiento de precio bajista antes de esperar una ruptura por encima de 28,000 satoshis.
A diferencia de Forex en crypto cuando compras una moneda, en realidad tienes la moneda, así que diría que en cualquier momento es bueno comprar, sin embargo, para un cambio más conservador, puedes esperar hasta la ruptura configurando una orden pendiente en 28,000. o compra SI (lo dudo totalmente) el precio cae por debajo del soporte de tendencia etiquetado TS en la tabla.
El mercado parece realmente maduro y listo para una tendencia alcista, pero por ahora como antes dicho movimiento de precios es todo con respecto a BTC así que no importa cuán bueno parezca el gráfico en este momento todavía depende de las acciones y el crecimiento del precio de bitcoin.
ESTO TIENE QUE TERMINAR PRONTO !!!!
Hace años Google solo se clasificó como un motor de búsqueda, pero ahora sus aplicaciones en Internet son tan amplias que van desde Android, IAAS a través de Chrome, Google Drive y demás ... lo que lo hace destacar como el número 1 en el mundo .
¿QUIÉN SERÁ EL GOOGLE OF BLOCKCHAIN ​​??????????
_Descargo de responsabilidad: este artículo es solo para fines educativos, no soy un asesor financiero, todo lo que digo es desde mi punto de vista, realice su propia investigación a fondo antes de invertir en cualquier criptomoneda.
Gracias por leer.
Nicholas Ilechie