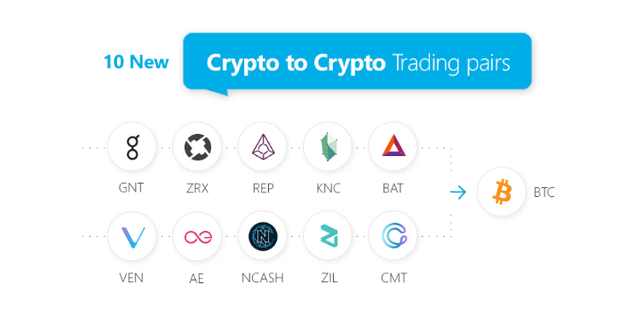 After, RBI bans the banking services with crypto exchanges in India. No body can trade in cryptocurrency in INR (₹). But, still there are lots many ways which are legal and authentic that provides trading in Cryptocurrency.
One, way is peer-to-peer announced by wazirX and koinex as loop. But, it has some own limitations.
But, one most famous and effective trading method is crypto to crypto trading.
What Is crypto-to-crypto Trading?
With crypto-to-crypto one can buy another cryptocurrency by paying one cryptocurrency.
For e.g. - Suppose, you have 1 bitcoin with you in exchange wallet. And, now you want to buy ethereum or ripple or any other cryptocurrency.
Then, You can easily buy ethereum by paying in bitcoin.
Like- you want to purchase 2 ethereum (1 ethereum price is- 0.075 BTC today. Then, you will need to pay 2 x 0.075 BTC to purchase 2 ethereum.
You can also purchase any other other cryptocurrency by paying in any other cryptocurrency.
Crypto-to-Crypto trading pairs can be-
BTC-ETH
BTC-XRP
BTC-TRX
BTC-NCASH
BTC-LTC
Or,
ETH-BTC
ETH-LTC
ETH-XRP
ETH-NCASH
ETH-TRX etc.
In india, Zebpay, koinex, wazirX supports Crypto-to-Crypto trading. And, even after ban by RBI you can legally trade in Cryptocurrency.