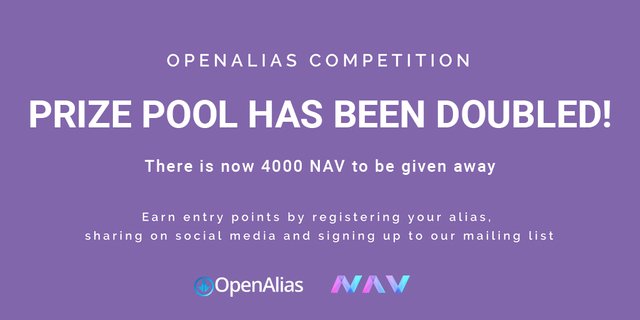 What is Open Alias?
OpenAlias is a little like PayPal, which lets you send a payment to an email address. The difference is that OpenAlias allows you to set an easy to remember 'email style' address to represent your full NavCoin address such as john@nav.community
How to enter?
Login below to enter the competition. The more entry activities you do the more chances you have to win.
What are the prices?
All prizes are randomly drawn through this app, and winners will be contacted when the competition ends in 1 week.
1x grand prize = 2000 NAV
10x prizes = 200 NAV
###disclaimer
You will never be asked to send any NAV in order to receive a prize. Please be wary of any impersonators trying to scam coins from you.
---
There are 7 ways to enter!
see all 7 here: https://navhub.org/open-alias-competition
---
Join the Community!