How to store cryptocurrencies safe without a hardware wallet
As some people after purchasing or earning their first significant amount of cryptocurrencies wonder, it's not very simple to understand how they are stored safely.
In this Article i will explain and show how to store cryptocurrencies safe, this works for almost every cryptocurrency except a few special ones.
ERC-20 tokens are in general stored on the Ethereum blockchain, protecting your Ethereum private keys is the way to keep your ERC-20 tokens safe.
This way to store your coins does not rely on the support of any hardware wallets like the trezor or ledger nano S, which only support a very limited amount of different coins.
all you need is a device to store data like any usb drive, and a computer,
here this will be explained for Windows.
why I am explaining this?
Because if you don't have a hardware wallet, or if there is no hardware wallet for the coins you want to store, 
this is one of the safest ways to protect your coins. Also you can make as many copies of your private keys as you think you need to re access them whenever you need to.
I have to mention that this method requires some work of you, your computer, and your computer's time.
At first you have to know which coin you want to store and check the coins website, normally you'll find the link at https://coinmarketcap.com
After doing so you have to download the coins wallet for windows ( because we are explaining it for windows here) normally directly from github.
run the wallet through clicking the 'coinname'-qt file, sometimes its just bound to a setup file to make the process easier, if so, do that instead.
After this, the node ( that's what we call the wallet, nodes are supporting the network and for many coins necessary to stake, but the process of staking coins will be explained in another article) should run and start to sync with the blockchain.
To store private keys securely and to create new adresses your node does not have to be synced with the blockchain!
But you can only transact from the wallet, and the balance is only shown correctly if your node is synced.
Depending on the age of the coins blockchain and its size, this syncing process can take a huge amount of time!!!
There are ways to speed this up, some coins nodes have an option in the settings to download the blocks faster manually, like the Gridcoin client.
If this is not possible you can import a bootstrap into the source files, the newer the bootstrap is, the faster your node will be in sync with the blockchain.
Normally you will find the bootstrap.dat at the same place as where you originally found the node on github, 
if not, you can just google for it, it's normally not too hard to find one, but beware when downloading from other sources then the original one from github.
drag the bootstrap.dat and import it in the folder of the coins datas you find in the search when you type '%appdata%' and start the node again,
(sometimes the bootstrap is a zip file that can include other files, at importing it can may ask you if it should replace the already existing data, if so, agree on it)
it should be synced up to a certain point and be fully in sync within hours instead of weeks.
Once your node is sync, it should show you the correct balances of your adresses.
You can freely generate as many adresses as you want, but keep in mind that with every new created adress, 
you will have to update your backup files to get the new private keys on the safe storage.
In the folder in appdata>roaming>'coin' is a file named wallet.dat it contains the private keys and this file is what this article is about.
For reasons of security, it is recommended to encrypt your wallet in the node before you make a backup of this file with a password.
IMPORTANT!
Store this password safely, if you lose it, there is no way to recover it and you can consider your coins to be lost, even though you have the private keys.
Also you shouldn't store it at the same device as you store the private keys on, otherwise if someone has access to your device, they can steal your coins.
So keep it safe and as with your private keys, you should have multiple back ups stored safely.
Now that you encrypted your wallet, you can copy the wallet.dat and the 'coinname'.conf file into a folder on the devices you want to store it on.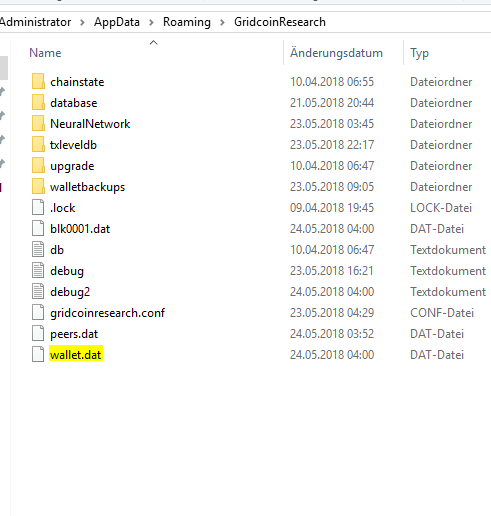 This example image is from the source folder of GridcoinResearch.

The .conf file is not always necessary, its just configuration settings that can make it easier to re setup the node, the private keys are stored in the wallet.dat
Now you basically made yourself a hardware wallet, if you want to make this process as secure as possible, 
you can do all this from a fully new installed Computer that was never used for anything else before, 
a computer like that could also be used as the wallet storage itself.
Reminder, to store and generate adresses and keys the note does not need to be sync, not even connected to the internet!
I hope i kept it as easy to understand as possible.
If you have any questions, or problems with the process with a certain coin, or feel like something should be added, feel invited to reply in the comments section, I'll look into it for you!