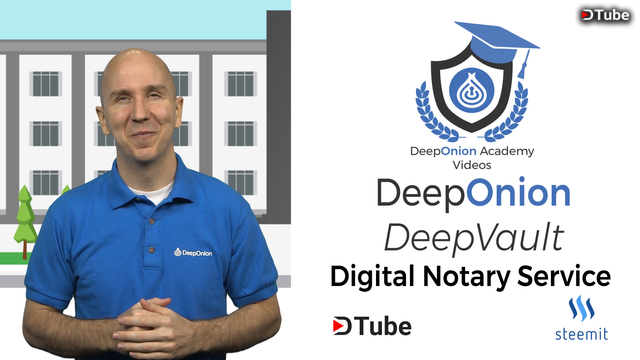 ---
Hello DTube and Steemians!
Time for another cryptocurrency video. This is by far my favorite in the series. It shows how cryptocurrencies and Blockchain Technology can be used in the real world, for things other then just trading them. In this basic cryptocurrency video I will be talking all about DeepOnion DeepVault. DeepVault is a blockchain technology that allows users to store file validation credentials on the blockchain. These file validations are stored there forever and can't be changed or altered in anyway. Basically, DeepOnion DeepVault is the ultimate digital notary service.
The topics we will cover are:
What is a Blockchain?
What is DeepVault?
What is a File Hash?
How does DeepVault work?
Will my files be uploaded to the website or the Blockchain?
DeepOnion uses the Bitcoin Blockchain for extra security
How do I register a file using DeepVault?
How do I verify a file using DeepVault?
How do I use DeepVault online?
Is it free to use DeepVault?
Why not register directly on the Bitcoin Blockchain?
Can you give an example of when someone would use DeepVault?
DeepVault for Artists and the Creative Arts
DeepVault for Small Businesses
DeepVault for Developers and Corporations
DeepVault for Doctors
DeepVault for Accountants
DeepVault for Scientists
DeepVault as the World's Most Secure and Fastest Database
Where can you find DeepOnion?
Learn more about DeepOnion at www.deeponion.org
I currently hold 15 cryptocurrencies in my portfolio. My biggest holding is a privacy coin called DeepOnion. It is because of DeepOnion that I am a part of the Steemit community. After joining their forum and interacting with them, I noticed that members would post in the forum different articles and such on Steemit and so I joined primarily to upvote those articles, haha, but quickly realized I should post content here as well. I also entered contests that DeepOnion was holding for videos, and eventually that lead me to being their Lead Video Producer. Steem is in second place in my portfolio and may just take the first place! haha :)
*Video was produced by me at my work studio. I used a Canon C100 Cinema Camera and a Rode NTG 3 Shotgun mic, and a teleprompter. Filmed against a green screen. Intro and ending was filmed at my house with my Canon 70D, 50mm 1.4 lens, Rode VideoPro mic.
---
▶️ DTube
▶️ IPFS