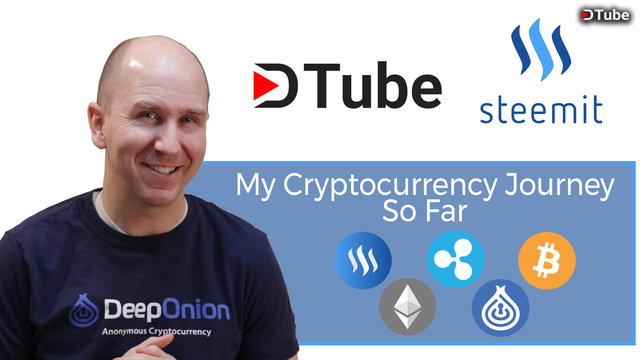 ---
Hello DTube and Steemians! My name is Matt Taylor aka mrchef111. I like to post articles and videos about food, baking, cooking, also other topics I post about are gardening, creative date ideas, video production and cryptocurrency.
Don't forget to follow me, upvote and re-steem if you like. :)
If you have any questions, comments, or requests leave them down below and I will get back to you as soon as I can.
In this vlog post I share with you my journey so far with cryptocurrency. It has been a fun and crazy ride being in crypto, but I am enjoying it. This is not intended to be financial advice, just my experience with it. For those of you who like to read instead of watching the video, I will sum up what I talk about in the video, below.
I first heard about cryptocurrency and Bitcoin from a friend of my like 3 or 4 years ago. He said he was trading it, I think the price back then was like $200 or something. I will admit I didn't have a clue what it was, and when he explained it to me, I thought it was silly haha. Fast forward to December 17, 2017. I found myself at a Christmas party, and walked up to a few of my friends who were having a discussion about crypto. They suggested I get into it. FOMO set it, so of course I got into it, lol. I signed my bank up with Coinbase, but was having trouble with my credit card, so the bank transfer option to buy my first purchase, bitcoin, but it took a week to get my bitcoin! I purchased it when it was worth around $18500, and when I finally got it, it was worth $13500. LOL. I was like, uh what did I do? lol. But then the market was going back up, so I kept buying and buying.
I would always buy bitcoin or ethereum with Coinbase or Gdax, then send it to a different exchange buy whatever I wanted with it. I even started doing wire transfers directly to Gdax from my bank account because I would get it faster and I could do larger amounts! The fees were high though! I bought TRX, XRP, and ETN as my first coins with my bitcoin. Not because I researched them, but because my friends told me too...LOL. Then one of my friends tweeted about a privacy coin called DeepOnion. I went to the website, researched it, read the whitepaper, then decided to buy some. In early January after about a week of buying it, I decided to join their forum. It was great. I also joined their airdrop which was fun. They held contests, and a bunch of other cool fun activities. I even began making videos for them. (Currently I am their lead video producer)
This leads me to how I got introduced to Steemit. People in the DeepOnion forum were posting things there, which they had first posted on Steemit. So I joined Steemit, mainly so I could upvote them and comment on their articles. Then after awhile I thought, hey I have content too that I could share. So I started to get active on Steemit. My posts never got much traction, I didn't full understand the best ways to do things. I mostly just posted links to YouTube. People here on Steemit started giving me advice, and as I followed that advice, my posts have gained more traction. Pretty cool! :)
It has been an amazing, wild, and crazy ride in the crypto world. Especially during a bear market. But I love the idea of it, and as I learn more and more about blockchain technology, real world use cases for certain coins, I get more and more excited. Most likely I will post more and more crypto related content here, along with my other content.
I am curious to hear how you first learned about cryptocurrency or steemit and how your journey as been. Drop a comment down below and let me know. :)
In the video I mentioned that I would post the link to the DeepOnion website, in case any of you want to learn more. Not trying to shill the coin, but it is part of my crypto journey so I will include it. :)
www.deeponion.org
Thanks!
Matt
***The video is my original content and owned by mean, the source articles used and showcased throughout the video are posted above and are not owned by me.
I used a Canon 70D with a Rode VideoPro Mic to film. :)
---
▶️ DTube
▶️ IPFS