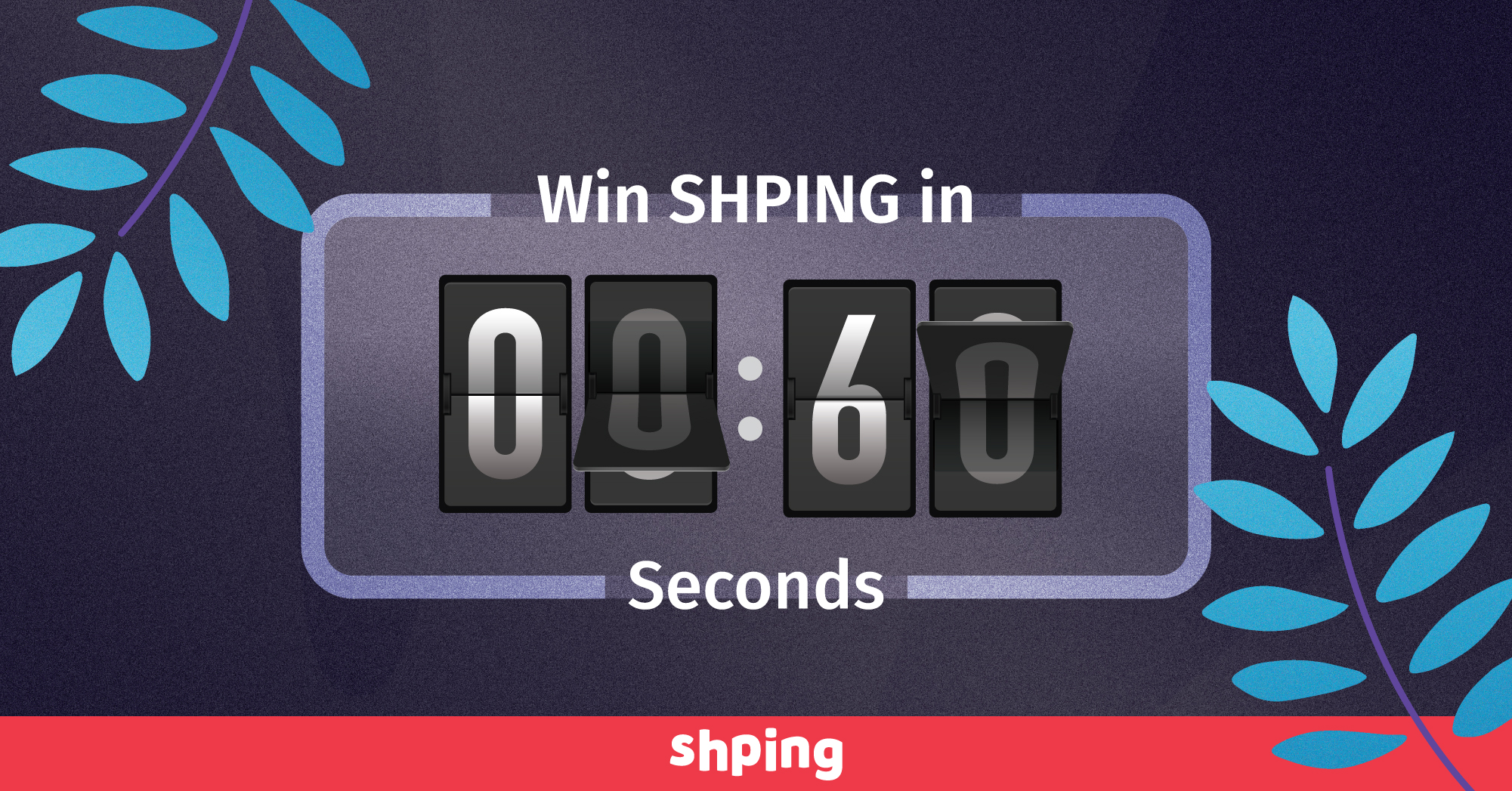 All you have to do is produce one-minute worth of content (200–500 word article, one-minute video or one-minute listen) that inspires and provokes public interest in the Token Sale. Best pieces as judged by the SHPING team win.
Prizes: 100 SBD + 20000 SHPING
1st Place: 35 SBD + 5000 SHPING
2nd Place: 25 SBD + 5000 SHPING
3rd Place: 20 SBD + 5000 SHPING
4th Place: 15 SBD + 2500 SHPING
5th Place: 5 SBD + 2500 SHPING
Deadline: 1 week (7th of Feb 2018, 00:00 CET - 14th Feb 2018 00:00 CET)
All content must be submitted on Steemit in line with the rules within 1 week of this post to be considered!
Shping (short for "shopping") is the world's first shopper marketing platform and smartphone app that rewards shoppers with cryptocurrency for using it, engaging with it and contributing to it.
Shping Coin (SHPING) will become the reward token used by businesses (participating brands, retailers, certification bodies) to reward shoppers who use the Shping app to scan product barcodes in order to reveal rich content that can help them make smarter, safer purchase decisions.
As a cryptocurrency, Shping Coin can be used globally, enabling businesses to rewards shoppers directly for their engagement with messages instead of the traditional way of paying advertising middlemen for the privilege of talking to customers. Shping is a win for business and a win for consumers who buy their products.
The Shping Token Sale will start on the 22nd of February, 2018 and will conclude at 23.59 pm Central European Time (CET) on the 23rd March, 2018 unless sold out earlier.
More Information & Resources:
Shping Website
Shping Content Creators Brief
Shping YouTube
Shping Whitepaper
Shping Twitter
Shping Telegram
Shping Facebook
Rules & Submission
Write a one-minute read (200–500 words), one-minute video or one-minute listen that inspires and provokes public interest in the Token Sale, from an angle of the creator's choice. Maybe come up with a use case. The floor is yours; let your imagination run free!
Feel free to use images and media from Shping's website.
Do NOT copy images or text from competing submissions. If you notice this is happening please notify us immediately by replying to this post or sending us a memo.

The articles must be 800 words maximum
To submit please do the following:
Add the word "SHPINGCrowdsale" (without the quotes) at the very end of your article.
Link this post in your submission.
Post the link to your article as a reply to this post.
Resteem this contest post.
How the winners are decided
The submissions will be passed along to the team at Shping, and they will decide the top five articles.
More information & recommendations:
Pay attention to spelling, grammar and punctuation!
Feel free to use informal language such as "I would, etc."
Use the information and resources above to learn more about Shping
If you copy something, use quotes.
After you submit an article, we will manually review to see if it follows the contest rules and then we will reply to your post saying "This post has been submitted for the @moworks sponsored contest!"
We highly recommend you tweet your Steemit article and tag @shpingapp and @mo_works to ensure we don't miss your entry.
Early bird bonus! The first 15 submissions will receive 100 SHPING each. Please note, the content must conform with the rules of the contest, such as the word length, and display a certain level of quality.
Disclaimer: @moworks makes no claims as to the legitimacy or operating procedures of contest topics. @moworks does guarantee prize payout.
Best of luck!