Bitcoin - Short Term Analysis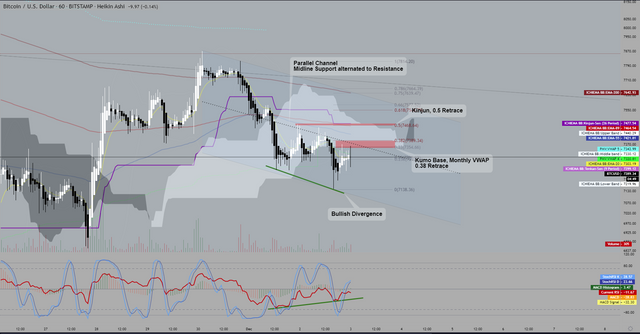 1 hour chart
Generally at the start of a month, it's important to pay attention to the Monthly VWAP. This tends to give an early indication of how the rest of the month will play out - bearish or bullish.
As of writing we can see Bullish Divergence on this time frame, supported with a possible parallel channel where the middle line appears to be acting as first support, then resistance.
The VWAP is sitting around 7350 combined with the baseline of the cloud, midline of channel, and the 0.38 retracement all acting as resistance against the bullish divergence. Above that we have the Kinjun and 0.50 retrace slight above the topline of the kumo around 7460.
If the first resistance at 7350 breaks through, this will trigger an edge-to-edge trade on the cloud testing 7460. In this situation price would then be trading above the monthly VWAP, which may create additional momentum to break above the cloud and likely head back to test 7900/8000 area.
If price does not break through 7350, this will be a rather bearish cue to send the price and RSI back down and below the 30 level which would nullify the Divergence. This I think would approximately be near the baseline of the channel.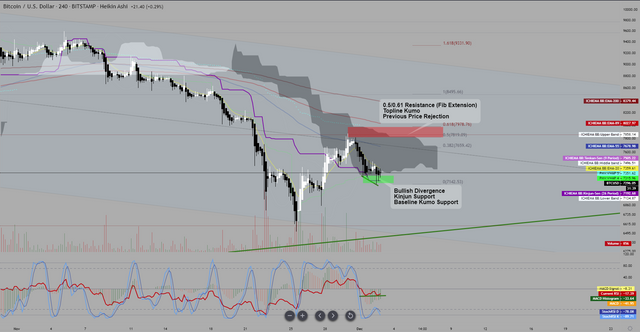 4 hour chart
Price has rejected off the Kinjun here along with slight bullish divergence and holding within the cloud using the baseline as support. If we break above the Monthly VWAP at 7350, this will also break the 20ema that is also currently at 7350.
If price holds and starts to confirm a move up, the Fibonacci Extension of the previous two waves places the 0.5 and 0.61 extension levels at 7800/8000 just above the cloud. This price also aligns with the 365ema on the daily chart as see below.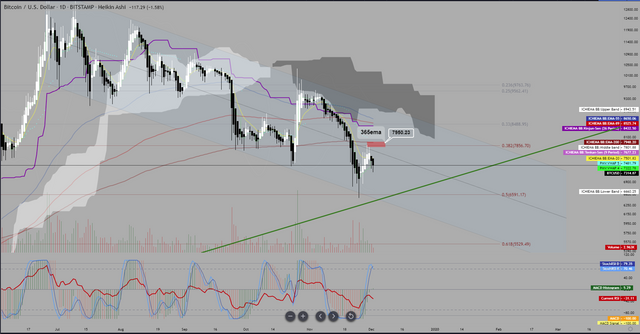 For a longer term analysis - view my previous write up here> https://steemit.com/cryptocurrency/@mickbit/bitcoin-bearish-or-bullish In this article I highlighted the 7900/8000 resistance level that was recently tested shortly after.
Overall conclusion: Slight bias for a bull run in the short-term to retest 8000 area. But moderate risk of a breakdown below 7200 if Bitcoin does not break above 7400.
KEY LEVELS (Short-term): 7190/7360/7460/7900 to 8000
Disclaimer: I am not a financial adviser, this work is of my own opinion an not to be taking as instructional. Trade at your own risk.
Thanks All