Bitcoin - Bearish or Bullish?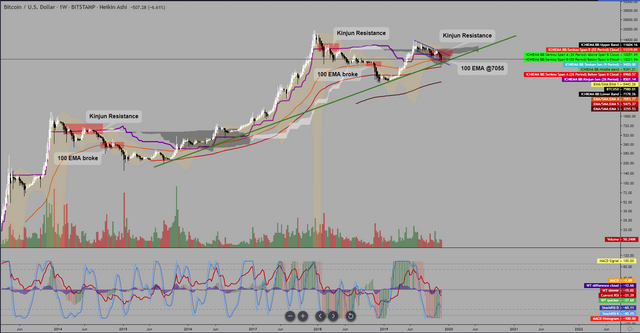 Weekly Chart
Indicators: 200ema, 100ema, Kumo Cloud, Kinjun, StochRSI, RSI, MACD, WaveTrend, BolBands
Configurations: Log Scale, Kumo set to 20/60/120/30 (24 hour Crypo Market), Heikin Ashi Candles.
First we will take a look at the wider picture on the weekly chart. Historically When the 100ema has been tested from above, price has consolidated before breaking lower. The 100 ema is sitting at 7055 which recently broke below before moving back above - again showing evidence of a consolidation area.
The Kinjun however is a serious signal to take into consideration. Generally this is a strong indicator for bearish/bullish triggers for longterm trend. On the weekly chart we broke below the Kinjun after testing it as resistance back in July 2014. The market initiated a long term downtrend after this point, breaking through the 100ema. In November 2015 Bitcoin moved back above the Kinjun where the Bull market started and continued to the All time High in December 2017.
What we are seeing recently is a bit out of character. Bitcoin moved above the Kinjun May this year, however a longterm bull market was not sustained as price has recently broke back under this line. The Kinjun currently sits at 8500 where it's resistance will be compounded by the kumo cloud and parallel channel. All of this suggest an early sign of longterm bear market... however...
Unlike the previous times that the 100ema broke below, this time it has additional support from the baseline of the kumo cloud, and baseline of the parallel channel. Also there is a possible trendline support that is converging at this area - granted only two points of contact, so it has yet to meet a solid criteria.
MACD signal is above the MACD, RSI has dropped below the midline along with StochRSI K crossing below D - All of this suggest bearish bias. In addition, if we look at the Kumo cloud - Price has moved downward through it, this is a different characteristic from the last time the bull market started - where price moved upward through the cloud.
Overall I would say things are not looking great for Bitcoin despite the 6500 bounce back to 7500. Until we see price move above the Kinjun at 8500, there is a high chance the 200ema at 5400 is in sight. Breaking above the Kinjun would give enough momentum to break the parallel channel and move to the upside of the kumo at 11600, which is a key level to break in order to re-establish a bull market. Lets look at the daily now.
KEY LEVELS: 5400/7050/8500/11600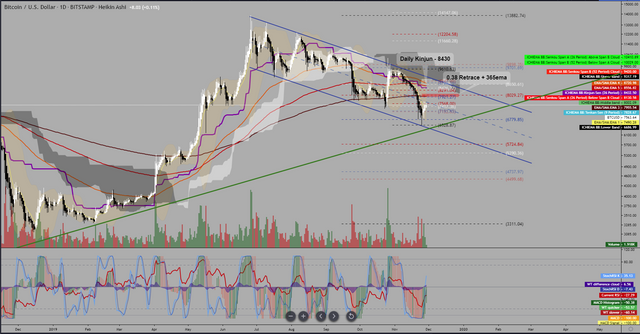 Daily Chart
Certainly some strong cues here to be bullish, Price bounced off the parallel channel baseline with RSI, MACD, StochRSI all starting to show signs of strength. Currently it is hitting resistance at the 0.38 retrace at 7570, which is strengthened by previous alternated support on both early June and late October. In addition this area converges with the midline of the parallel channel, which all might prove to be too much to break through.
If we do manage to break higher that 7600, the next major resistance is from both the 365ema and the 0.38 Fibonacci level of the Feb to June Rally. Another key factor to note is again the Kinjun, but it's price level more importantly is at 8400 (just below the 8500 Kinjun on the Weekly Chart). This resistance level will also be more weighted by the 100 and 200 ema's in the 8400 to 8700 area. This area will have timeframe agreement from both the weekly and daily for bearish bias - expect a wall of supply here.
Support factors are outnumbered, however the weekly 100ema and unconfirmed Trendline are viable enough to potentially hold price from going lower, if they break - 5400 is next support, and followed by 3300 at the 365 ema after that.
My conclusion for overall outlook: Bearish - 5400/3300 insight. Triggers for this are price moving below 7050 and 6150. So no entry for me as yet. Bullish entry would be if price broke above 8600 and 9900.
Thanks for you time, I'd just like to add that none of this is financial advise but rather my own opinion, I am not a licensed professional.