Bitcoin transactions larger than PayPal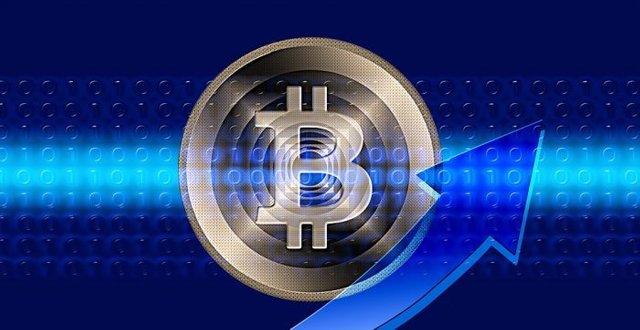 It is sometimes said that Bitcoin has no future because of problems with speed and scale. But according to ARK Invest crypto analyst Yassine Elmandjra, that is not important. Bitcoin will not approach Visa or Mastercard quickly, but it is a player like PayPal passed over the value of transactions. And that is much more important.
According to Yassine Elmandjra, Bitcoin is already much bigger as PayPal and even bigger as the lesser known credit card company Discover. According to the analyst, the Bitcoin network already processed $ 1,300 billion in transactions in 2018. That is more than PayPal and Discover.
Bitcoin can not (yet) compensate for the transaction volume of giants like Visa and Mastercard, but that has never been the intention, says Yassine Elmandjra.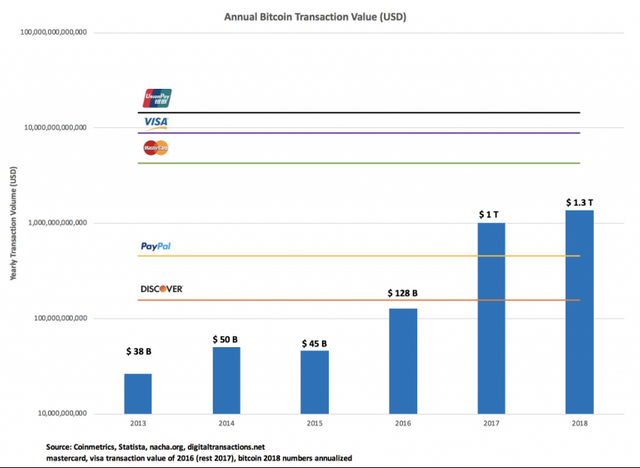 The transaction quantity in Bitcoin has grown enormously since 2013. Last year, Bitcoin processed on average about $ 3 to $ 4 billion per day. The most important thing is not the number of transactions, but the volume, according to ARK Invest's analyst.
"Look at the transaction value, NOT the transaction volume."
Bitcoin vs Visa / Mastercard
Although Bitcoin traded $ 1,300 billion in transaction value in 2018, this amount is much lower than Visa. There the transaction volume in 2016 was already at $ 8.900 billion and since then Visa has continued to grow.
Although it currently seems impossible for Bitcoin to ever catch up with Visa / MasterCard, Yassine Elmandjra certainly does not rule this out. The transaction value of Bitcoin was 8 times higher in 2017 than in 2016. In 2018, Bitcoin will continue to grow, despite the decline of around 60%.
When Bitcoin can continue to grow by 80% on an annual basis, such as the last 5 years, it can become a challenger for Visa in a few years' time. With the implementation of the Lightning Network, Bitcoin must in theory be able to process $ 13,000 billion in transaction value on an annual basis.
Bitcoin will succeed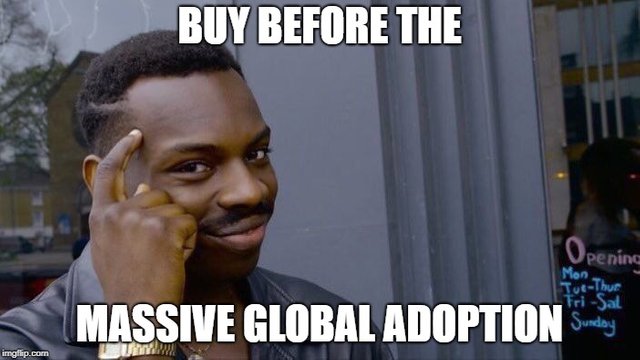 ---
Thank you for reading.
Feel free to upvote, comment, resteem and/or follow my blog @maxdigi if you like my content. I greatly appreciate your support!
Kind regards,
MAXIDIGI