Why not to invest in Cardano (ADA) !!!
Cardano is the #8th largest cryptocurrency in the world with the coinmarket cap of $3.4billion and it is also known as "Ethereum of Japan".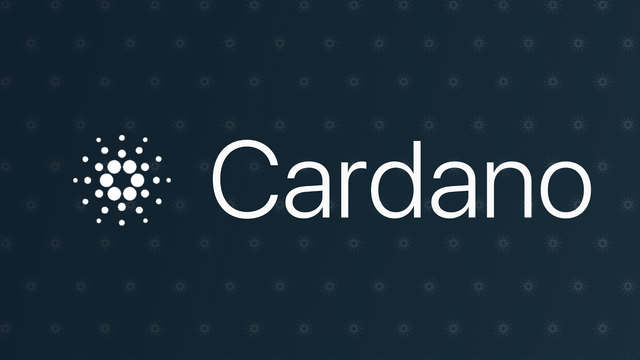 What is Cardano?
Cardano is a smart contract platform, similar to Ethereum, with a focus on security through a layered architecture. The first blockchain project to be created from scientific philosophy and built on peer-reviewed academic research.
Cardano has developed its own Daedalus wallet. Daedalus is a secure, multi-platform, HD (hierarchical deterministic) wallet for the Ada cryptocurrency. 
This staking mechanism makes it unnecessary to brute force the hash code. Thus saves a significant part of the energy required by work-based systems, and allows a resource-efficient and cost-saving blockchain creation.
Instead of using a Proof-of-Work (PoW) consensus algorithm, Cardano uses the Ouroboros Proof-of-Stake (PoS) algorithm to reach consensus on the state of the ledger. Anyone holding a Cardano ADA coin can become a slot leader.
Cardano History 
As to develop cardano three organisations worked together:
1. IOHK (Input Output Hong Kong)
2. Cardano Foundation 
3. Emurgo
 Where, CEO of IOHK : Charles Hoskinson was actively involved in developing Cardano and he was previously CEO of Ethereum.
Cardano is also in competition with several newer projects focusing on smart contract development such as EOS, Lisk, NEO, and NEM. Aims to run smart contracts, decentralized applications, side chains, multi-party computation, and metadata.
Cardano vs Bitcoin & Ethereum Comparison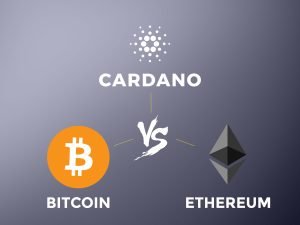 1. Cardano, Bitcoin, and Ethereum have a few common features but Cardano and Ethereum are using smart contracts, and this differentiates them from Bitcoin. 
2. Cardano is still in its infancy, while Bitcoin and Ethereum have already exercised their full potential.
3. Bitcoin's downside is that it doesn't seem interested in the proof-of-stake, and Ethereum is currently upgrading because this is a useful security measure in the blockchain. Cardano, on the other hand, is powered by the innovative Ouroboros concept that triggers terrific security features.
4. Bitcoin is not able to handle complex data, and it's only processing basic info, while Ethereum is a bit higher because it is used as a contract storage repository and a currency. Cardano introduced a multi-layer data processing system that allows ADA token to be used both as currency and as a storage facility for contact information.
How Does Cardano Work?
First, it is important to understand how the Cardano blockchain functions, which can be split into two different layers.
Settlement Layer: The settlement layer has been built and is now fully operational. This allows users to send and receive ADA coins, wallet to wallet. This is similar to how users can transfer Ethereum (ETH) to each other.
Computation Layer: The computation layer is still being developed. Once it is launched, it will allow users to create and enter into smart contracts.This is where Cardano is different from earlier blockchains, which normally operate on a single layer. By using two separate layers, there are some potential benefits for Cardano users. 
Source: https://www.bitdegree.org/tutorials/ada-coin/amp/
Cardano fees
The fees to transfer ADA vary and are determined by the following equation:
transfer fee = a + b * size.
a = a constant currently equaling 0.1324171 ADA
b = a constantly currently equaling 0.000017700 ADA/byte
size = size of the transaction in bytes
The latest upcoming events from Cardano:
1. Cardano Meetup Krakow
On 16 August 2018
the inaugural Cardano community meetup in Krakow to learn more about Cardano with guest speaker Duncan Coutts from IOHK.
2. Cardano Vietnam Meetup
On 25 August 2018
First Vietnam Cardano meetup in Ho Chi Minh City, Vietnam from 6-8PM.
3. Cardano 1.3 
On 31 August 2018 or (earlier)
This version of Cardano carries network enhancements, code refactoring, and enhancements to Daedalus itself.
4. Metaps Plus Patnership
On 30 September 2018 or (earlier)
People will be able to use Ada to make everyday purchases in more than 33,000 stores in South Korea...," around Q3 2018
Source: https://coinmarketcal.com/?form%5Bdate_range%5D=03%2F08%2F2018+-+31%2F03%2F2022&form%5Bcoin%5D%5B%5D=Cardano+%28ADA%29&form%5Bsubmit%5D=&form%5Bsort_by%5D=#moreFilters
Share your thoughts on the subject in the comments section below. 
Regards, @majestyman