Digipulse Airdrop!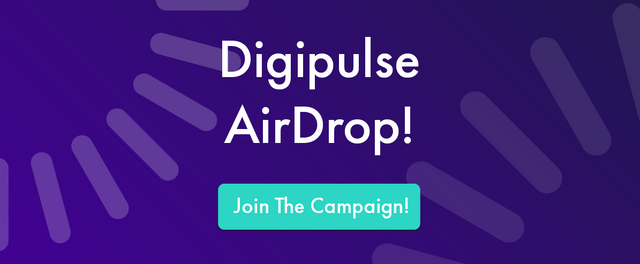 Welcome to Digipulse Airdrop Referral campaign!


Digipulse service will finally be going LIVE this June and to gain maximum community awareness, we're launching an Airdrop Referral campaign on Monday, April 16 at 3PM GMT.
Our campaign goal is to attract 20,000 new Telegram users. A substantial community is, after all, one of the most important indicators of a profitable business.
All you need to do in order to participate in our Airdrop campaign and receive free DGPT is join our official Telegram community! The more friends you'll invite via unique referral links, the more tokens you'll earn! Easy!
For those unfamiliar with what we do, Digipulse is the world's first decentralised cloud storage with an automated transfer of ownership based on activity signals received from connected API integrations. It basically operates as a subscription-based SaaS platform.
Why Airdrop?
A growing community will also help us achieve our long-term goals of attracting and retaining our first service users, raising awareness for the necessity of Digipulse and increasing our overall service value.
How to join:
To join Digipulse Referral campaign, follow these steps:
Go to the AirDrop campaign website: drop.digipulse.io
Read the campaign rules (Terms and Conditions)
Click 'Join Campaign'
Open Telegram
Follow the bot steps
Participation requirements
To be eligible to receive DGPT as part of the promotional campaign you must complete the following steps:
You must be a member of the main Digipulse Telegram channel up to the time of the DGPT distribution;
You must visit the campaign website [at] to trigger the Telegram bot and submit your e-mail address;
You must provide the bot with an Ethereum address that can accept ERC20 tokens;
Once the campaign has ended, you must confirm the Ethereum address with the Telegram bot to claim the DGPT.
Please see the full participation requirements here
The more users you will refer to our campaign using the unique referral link, the more DGPT you will accumulate. After the campaign reaches its goal of 20,000 participants, we'll be sending our tokens out within a few weeks.
You can also follow us on Twitter, but you don't have to. We're looking for individuals who are genuinely interested in using our service.
Our mayor upcoming milestones are:
April: Digipulse now also listed on UpCoin Exchange.
April: Launching new website and white-paper.
May 1st: Token Burn. Read all about it here
June 1st: Digipulse service goes LIVE!
In case of any questions, please don't hesitate to contact us through our Telegram channel, by writing to [email protected] or through Facebook, Twitter or Reddit.