Bottom Line Business Benefits Of Accepting Cryptocurrency
If you own a business and are looking to improve your bottom line you may want to consider accepting cryptocurrencies as a form of payment from your customers. Whether your business is online or a traditional brick and mortar business, accepting cryptocurrency payments has the potential to increase your bottom line profits.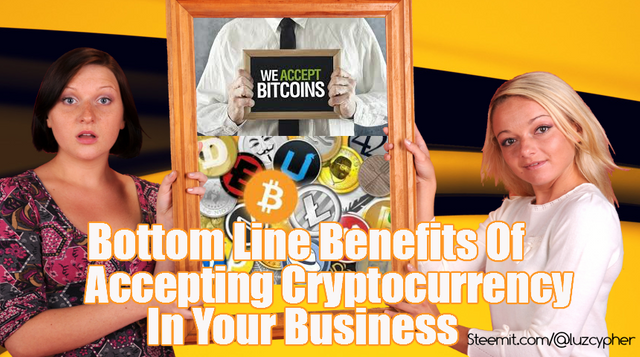 Business Accepting Cryptocurrencies See Increased Profits And New Customers
Worldwide there are around 200,000 merchants who accept bitcoins.
The first US-based online travel agency to accept Bitcoin as a form of payment was CheapAir.com and they processed around $15 million in bitcoin payments for flights and hotels in the first 6-months of beginning to accept Bitcoin.
Expedia.com soon followed and since they started accepting Bitcoin as a form of payment on their website they have seen a similar increase in business.
On April 1st, 2017 Japan legally recognized Bitcoin as a legal form of payment and according to cryptocoinsnews.com they are about to see an explosion of new stores begin accepting bitcoin from customers.
You can read more about that story on this post titled, Bitcoin Could Soon Be Accepted at 260,000 Stores in Japan
Airports in the United States are beginning to accept cryptocurrencies to pay for parking as are any cities throughout the US.
The many different kinds of businesses accepting crypto are growing each day. Everything from hotels, jewelry, pizza, college degrees, VPN services, online dating services, house cleaning services, PayPal, Sears, Etsy, Dell computers, Windows Apps, Gift Cards, Subway, Starbucks, Microsoft, Virgin Airlines, The Gap, KMart, GameStop, JC Penny's, Bloomberg, Home Depot, Dish Network, Shopify.com, ReMax/London, WordPress, Tesla (the car company), Wikipedia, and online retailer OverStock.com all accept bitcoin and other cryptocurrencies for their goods and services and all report an increase in new customers, repeat customers, and increased profits.
Businesses looking to capitalize on the millennials love of new technology and bring them into their stores as new, loyal customers will find a competitive advantage by embracing these new forms of payment before their competitors do.
Each month new businesses big and small are finding the benefits of attracting this new income stream. In this post, we will explore some of the many benefits to businesses that accept crypto from customers.
Lower Transaction Fees
One of the main reason so many businesses are starting to accept payments from customers in cryptocurrencies is that it lowers their transaction fees.
Compared to credit card and debit card payments which usually charge between 3-5% for each purchase made with a card, cryptocurrency offers lower transaction fees ranging from a few cents regardless of the amount purchased to a maximum of abut 1% of the purchase price.
For online businesses that do almost all of their sales by accepting payments online with a credit card, saving 2-4% in transaction fees can go a long way to increasing your profits.
This is particularly a boon for smaller businesses that do not have the sales volume to negotiate lower transaction fees with the major credit card companies.
Lee Marburg, founder of the Bitcoin-only online electronics store CoinsForTech, ships to more than 60 countries around the world. Thanks to cryptocurrencies his business saved more than $17,000 solely in processing fees. He stated, "We processed over $500,000 in transactions and paid nothing in processing cost." credit
In a world where more people are buying things online or in a store using plastic, these fees can add up to a big loss to a small business. Accepting cryptocurrency can drastically reduce these fees and increase the businesses bottom line.
Eliminate Charge Back Fees
Unlike credit cards and debit cards, with cryptocurrency there are zero chargebacks as all sales are final.
Cryptocurrencies are essentially cash and once a sale has occurred the customer cannot reverse the sale. This completely eliminates the possibility of having to deal with customers contesting the sale which causes additional fees against the businesses account.
Chargeback rates under 1% are typical but even with a rate this low it could substantially increase your rates when dealing with credit card companies like Visa and Mastercard. Rates higher than this could make it difficult to find a card company that will work with your business.
Accepting cryptocurrencies means that is one less thing for your business to worry about. All sales are final and there are no chargeback fees. Period.
Attracting New Customers
According to a new report released in January 2017 on the use of digital or mobile wallets, more people are using them than ever before and the rate of new downloads are growing exponentially.
Some of the key findings of the report are listed here.
Key findings include:
Mobile Wallet Adoption High Among Young and Above-Median Income
In the last three months, 67 percent of millennials have used mobile wallets compared to 51 percent of respondents who are 35 to 54 years old.
62 percent of respondents with household incomes greater than $60K have used mobile wallets in the last three months, compared to 39 percent with household incomes below $60K.
The top three mobile wallet items consumers have used the most are loyalty cards, coupons and boarding passes.
84 percent of millennials and 80 percent of respondents with household incomes of $60k+ are more likely to use mobile payments if loyalty rewards and discounts are automatically applied.
Coupons in Mobile Wallet Used More Often, Drive In-Store Traffic
41 percent of respondents said they "always" or "often" forget to bring paper coupons to the store.
48 percent of respondents said they "always" or "often" let coupons for products they're interested in expire or go unused.
If respondents receive expiration reminders via a mobile wallet, 64 percent are more likely to use the coupon.
Plus, mobile reminders drive in-store traffic. 67 percent of U.S. respondents and 58 percent of U.K. respondents are likely to visit a store if they receive coupon expiration reminders when they're close to a store.
Consumers More Likely to Participate in Loyalty Program With Mobile Wallets
One-quarter of respondents use their physical loyalty cards "sometimes" or "rarely" and one-third "always" use them.
The top two reasons for not always using them include not bringing the card (43 percent) and forgetting they are part of the loyalty program (40 percent).
69 percent of respondents are more likely to use their loyalty card if it's on their phone.
73 percent of respondents are more likely to join a loyalty program if points and rewards are automatically updated and immediately visible on mobile wallet loyalty cards. credit
Loyalty programs can easily be automatically applied and shared with first-time customers at the time they make a purchase and drastically increases the chances of them becoming a repeat customer. The interface between accepting digital payments and entering them into a loyalty program for your business is a seamless process for your customer.
Customers that use cryptocurrency like Bitcoin or Dash actively seek out businesses that accept them as a form of payment which lends itself to creating a loyal customer and they are also very vocal about telling their friends of the new stores they have discovered that accept digital cash payment increasing the traffic to that store or business through the best form of advertising there is, word-of-mouth advertising.
There are also many free online apps that businesses who accept digital payments can register themselves on so customers can find them at no cost to the business.
Business As Usual But You Get Paid Faster
Many merchants think they have to learn an entirely new payment system to start accepting cryptocurrencies but the truth is they don't. In fact, they do not even have to know anything about Bitcoin or Dash and they don't have to price items any way differently than they do now.
There are many apps available that make the process seamless. All the customer does is ring up the item in their national fiat currency like they always do and the app generates a QR code that the customer then scans with their phone and the money is exchanged and deposited into their business account just like a credit card only much faster.
Because there are no possibilities of chargeback fees that happen when you accept credit cards, there are no long waiting periods before the money is deposited into your account This can increase the cash flow into your business.
As every business knows, cash flow is the lifeblood of a business and can often be the difference that makes a business successful or not. Faster deposits will always be good for your business and make it easier for your business to meet its financial obligations such as payroll, lease payments, etc..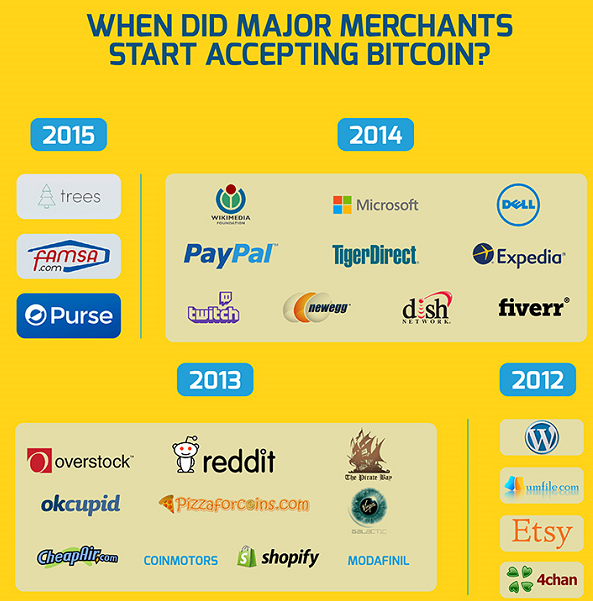 Image credit
Tighter Security And Reduced Risk
Each time a customer uses a credit card to purchase something they are revealing enough personal information for the merchant to purchase items in their customer's name. Fraud is a concern to customers who sometimes will not make a purchase for fear of this security risk.
Each year more businesses are getting their data bases hacked by cyber thieves looking to steal personal information from a businesses customers. With cryptocurrency there is no customer information to steal which makes your customer more likely to purchase from even the smallest businesses without the fear of giving their vital information to a business they are not familiar with.
Instead of pulling funds from customers accounts like credit cards do, cryptocurrencies securely push the funds from the customer's to the merchant's account without having to reveal any personal information from the customer.
Not only does this increase sales and customer confidence but it also protects the business from the costs of liability any would-be hackers or dishonest employees could cause. There is nothing to hack so you are protected.
Market Your Business Beyond Borders
While some businesses only do business in their native country, many businesses lend themselves to doing business globally but still limit themselves to staying in the native country mainly because the costs of doing business in multiple currencies is prohibitive.
With cryptocurrencies these barriers are eliminated because cryptocurrencies ignore borders.
The US does business in US dollars, Europe does business in Euros, Mexico with Pesos, and China in Renminbi, but the internet is the largest driving force for growing a customer base and brand awareness in existence and does business in cryptocurrency.
Bitcoin, Dash, Steem, Ethereum, and LiteCoin are the currencies that offer lighting fast transaction across borders with the lowest fees and they are easily converted into the local money of the native country the business resides in.
This opens up a floodgate of new business opportunities for businesses both big and small to capitalize on and new markets for businesses to explore. Not only can businesses transcend borders but they can relieve themselves of the hassles of doing business in multiple currencies from different countries. No more calculating exchange fees and currency fluctuations as people from all parts of the world can do business with you as if they were in your own country.
The Rise In Crytocurrency Use Is Growing Rapidly
As more banks are starting to adopt the technology behind Bitcoin, known as blockchain technology, more and more businesses and customers alike are becoming aware of the huge benefits of using cryptocurrencies as a medium of exchange.
300,000 new Bitcoin wallets are downloaded each month and that number is rising faster every month and that is just one coin.
Banks like Bank Of America, Merrill Lynch, Santander, BBVA, and countless others are also adopting the technology of a cryptocoin called Ripple to offer their customers faster, more secure, and less expensive transactions across borders.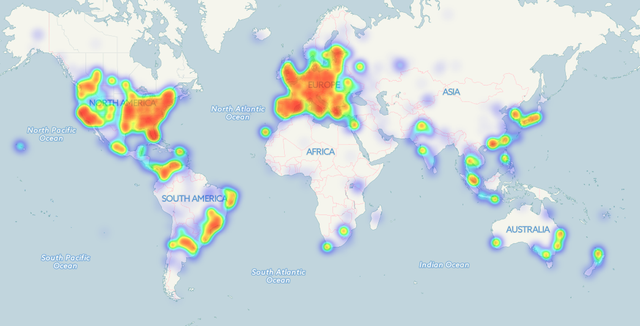 Image credit
Western Union is looking into using blockchain to stay ahead of the new technological developments in the world of finance and remittances realizing that if they do not embrace it they many become obsolete.
Those businesses that stay ahead of the competition by adopting these new 21st-century payment methods will be the ones to thrive in this new global economy and as the number of people using cryptocurrencies continues to rise more of these new tech-savvy customers will be seeking those businesses cater to this growing customer base.
Back when the internet first was introduced as a new way to acquire and engage with customers, those businesses that were too slow to recognize the possibilities the internet offered for their business continued success have struggled to survive and many no longer exist.
Cryptocurrency as a global payment system that crosses borders and is universally recognized is just the first application of blockchain technology and it's the early adopters that will benefit the most from embracing the many benefits to their business and customers.
So why not start accepting cryptocurrency in your business? More ways for more customers to give you money is always a good thing.
What's The Downside?
Ok, I have told you all of the good things that accepting cryptocurrencies can do for your business. So, what's the downside?
Cryptocurrencies have a tendency to have volatile price fluctuation. In other words, the price of a Dash, Bitcoin, or LiteCoin could change significantly throughout the day. This means that from a business perspective you run the risk of selling your product or service, say a cup of coffee, for $2.00 in the morning and by the time your store closes the price of Bitcoin or Dash could have dropped or risen by 25% or more before the close of your day.
That would not be good for business, right? But fear not, because there are many applications available that will calculate the price of the coin you accepted at the time you accepted it and convert it into your local currency at the moment you made the sale.
So if your customer bought that coffee from you that you charged $2.00 for, then $2.00 worth of that coin would be automatically charged from their wallet, converted and deposited into your local business bank account in your national currency.
From the perspective of the business owner nothing changes. They just price the item in their national currency, ring it up at the register, and the customer pays and it gets deposited into your business account.
So, what are you waiting for? Start accepting these new forms of payment and attracting more business your way.
---
Related Posts
Cryptocurrency Pros And Cons --- by @heiditravels

Could Dash Become The Greatest Cryptocurrency --- by @fintekneeks

---

Learn more about Basic Universal Income here