CEO of LAToken speaks at the Washington conference! LAToken - the blockchain platform to tokenize assets from real estate to works of art. Get 0.3 SBD+ for giving feedback!
We went to the 2nd Annual Blockchain Conference held in Washington D.C. to discuss some of the most recent developments in the blockchain state of play, the role of governments in its development, and pros & cons of the boom of ICOs, the rapidly evolving crypto-financing technique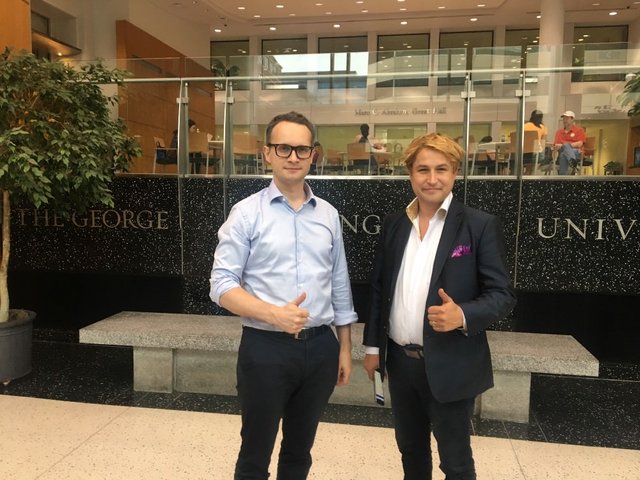 On the left, CEO of LAToken, Valentin Preobrazhenskiy and on the right, chairman of LDJ capital David Drake.
Valentin Preobrazhenskiy, CEO and Founder of LAToken, spoke at the Panel discussion "Blockchain Innovators" at the Blockchain Conference in Washington on July 28th. He revealed how any asset can be bought, sold, or traded in fractional shares through the creation of digital tokens and talked about the universal blockchain marketplace LAToken has built.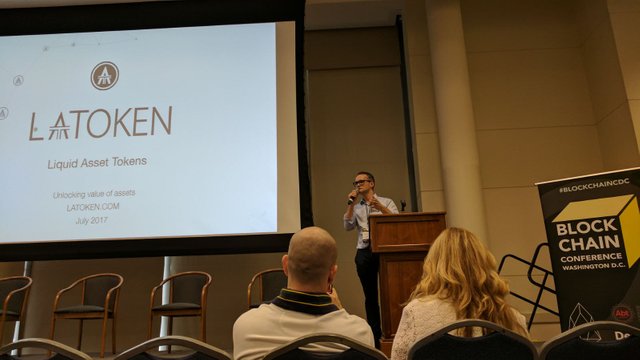 "One of the best things about blockchain is that it creates the perfect transparent and trustfull enviroment for investing in any kinds of assets ranging from real estate to works of art and jewelry. We seized the opportunity and created a marketplace where anything can be tokenized and sold by fractions. That could be the new Amazon on blockchain with a wider range of tradable assets and a dramatic reduction of listing costs, settlement time, and transaction costs", — Preobrazhenskiy explained.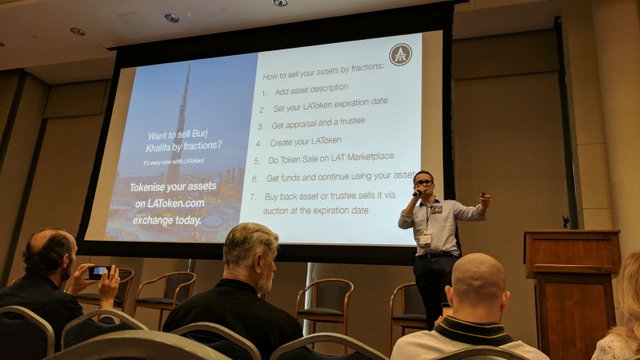 He reminded that LAToken will issue 1 billion tokens at a Public Token Sale on August 22. The startup has already attracted the attention of the leading institutional investors as well as family offices in Europe and the United States. Some of them already expressed interest not only in investing, but also in tokenizing houses, hotels and even mines they own.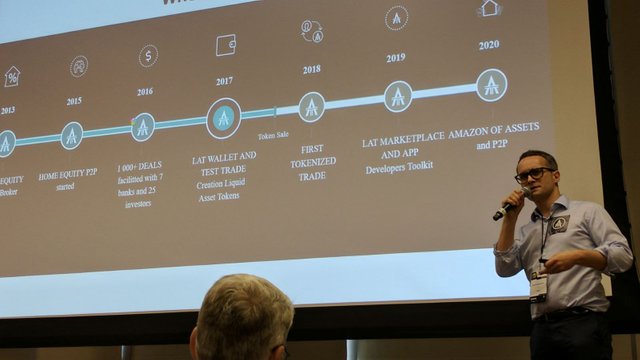 About us.
LAToken is a platform connecting investors with borrowers and assets owners via blockchain allowing each party to get the best offers. LAToken combines the concept of fractional ownership with tokenization of the real-world assets, creating a new era marketplace. Thanks to the platform the anyone can sell assets and still have them in posession, and the investors can use the fast, safe, agile and incredibly transparent blockchain system to make sure they got what they paid for. LAToken's advisory board is joined by Anish Mohammed, advisor to Hyperloop Transportation Technologies, David Drake, Chairman of LDJ Capital, and Ismail Malik, Executive Chairman of Blockchain Lab.
Follow, resteem and give constructive feedback (questions/concers) on our project - LAToken and you'll get 0.3 SBD. We will choose 3 best comments and will give 1 additional SBD each.
You can read LAToken executive summary here: https://sale.latoken.com/whitepaper
And follow our other channels:
Github: https://github.com/latoken
Facebook: https://www.facebook.com/LiquidAssetToken/
Twitter: https://twitter.com/LATokens
Telegram: https://t.me/latoken
Subreddit: https://www.reddit.com/r/LAToken/
Slack: https://latoken.herokuapp.com/