I See Bubble People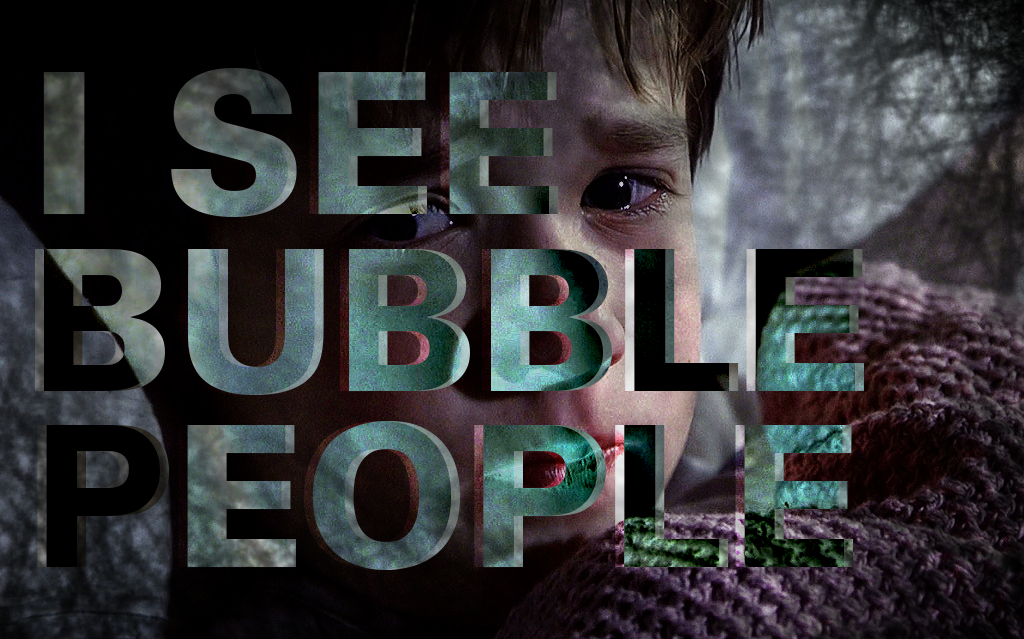 Technical Analysis is to trading what Astrology is to Planetary Science. Whenever people attempt to "read" the charts are doing nothing more other than engaging in gambling superstition. Humans are highly irregular entities and this is especially true when bubble omens are signaling lurk around.
Anyone can be a smart-ass about market crashes — such as the one of 2008. Still, any "signs" it won't make any sense since the same principles cannot be applied nor the predict the next crisis. I have seen enough voodoo-memes over the last 5 years to confirm this. I am pretty sure you have as well.
Many have tried to use the same doom patterns and failed. If it was that predictable after all everyone would be making money and the Dollar Vigilante's wouldn't be busting our balls since 2012 for the "inevitable coming crush". Sure, at some point a crash will come because markets move in circles. But hey, "I told you to buy and you didn't listen". And you will fall for it. Every. Single. Time.
Most people seem to fail to grasp the grand perspective of the markets due to a single reason. Time. For those who have tried to view trading charts you will notice small buttons underneath that indicated a different view depending on the time scale vs zoom.

Based on the button combinations between these two groups you can pretty much choose different combinations to "see things". Really, you can adjust the view to see whatever you want. Similarly, a fortune teller makes shapes out in coffee stains, religious people start seeing Jesus on toasts and astrology folk start seeing shapes of animals based on the arbitrary position they are placed.
You can click on the 2day button and 30minute interval and see a cup and handle. You can click on 1 week and 15 min and see something entirely different. What you choose to see is what you want to believe. Patternicity rules so many parts of our lives. Humans have been proven unable to rationalize them properly due to our highly unstable emotional state. Just 1000 years ago we drew lines and saw omens in the skies. Today we do the same on the screen and see similar delusions. Today they s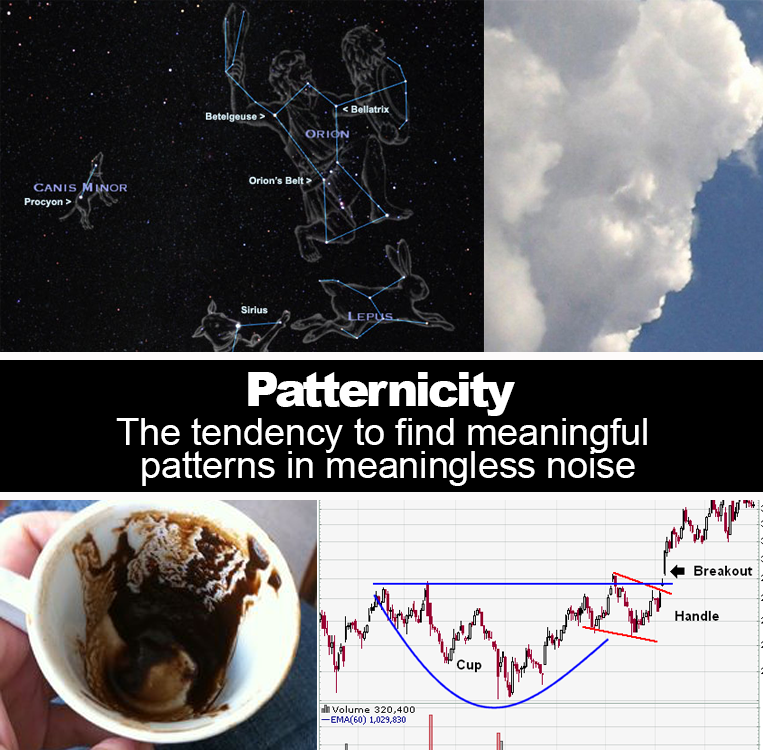 You can try debating an astrologist for hours that the vast distances of stars and planets in relation to their galaxies. It will be of no use. They will simply refuse to accept that chaotic gravitational patterns have nothing to do with our affairs on this planet. It will be futile because humans like to believe in control and order. Much like in trading or fortune telling they will make a prediction because any other way everything seems futile. So for them it works like this; If the prediction comes out then: "fuck yeah, I am the second coming of Nostradamus". If it doesn't: "Something else went wrong but the "mechanism" still works and I shall try again".
In the book Flash Boys it is described how Investment firms — yes those billion dollar companies — tried for a while to employ the best minds on the planet that came from backgrounds of Engineering, Math and Statistics. They wanted to do so because they too are victims of patternicity. As it turned out, a monkey picking random stocks still triumphed over the average Harvard-educated trader. TL;DR of the book: A simple bot written by an average programmer employed in geographical proximity from WallStreet (due to internet connection times) can beat any human, any time of the day. As it is explained from the book; this is part of the reason the market crash was so violent. Technical Analysis was reserved for the superstitious fools.
Perhaps the most obvious example of this situation are the predictions we are getting lately about a crypto bubble. There is a rather infamous chart that people debate over it. Thing is, the chart is meaningless because those events take place all the time whether they span across a time span of 1 hour or 10 years. We can make out fractals in just about anything if we pay close enough attention.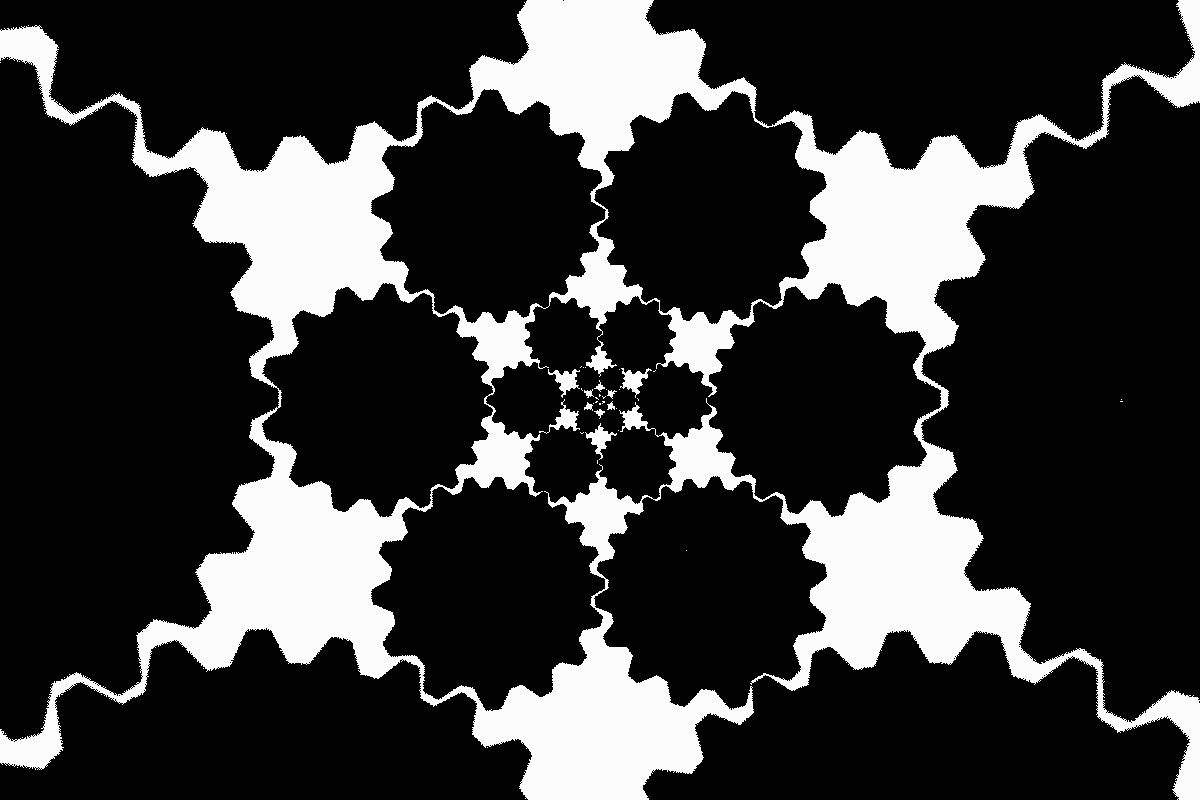 Next time someone tries to debate you BEFORE a bubble happens, showing you the "signs" and the "lines" and all that voodoo trading stuff gamblers are obsessing with, show them this. I am really curious what their response will be.