Yesterday I posted about the cash-crunch and the push for digital currencies and more control. The move from physical money we can possess, to digital virtual money we don't have as much control over, is something that has concerned me for many years.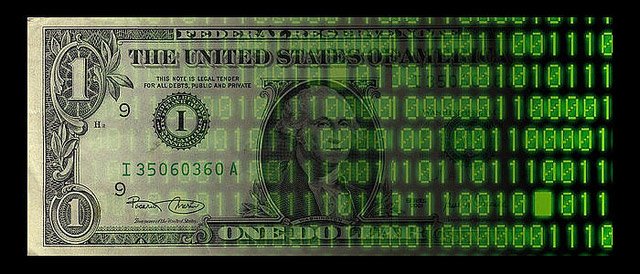 source
In 2006 or 2007, I read a book called Spychips: How Major Corporations and Government Plan to Track Your Every Purchase and Watch Your Every Move. I became keenly aware of technological aims at creating a more regulated and controlled way of life for businesses to target ads to us based on where we are (like in Minority Report), and being able to track us anywhere.
source
That's also a great benefit for the government when "cracking down" on "bad" people like dissenters of the status quo who are trying to change things and heal the corruption of our false way of life.
Digital currencies are a part of that plan, where all of your currency would be digitized in bank accounts so that if you stepped out of line in society, the government could freeze all your money and you would be helpless to survive outside of the system. Now that is part of the end-game of digital currencies and other technological control mechanisms enabling mass surveillance and monitoring of behavior.
At around the same time, or a bit before, I learned about usury, fractional reserve banking and fiat inventing money out of nothing with no backing in reality to give it value. Then I heard about Bitcoin in 2013, and it stunk to me at the time.
I wanted to get away from "inventing money from nothing" models, and get towards sound money. On top of that, this was a digital currency which played right into the hands of the agenda to digitize and control everyone's money. But for now... it wasn't regulated under statist governance... for now... Which was still something that could change.
Bitcoin "mined" the "gold" on a computer. What a joke though. Seriously. Why would it have any value when nothing was being done in the real world? It didn't at first. As with all currencies, it's because all that a currency needs in order to have value, is people to believe in it's value and use it as such. Once it starts to get used, it gains even more value.
A belief can sustain the value of a currency despite a break from the real-world reality of the market. This has been the case in recent decades. The physical world and what gives rise to the economy is not causally linked to the outcome of the "markets" man has invented. For Bitcoin, no one actually had to do anything in the real-world, to go mine any gold for example. There was no real gold that anyone worked to get. It was just a hash-calculation method to make people use electricity to create tokens out of thin air. Ok, people can just use it and make it more valuable. But any token could be created from nothing and used for value as long as many people accepted it as a medium of exchange.
Digital currencies primarily based on speculation are not my ideal kind of currency from how I understand things. Plus there is the possibility of what exists in a virtual reality going away. The internet is more likely to go down than all gold or other physical assets going "down" and disappearing from existence. Physical currencies are more real than digital ones because they are in physical reality, not simply virtual reality. That's not to say cryptocurrencies don't have some advantages either. But we don't exist in a virtual reality. Physical money is always better because you actually have it in your possession in reality. You hold it, it's there. I also recognize digital currency can be safer, such as from theft of a burglar or government. There a trade-offs indeed.
I have since lessened my distaste for Bitcoin and cryptocurrencies, as they are more secure from statist theft than standard digital currencies in banks. But most cryptocurrencies are still removed from reality and actual labor or work of some kind that people do to create something in the real world which is of use. That something in the real world is then used to back a currency and give it value by grounding it to reality.
It seems reality is being detached from what we do in many facets of our life, and people are all too lost in fantasies of how things can work in reality. People seem to like fantasy "currencies" that have nothing behind them to back their value apart from faith, loyalty, trust and belief in it having any value at all. I think that's why most are called "shitcoins". Some currencies have more real-world value though.
It's like all you have to do is "believe" and it becomes "reality". Scary power our consciousness has! If only one person believes it, it has no power. But when many people believe in a belief cast onto consciousness, then that belief has a lot of power in our lives, as I have talked bout many times before.
If you have a hard time understanding why grounding in reality matters, like actual work to make something, then imagine a country or community creates its own currency, and yet no one does any work to produce goods or services. How would you value that currency?
Some people might fall for it and give it value, but others would recognize that the community isn't actually making anything, yet wants to buy things to survive with their "magic money". If this would be accepted, a community could produce no products or services, yet have a currency valued that cold by products or services that others actually work to make. That currency would be worthless, despite people "believing" it's valuable! Who the hell would value a currency with nothing behind it to represent an actual value in the real world? This is the deception behind belief-based currencies that run on speculation of imagination alone. That's living in fantasy clouds, not being grounded in the world where things happen.
This is the issue I have with almost all cryptocurrencies, except STEEM has Steemit.com which has some real value behind it, as I have talked about before.
If a currency is created, yet has nothing behind it except "promises" and speculation, it's not worth very much to me. STEEM has something through Steemit.com: the content! That's why producing quality content matters. Currencies need real value, from real work/labor that people do to create content. That's what will back the STEEM currency and give it real-world value from the real-world work to produce content that exists.
And as you may know from what I have said in posts before, is that I advocate content that matters in people's lives. Quality content can be anything of quality in a specific type or category of content production. When I refer to "higher quality" in terms of my own work or others, I'm usually referring to the quality of information and it's import in our lives, as the quality of information that can affect the quality and condition of our lives. Especially when it's not only situational or temporal information related to an event or a time period, but "timeless" knowledge that applies at any time.
So that's my own issue with how a currency is supposed to have value in reality, the real world, where something real has to be created to give a currency any value, and not simply base it on "belief" and speculation like most cryptocurrencies are.
The frequency of use helps, but gold doesn't need to be used as a currency to be valuable, as it isn't used to buy much of anything in our current economic model. Currencies do need to be used, and they have to have some real-world significance behind it as I demonstrated in the thought-experiment of a country that produces nothing yet having a valued currency. Bitcoin only has value because of being the first, which people adopted and accepted through transactions to increase its use and value, sustained largely by belief and speculation of its use. It has nothing behind it to sustain its use. Any other coin that does better (like STEEM) could replace it.
STEEM has the potential to have real-world work that people produce in order for it to be evaluated beyond mere speculation and the frequency of its use. Sure the frequency of use is important, but that increases when there is a product that is being evaluated in the first place. Content is the product that is being offered by Steemit.com in order to give value to the token STEEM.
I would not have liked crytpocurrency that much if it wasn't for STEEM. I only bought Bitcoin for the first time after I joined Steemit.com, and it was to buy STEEM, not even to hold onto Bitcoin. My dislike of digital currency carried over to cryptocurrency, but thanks to STEEM and Steemit I gained more respect for the potential of cryptocurrency.
Crypto is better than simply digital indeed, but I still prefer physical to virtual currencies due to it being an existing thing I can grasp and control more than any digital kind. Digital currencies are more convenient though, which is why the public is falling for the cash-crunch and not even questioning what is going on.
That's my story :)
Do you have a story to tell (or info) about digital currency vs. cryptocurrency? Please share.
---
References:
---
Thank you for your time and attention! I appreciate the knowledge reaching more people. Take care. Peace.
---
If you appreciate and value the content, please consider:
Upvoting

,    Sharing

or   Reblogging

below.

me for more content to come!
---
Please also consider supporting me as a Steem Witness by voting for me at the bottom of the Witness page; or just click on the upvote button if I am in the top 50:


---
@krnel
2017-02-16, 12:01pm