Whats Up Steemians,
For a long time, I haven't written about ICO's, trying to bring here the really good ones.
So today I bring you a good one, Called NEX an Exchange based on Neo's Blockchain
The three points highlighted are:


What is different from other trading platforms is that here order get match off-chain and redistributed on-chain to the individual users, you don't need to send your coins to a trading platform, it's much safer. It's true that there are good and reliable trading platforms, but everything can be hacked and you don't have the private key, essentially if you don't have the private key the coins are not yours.
The third point is a big thing, complex trade like limit orders, stop loss, margin tradings are not in any decentralized trading platform so far.
The staff looks great, such Fabio Cesar Canesin, Fabian Wahle, Ethan Fast and Luciano Engel Co-founders of City of Zion as advisors, they have Da Hongfei and Erik Zhang Co-founders of Neo. Those who know Neo know them.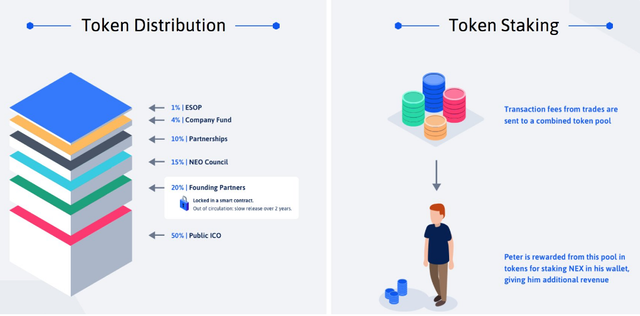 Additionally, it will be possible to participate in ICO through the NEON wallet, in a simple, fast and automatic manner.
In conclusion, this seems to be a very interesting project with potential, worth following it. Similar currencies(Binance Coin, KuCoin Shares) but not decentralized platforms have succeeded and each one has a market cap around a billion dollars, therefore NEX which is unique has the potential to reach beyond that. Currently, They haven't yet published a sale date.
Links
@KingDavidHarp


Trader & Investor