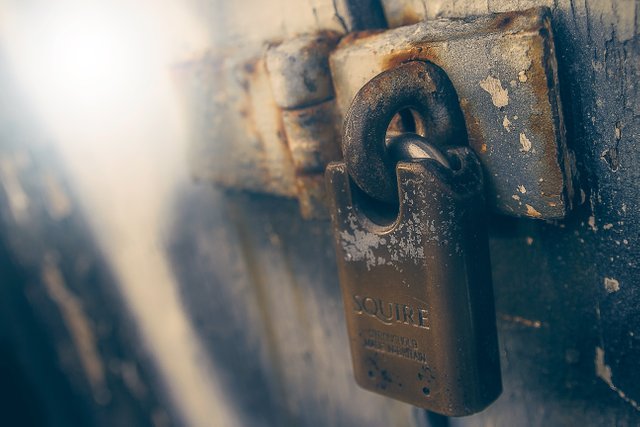 We live in a rapidly changing world: technologies are changing, and with them our lives are changing. "Digit" wins the main place in life. Cryptocurrencies and blockchain technology is a 21st century phenomenon that gives us fantastic investment opportunities.
A few years ago, I discovered this world of cryptocurrencies and saw a huge potential. After studying a lot of information,I made a personal investment portfolio. It remained to decide where to buy the assets. My choice fell on Poloniex, at that time it was the largest market with good trading volumes. There I bought my first crypto assets.
After a couple of weeks, on August 2, 2017, I went to the website and read this unpleasant message.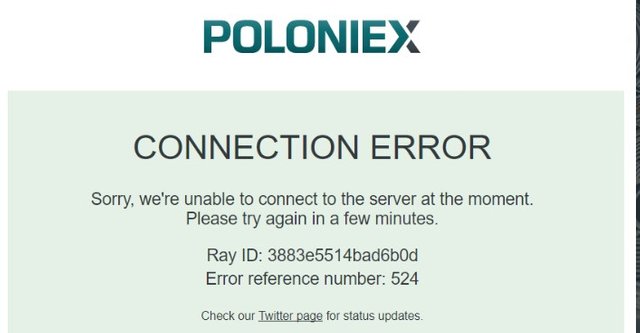 Exchange went offline and came alive the next day, but this day made me pretty nervous. This situation clearly pointed me to the Main Drawbacks of Centralized Exchanges, because that day I could lose all my crypto assets:
Lack of Transparency.
Such exchanges function as traditional financial institutions that manage our money at their discretion and we don't know how. In this case, we simply transfer our assets to the custody of new intermediaries, which don't give any guarantees, and this contradicts blockchain concept, which is considered free, decentralized, equitable and seeks to eliminate intermediaries between users in all spheres.
Lack of Control Over Your Funds.
When transferring crypto assets to the exchange, the user loses control over them. Yes, he has a password to the account of the exchange, which he receives when registering, but he does not have the most important thing - a private key. For me, this is one of the main drawbacks of centralized exchanges.
Sensitivity to hacker attacks.
Throughout the history of cryptocurrencies, hacker attacks have occurred repeatedly. We know the history of one of the first trading platforms on the cryptocurrency market - Mt.Gox. Along with it, 850 000 BTC disappeared from users ' wallets. The collapse of the MtGox exchange may forever remain the largest in the cryptocurrency economy. Exchange Poloniex,Bitstamp and Bitfinex also became victims of hacker attacks in the past and suffered heavy losses.
There is every reason to believe that such cases will occur in the future. And along with the growing popularity and market capitalization of cryptocurrencies, they will cause more interest among hackers.
Can Decentralized Exchanges Become a Full-fledged Replacement?
I don't think so.
For some, using decentralized exchanges as trading platforms is a good alternative. Users anonymity , absence of intermediaries, transparency and complexity in hacking are the main advantages of such platforms.
Despite this, decentralized exchanges are still not able to fully compete with classic trading platforms and are unlikely to be able to in the future: slow trading mechanisms, low liquidity, lack of fiat pairs for trading and margin trading prevent this. Many traders agree to put up with all the risks of working with centralized exchanges in return for more instruments and reliable performance.
And what exchanges do you use? For me , the top ones - Binance and Idex (among the decentralized)
DAEX is a Complex Solution for Both Types of Exchanges.

Recently, hybrid models of trading platforms have been created, in which there are functional types of exchanges. One of such platforms is the DAEX project.
The DAEX ecosystem consists of a clearing service, traditional crypto exchanges, and user wallets.
I must say, the solution to the problem offered by the developers seems very worthy. To read about all the technical aspects you can in the Whitepaper.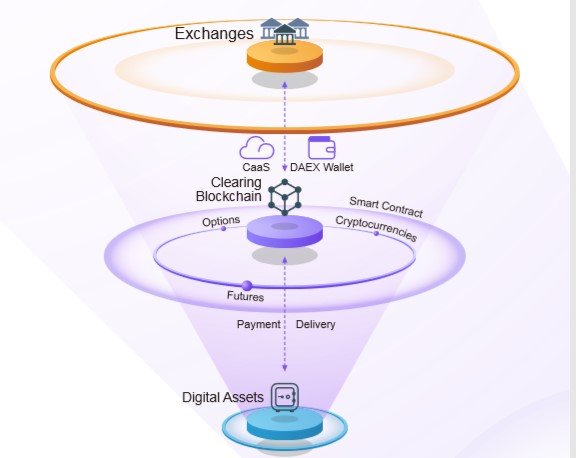 Users create a personal wallet DAEX and receive a private key. Then pass the identity verification and transfer digital assets to the daex wallet. The main thing is that the funds do not go to the wallets of the exchange, but remain on your personal wallet DAEX, protected by a private key that only you know. Exchanges will be responsible only for trading process, opening and closing transactions. After orders are closed, the exchange sends updated information to the DAEX ecosystem for clearing using DLT. This procedure will be carried out through the DAEX Clearing Blockchain, which is the main product of the platform.
Since DAEX is a hybrid product, it combines all the advantages of centralized and decentralized platforms, let's consider what advantages for users we are talking about:
full control over assets
support for a large number of unique digital tokens
access using DAEX wallet to any exchange that is connected to the DAEX ecosystem that bring the high liquidity of trading
advanced trading features in both cryptocurrency and fiat,including the ability to create own unique crypto asset.
Exchanges, in turn ,don't need to spend resources on the creation of an asset storage system, as well as organize clearing process and settlement of transactions. Therefore, they can focus their efforts and time on improving the perfomance and scaling up of their project.
Summarizing.
With the cryptocurrency popularization and market capitalization growth, the daily turnover of the main assets of Bitcoin and Ethereum is about $ 10 billion, and in this situation even in the bear market.It's obvious that the organization of safe trade and fund storage is the highest priority today, it will stimulate the interest of new investors and will make the market grow.
The goal of DAEX is to become a link for the digital industry as a whole, combining the functionality of a larger number of exchange platforms. This will allow users to buy and sell any digital assets within the same ecosystem and not to register separate accounts for each exchange. I think it's just super convenient! A bonus for exchanges will be a common user base, which will increase liquidity and speed up the orders closing.
DAEX has all the chances to become a popular resource for exchange and trading and is supported by well-known funds. The project plans to provide its clients with derivatives of cryptocurrencies trading(futures and options for cryptocurrency), which should contribute to attracting a large number of new users.
The qualification and experience of the team members is impressive and gives confidence that the project will develop according to the roadmap. About all project success you can read on their official website and blog, and if you have questions, ask a question in the Telegram.
I hope you were interested, thank you for your attention and stay tuned!
Check More Info Here:
[The Uniqueness of This Article](

)
Whitepaper
Telegram
Twitter
Medium