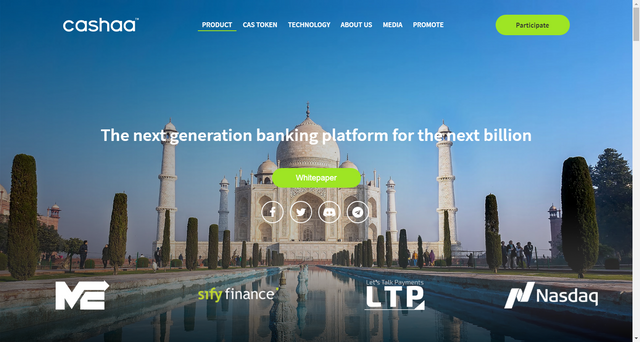 Hello Once again Steemians,
Hey, welcome back to a brand new episode of ICO, brought to you by me, Rahul Singh, your favorite  entrepreneur  and cryptocurrency enthusiast and the best ICO and cryptocurrency assessment service in the world! 
So if you are on steemit than i can be assure myself that you guys are familiar with the term Cryptocurrency, Bitcoin, Alt-coin and the ICO. If not Please visit my YouTube channel @itmakesense   you will get the idea.
Today i am going to Introduce to the Most Advanced and Awaited ICO  of 2017, Cashaa. First Cashaa got my attention when its Publish on Outlookindia with the Headline " Cashaa evolves as banking, payments solution provider; announces launch of CAS tokens" and than i took my time to analyze the in-build potential Cashaa has.
Day by day ICO companies arrives in Crypto Space and offer us functionality as  decentralized internet, supercomputer and payments platform. However, to become a successful in blockchain company, the main requirement is Adoption by the mass audience and the ability to solve real world Problem with the correct real life application and luckily Cashaa has both the thing and that's give me assurance and safety on its Success.
How can we Exactly Define Cashaa... 
Cashaa define themselves as  a gateway to consumer-centric and affordable financial products aimed at consumer adoption of Blockchain without having to understand the technical details of Blockchain technology. Cashaa is building its infrastructure on the Blockchain and utilizes artificial intelligence and biometric systems to empower mainstream adoption of payment and financial products with full security. 
What is the role of Cashaa in Remittance Industry... 
If you Guys are dont familiar with what Remittance me, allow me to introduce it. A Remittance is a transfer of money by a foreign worker to an individual in his or her home country. Money sent home by migrants competes with international aid as one of the largest financial inflows to developing countries. 
Lets Understood this with a small example, If you want to transfer $1000 worth of money to  support yous families in other countries across the world then  using traditional means, fees can cost you 6% to 20% to send the money which will give you the shocking fees of $200 and  this is a very real scenario, and up until now, limited company like western union ,PayPal ,Perfect Money are the only methods of doing so. 
 How Does Cashaa Work?
Cashaa is built on top of a blockchain called Auxledger. Auxledger is an enterprise-grade blockchain focused on security, performance, and scalability.The Cashaa platform has already been beta tested around the world. The company claims to have 12,000+ registered users in 141 countries around the world, and the platform currently supports about 100 currencies.Auxledger uses Interplanetary File Storage (IPFS) to distribute files across the network in a decentralized way. 
Auxledger is currently seeking new partnerships with enterprise users – including corporations and government users. Auxledger specifically mentions government uses like for land registries, electronic health records, benefit distribution programs, and more. 
Cashaa Features...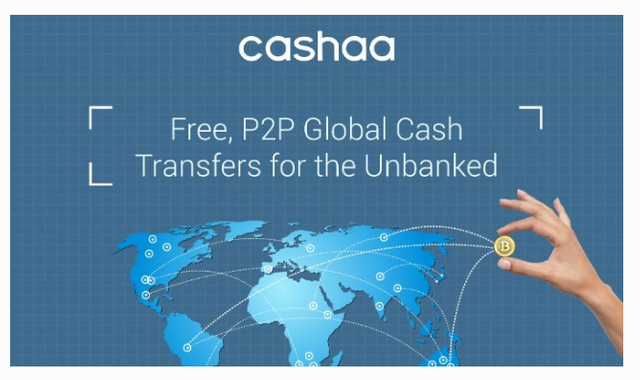 Here are some of the features that distinguish Cashaa from traditional banks and from other blockchain-based financial institutions:
Targeted Towards the Banked and Unbanked
Some blockchain-based financial institutions target customers who are already using banking services. Others target "unbanked" populations who lack traditional identification or cannot access banking infrastructure for other reasons. Cashaa, however, targets both of these groups of users. The Cashaa.com official website states that 2.5 billion people worldwide are unbanked, while a further 1 billion are underbanked. Cashaa aims to create a platform "which can serve the entire population."
Low-Cost Currency Exchanges
One of the most obvious benefits of cryptocurrency is that it's easy to transfer worldwide with minimal exchange rate costs. Cashaa's platform is powered by forex trading technology, which means users enjoy lower foreign exchange rates than they would get from traditional banking providers.
Investments In A Global Economy
Cashaa allows investors to participate in a global economy. Cashaa's members can invest in a diversified portfolio across international borders. You can pick whichever digital token you like and transact in a seamless, low-cost way.
Open API
Cashaa encourages developers to create next-generation DApps on the Cashaa platform to solve financial challenges. Cashaa has an SDK and Open API with integrated biometric and artificial intelligence services to accelerate growth on the platform.
Spend Anywhere With Your Wallet Or Cards
Cashaa will have a CASNext Wallet and cards that make your coins as liquid as cash. Like other cryptocurrency financial institutions, this allows you to spend your cryptocurrencies anywhere VISA or MasterCard are accepted. The mobile wallet, meanwhile, is a multi-currency wallet that allows users to get instant balance updates, make transactions, or setup intelligent notifications. 
 Milestones...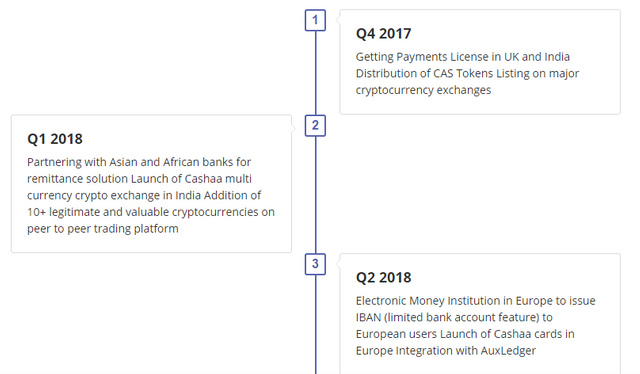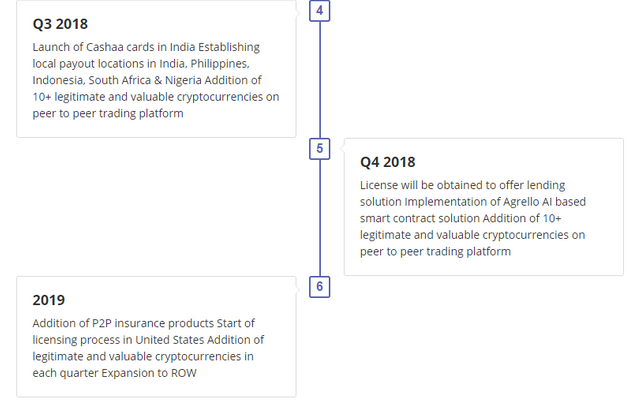 Financial...
Token info:- 
Token Symbol :CAS                                 Accepting ETH, BTC, Fiat                                         
Platform: Ethereum                                Distributed in ICO 51% 
Type: ERC20                                                 Hard cap 105000 ETH 
Token price : 1 CAS = 0.1 USD
 ICO Start Date : 6th November
Tier 1 (24 hours)   40 % Bonus
Tier 2 (next 3 Days)  20 % Bonus
Tier 3 (next 7 Days) 10 % Bonus
Tier 4 (until token sale end) 5 % Bonus
 Who's Behind Cashaa?
Cashaa was launched on January 18, 2017 after months of testing. During the platform's beta testing, the platform attracted 12,000+ users who transferred over $2.5 million USD.The company is based in London. Key members of the team include Founder and CEO Kumar Gaurav, Co-Founder and Chairman Celestine Vettical, Chief Payments Officer Dominic Melo, Chief Investment Officer Francesco Zorgno, Co-Founder and CFO Felice N. Covelli, and Co-Founder and VP Marketing Janina Lowisz. 
Kumar Gaurav (CEO) is among top 100 most influential people in the world who are leading the evolution of Blockchain and was awarded Extraordinary status ( O1 visa) by United States government. He is also a co-founder of Darwinsurance (acquired by Esedra), Chairman of Auxesis, India's first enterprise Blockchain company and former Project Engineer at Wipro Technologies. 
Celestine Vettical (Co-founder) is a former CEO of Perfomix – A Baker Hughes Company, VP of Strategic Alliances at Cognizant (NASDAQ: CTSH), Worldwide Director of Manufacturing Industry Solutions at Microsoft and Director of Business Development at SAP. Amazing background for this guy, I must admit.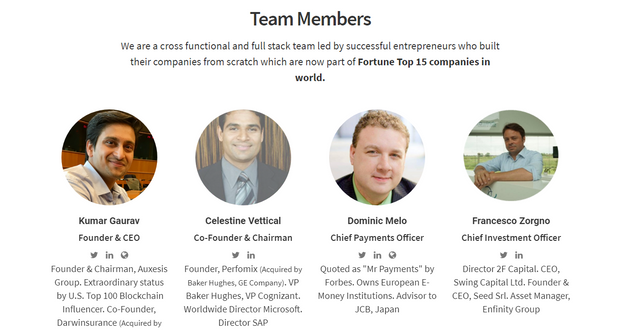 Now, for some of the advisors...
Bernard Lietaer, also known as the "Architect of the Euro" for designing the ECU, while he was at the Central bank of Belgium, is also the well-known author of "The Future of Money". Bernard is definitely a great addition to the advisory board of Cashaa. 
John Henry Clippinger is a Reasearch Scientist at MIT (subject: Trust Frameworks for open mobile platforms), Big Data Working Group Member at the World Economic Forum and Advisor for the Bancor Foundation. He also holds a PhD in Computational Linguistics and AI from the University of Pennsylvania.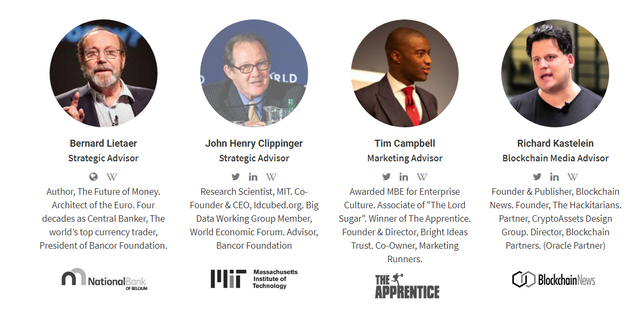 Conclusion...
Considering all the pluses and minuses above, I think i will consider investing in this ICO, but it definitely needs some improvements and a high level of commitment by the team, in order to make the idea a reality, in a space where more and more great ICOs are emerging each and every day.
How to Connect with Cashaa...

 WEBSITE   WHITEPAPER  TELEGRAM  DISCORD TWITTER 
For Bounty Program Visit: https://bitcointalk.org/index.php?topic=2273856.0
MEW: 0x5cDF470331D1E11b8454DDcF41637E8643F22272
Thanks