Liquid Qash Analysis In Detail ($QASH)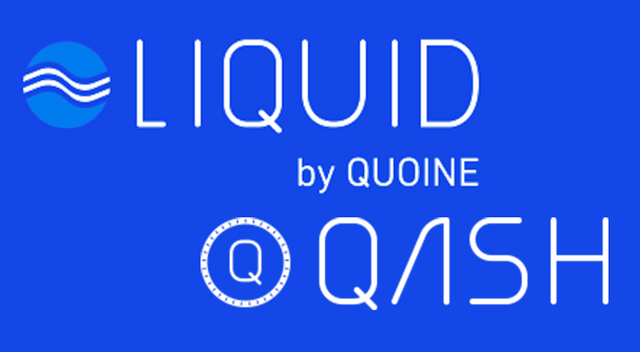 The Liquid Qash project - ran by Quoine Pte. Ltd. - wants to connect as many crypto exchanges as possible to create a liquidity pool. Users from one exchange will be able to trade with users from any of the other connected exchanges. For instance if gdax and bitfinex are connected to Liquid Qash, a gdax user selling 500 ETH can have its order matched with a bitfinex user buying ETH - the most amazing thing is that this match can be done even if the buyer and seller trade on different currency pairs (Liquid Qash's world book will do the currency exchange and it will be transparent to the user). Effectively, Liquid Qash's world book will unite order books from various crypto exchanges and will be "currency-agnostic".
Liquid Qash brings what is already done in the traditional financial industry to the crypto world. Every single aspect of this project shows how Quoine brings the world of traditional finance into the crypto world: project concept, knowledge, team, advisors, investors and more. This traditional approach is not pleasing everyone and will not leave your crypto debates quiet.
Liquid Qash will try to bring centralization to an ecosystem that initially aimed at being decentralized. And it brings the traditional investment world to the crypto world.
The bigger picture: this massive move from traditional-to-crypto finance is what I (Adrien, founder of IPA News) call "The Crypto Switch". Hopefully, this will bring what the crypto ecosystem desperately needs: credibility and stability.
This analysis is done following strict criteria and is the result of hours of research as well as chats with the project's team.
The project is either referred as Liquid Qash, Quoine Liquid, Qash or Liquid. In this article, we will try to always refer to it as the Liquid Qash project.
Note that the ticker for the token is spelled QASH or sometimes QSH, which adds to the confusion.
Regarding Quoine: we also published an in-depth review about Quoinex exchanges.
If you like this article, please: upvote, share or donate (details at the bottom of article).
Follow us on Twitter @icoPntsAnalysis
---
---
In a nutshell
---
This first section called "In a nutshell" is opinionated. Please do make your own judgement by reading this article and doing your own research.
Pros & cons
---
Pros
An extremely clear white paper
An incredibly ambitious project filling the gap for a much needed financial tool for the crypto market.
Benefit for the crypto ecosystem: opening up isolated markets, allowing traders from weak base currencies to trade with anyone using another base currency.
Benefit for the crypto ecosystem: removes arbitrage opportunities where the smaller traders suffer the most.
A huge targeted market: the whole crypto markets, worth over 700 billion USD as of now (early Jan 2018).
A target market with only one serious competitor.
A solid organization behind the project: one of the only regulated exchanges in Japan, with years of experience in the crypto field built up while creating Quoinex and Qryptos exchanges.
Reusable foundations (across all domains) laid while building Quoinex and Qryptos exchanges.
Quoine sticks to its roadmap since 2014 and seems to go forward without nothing stopping it.
Quoine got audited by one of the big 4.
An incredibly talented team.
A team over 90 people and growing.
Very serious investors and advisors.
An extremely successful ICO: it reached the hard cap of 105 million USD (approx.)
A very clear marketing and corporate communication.
Cons
Qash centralizes a technology that aims for decentralization, this may be the totally wrong idea… or simply genius (business-wise).
Very little transparency on the tech since proprietary.
Very big promises/ambitions, delivering will be tough.
Quoine may have too many goals: with so many projects already in the pipeline, it could become very tough to succeed with the level of quality expected.
Some critics say there is a too much hype surrounding the project.
Ran by people coming from the world of traditional finance, this does not sound as attractive as a group of young friends building revolutionary technology.
Confusing communication across channels: information is spread across different channels and can be hard to find.
Missing a strong indexable community channel: a strong community channel that is indexed (reddit, bitcointalk, or else, versus a chat) would be much better.
Community management: Liquid Quash's English community is very quiet, all the info one can find online is mostly communication from the company itself. Apart from the Telegram channel, there doesn't seem to be much of an English speaking community out there. Quoine has a lot of space for improvement. The reason for this might be because Quoine team is mainly coming from the traditional banking world and do not know how to handle this challenge.
Overall rating
---
What investment rating do you give?

4 out of 5.
The Liquid Qash project appears to be built to last and to deliver huge amount of value to cryptocurrency traders worldwide. This, of course, in return will increase the value held by token holders.

What investment risk do you give?

4 out of 5.
There is hype surrounding the project (c.f. the oversubscribed ICO) as well as a significant amount of vagueness (c.f. Proprietary technology, or detailing relationships with banks). However the team behind this project is brilliant, has a lot of experience and is very likely to deliver

What's your gut feeling about this project?

The picture is very clear: Quoine has put every possible option on its side and although a super ambitious goal, they might succeed.
Quoine's "corporate style" may not be sexy, but it may just be what the crypto space needs. If Liquid Qash launches successfully, solving the crypto liquidity issue will trigger a virtuous circle of benefits for the ecosystem: credibility, stability and more.
---
---
The Nitty Gritty
---
General info
---
What is the ticker symbol?

QASH
QSH - ticker symbol used by some exchanges

What is the official website?
Where can I find the white paper?
Where can I take part in the ICO?

The ICO was completed on 5 Dec 2017

If already listed, what place does it have on coinmarketcap.com and what is its market capitalization?

Market Capitalization of 721 million USD
The QASH token is listed at the 46th place on coinmarketcap (early Jan 2018)

If already listed, what exchanges trade it?

The top four by volume, as of writing, are:

Huobi (Singapore based exchange)
Bitfinex
Quoine
Qryptos

If already listed, where can I find its chart (coinmarketcap.com or else)?
Project overview
---
What is the organisation behind the project?

Liquid Qash was created by Quoine, a financial services company that provides trading, exchange, and financial services powered by blockchain technology.

In which country is this organisation based (country of jurisdiction)?

Quoine is headquartered in Japan, it also has offices in Singapore and Vietnam.

Is the project actually made of several projects?

The Liquid Qash project does not have subprojects.
However, the Liquid Qash project is one of 3 projects ran by Quoine Pte. Ltd.

What is the goal of project?

Build a solid, global financial utility that solves the liquidity issue for all: build a common liquidity pool for as many exchanges as possible.
This common pool will provide extremely high liquidity in many trading pairs: fiat to crypto, and crypto to crypto.
The Liquid Qash project aims to provide liquidity between markets where historically there was none: liquidity is the lifeblood of every industry, it is the single most important element lacking in the crypto economy today.
Liquid Qash wants to solve two issues: the developed markets isolation and the emerging markets isolation.
Developed markets isolation: standalone exchanges operating in closed pools of liquidity

i.e. One exchange in one currency pair (e.g. BTC/USD at exchange A serving USD customers) cannot easily access the opposite liquidity if it exists on another exchange (e.g. BTC/EUR at exchange B serving Euro customers).

Emerging markets isolation: underserved with illiquid local currencies that must interact with bigger liquidity pools to utilize cryptocurrency

i.e. An exchange trying to support customers living in a country with a weak national currency will have very little liquidity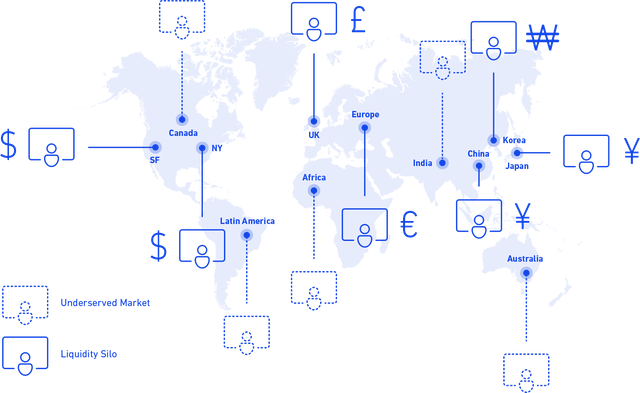 What is the best way to describe the project?

Liquid Qash is "a single globally-sourced trading platform (World Book) with an associated suite of services (Prime Brokerage)"
World Book: a multi-market order book that aggregates the orders and prices from the world's various exchanges into one platform, it will allow users to place orders in any currency.
The World Book, an example of usage (from the white paper, page 18)

"For example, a German trader (A) wishing to sell BTC (Base Currency) can choose to see the World Book for BTC in EUR (their Quote Currency). When they place an order in the World Book, they see their order enter the BTC/EUR market, and the order's price is reflected in their orderbook in EUR."
"While, a Singapore trader, using the World book, will see the entire order book in their own currency of choice, likely SGD. They will see the order that was placed in BTC/EUR by the German Trader, priced in SGD – and from the Singapore trader's perspective, the German trader's order will fluctuate with changes in the EUR/SGD rates.
"If the order to sell BTC/EUR is matched with an order to buy BTC/SGD, an FX conversion happens behind the scenes. Both parties receive their execution in the respective currencies of their orders."
Underpinning LIQUID (Liquid Qash) Platform's World Book are three technologies that are already by QUOINE on a daily basis:

Matching Engine (ME) to match orders
Cross Currency Conversion Engine (CCCE) to convert orders to when they are matched in different currencies
Smart Order Routing (SOR) to route orders quickly to reputable exchanges


The Prime Brokerage service will add features such as Crypto/Fiat Credit and Real Time Reporting.
Further services will be available such as System Co-Location, Automated Trading Strategies and Quoine's Trading Tools
Other reviews
---
Positive reviews
Negative reviews
Crypto competitors
---
B2Bx

Liquid Qash will compete again B2Bx, which holds itself out as "the first official provider of cryptocurrency liquidity". Their target market is institutional investors and other professionals.
Ticker: B2B
Market cap: 20 million USD (early Jan 2018)
Coin rank: 425 (early January 2018)

Request Network

Request Network aims to provide easy transfer of cryptocurrencies between users p2p (i.e. business-to-individual or individual-to-individual).
Whereas Liquid Qash will be a highly liquid pool linking up exchanges used by anyone (individuals or entities): it is more of a centralized concept.
Ticker: REQ
Market cap: 499 million USD (early Jan 2018)
Coin rank: 71 (early Jan 2018)

In addition, the Liquid Qash white paper includes a diagram analysis of competitors and shows how this project is leading the pack.


Off-chain competitors
---
Stock Connect and various bank owned trading platforms like CommSec of Commonwealth Bank allow access to a multitude of international exchanges directly from their trading console.
If yes, what is the market size of this off-chain solution?
Why is this crypto solution better than the off-chain solutions?

The traditional trading platforms are for trading traditional digital assets (not crypto) so they aim at a different market.
However, this is a very similar concept and traditional exchanges have been built for decades. So the crypto exchanges can benefit a lot from learning from the people who built them.
Team experience
---

How many people are in the team?
Are the team member names and history known?

Yes. All or most of the team members are visible on the website.

What is the approximate proportion between tech people and business people?

There seems to be an appropriate mix of tech and business people.

Does the organization have a history of successful projects?

Yes, Quoine has successfully launched two exchanges.
Quoinex: launched in early 2014, a fully compliant digital asset exchange with over 12 billion USD in annual transactions.
Qryptos: launched in 2017, a fully digital exchange exclusively for cryptocurrencies. The platform plans to offer token issuers an easy way to list and trade their own tokens.
Quoine is one of the only regulated exchanges in Japan, this adds to the maturity of the organization.

Do the advisors have a history of successful projects?

The advisors include current and former bank CEOs, consulting firm directors and a former vice president of Visa to name a few.

Does the project has any partnership with other organisations?
What is the experience of the individual team members?

Quoine has an incredibly talented team.
The team brings pre Quoine-era experience from the traditional banking industry, in Forex, IT, Forex IT, Algos, equity trading systems, and FICC (Fixed Income, Currencies, and Commodities ) - all combined with expertise in Internet and mobile technology.
The team brings Quoine-era experience in the crypto field from building Quoine and Quoinex crypto exchanges.
Quoine's management team has worked at the following companies: Goldman Sachs, Bank of America Merrill Lynch, Credit Suisse, Citigroup, Barclays, UBS, ANZ, Union Bank, Rabobank, Wells Fargo Bank, Bloomberg, Price Waterhouse Coopers, SoftBank Group Corp., SAMSUNG, SingTel, Mitsubishi Corporation, Anderson Consulting, and AirAsia.
Project status
---
When did this project start?

Q1 2014: Quoine gets incorporated.
We couldn't find any clear starting date for the Liquid Qash project because it is one of several projects ran by Quoine.
Qash reuses code and experience built up when creating Quoinex and Qryptos. Quoinex was launched in 2014 and Qryptos in 2017.

Is the organization regularly reporting progress on the social media streams (facebook, Tweeter, Reddit, Medium, Telegram, Slack)?

The organization reports on its big milestones and tries to keep everyone up to date with significant progress.
One must note that this is not an open source project, so smaller improvements or issues can be kept quiet.

What were the achieved milestones?

Much of the foundations necessary for the Liquid Qash project have already been laid when building Quoinex and Qryptos: the tech, the legal, the marketing, the team, and the list goes on.
Here is an overview

Q2 2014 - Quoinex launch
Q1 2015 (and later) - Trading tools: UI and backend for various types of trades
Q2 2015 - Quoinex mobile app
Q1 2017 - New High Performance Data Infrastructure
Q2 2017 - New High Performance Multi-Market Matching Engine (5M+ transaction/sec)
Q2 2017 - Global Smart Order Routing & Cross-Currency Matching Engine
Q3 2017 - Quoinex Japan Registered with the Japan FSA license no. 00002

What is the state of the project?

There is no working product yet, the official launch is planned for Q2 2018.

What is the roadmap for the future?

Highlights for 2018

Q1 2018: World Book beta version launch
Q1 2018: Direct Market Access beta version launch
Q2 2018: Liquid Qash official launch
Q3 2018: Direct Market Access 1.0 stable version launch
Q4 2018: Prime Brokerage launch

Is the project on track or ahead of its roadmap?

Yes, the project is on track of its roadmap.

Is there a public Trello board (or such) showing the progress?

No, there does not seem to be any public board showing the progress of the project.

Is the project already profitable?

Quoine is already a profitable company.
The Liquid Qash project itself isn't live yet so it cannot be profitable.

Does the project already have clients?

Yes and no.
Yes, Quoine already has thousands of clients on its two exchanges, Qryptos and Quoinex and processes over 12 billion USD annually.
No, Liquid Qash does not have any client yet but it has announced partnerships with 15+ exchanges. This might mean these exchanges will become clients of Liquid Qash when it goes live.

See the official roadmap below

Market size
---
What is the size of the targeted market?

Quoine aims to create "the crossroad for exchanges", so the target is the whole crypto market. Billions of USD are exchanged every day between fiat and cryptos. As an indicator, the last 24h (end Jan 2018) total crypto volume is over 36 billion USD, so over 1 trillion USD per month.

How does the project current market cap compare to some of its competitors?

The B2BX roadmap does not indicate which milestones have been achieved and which are forthcoming.

How much demand is there for the project, short & long term?

There is a huge demand for this project both in the short and long-term. The market is fragmented and needs a platform to aggregate exchanges and increase liquidity.

Does/did the project get discussed in the relevant communities more than usual before launch?
Token use
---
Do token holders have any influence over the project (i.e. right to vote, built-in governance, project decision-making)?
Do token holders have get any dividends?
Do token holders get access to any extra functionality?

Yes.
Crypto lending
"Token holders may lend their Crypto Tokens for a fee at QRYPTOS. Doing so adds liquidity to the Token market, by providing the necessary inventory for liquidity providers who trade on margin. This increases the overall liquidity of the specific Token."
Token liquidation service
"Using the LIQUID Platform, World Book and sophisticated automated order types, [token] holders can liquidate large positions without disrupting the market for the Crypto Token—and without having to engage third party services."

Does the token have any special utility?

Token holders can use QASH to pay for services on the Quoine platform and receive a 5% discount for using QASH tokens.
Legal
---
Did the organization behind the project ever get sued?
Has there been appropriate consideration of legal matters?

Quoine is legally compliant and regulated in Japan.
It is one of the first exchanges in the world to be fully regulated at the country-level -- bringing security, reliability, compliance, and governance to its products and services.

Special: Is the Japanese license valid for all projects running under Quoine or just for Quoinex?

Unknown. We do not know and are waiting for an answer regarding this question.

Does the project have a identifiable legal representation?

Quoine employs a Chief Compliance Officer.

Has the company provided an analysis of legal issues presented?

Yes, they address the risks of money laundering and terrorism financing in their white paper and note the compliance and security measures they have put in place to counteract those potential threats.
Ken Mazzio is Quoine's Chief Compliance Officer. Ken works with an independent internal auditor, as well as a Big 4 accounting firm as an external auditor. (C.f. section "6.5 Compliance and Security" of the white paper)
Quoine claims to have developed a "culture of compliance" indicating that they take legal and security matters seriously.

Is there a significant legal risk to token holders or other actors?
Pre-ICO funding
---
How was the project funded until the ICO (or token launch)?

Project was funded by Quoine.

Why does the project need funding at the moment of the ICO?

To further development of the platform.

How are the funds raised during the ICO distributed?

50% liquidity, 20% product development, 15% operation, 15% legal/regulation


What incentive do the founders and team have to stick around after they have made a lot of money on the ICO (vesting)?

Unknown. We do not know and are waiting for an answer regarding this question.
ICO
---
Was/is there an ICO?
Did this ICO have other goals than raising funds for the project?
Was there any people from specific countries not allowed to participate?

Yes, if they are restricted from ICOs in their jurisdiction.
According to Quoine's white paper, "We comply with all applicable laws and regulations of the jurisdictions in which we operate. We also use world class tools...to manage our AML compliance and "Know Your Customer" obligations, perform sanctions screening (UN, OFAC, EU, etc.), and help identify Politically Exposed Persons (PEPs)."

Was there any KYC/AML check?
When was the ICO (start & end date)?

The ICO only ran for 2 days (6-8 Nov 2017) because it reached the hard cap.
The original plan was to run this ICO for 1 month.

What was the min cap?

Approx. 10.5 million USD
50 million Qash tokens

What was the hard cap?

Approx. 105 million USD
400 million Qash token: 80% of the 500 million Qash tokens generated were distributed to the ICO participants

What was the hard cap of similar projects?

The Liquid Qash ICO had a very high hard cap, about 3 times higher than its competitors.
B2Bx had a hard cap of approx. 30 million USD
Request Network had a hard cap of approx 32 million USD

Which digital assets could be used to participate?
Which fiat currencies could be used to participate?
How many tokens got/will-get generated during this token launch?

500 million Qash tokens got generated
TBC: how many got distributed

Will there be more tokens created after the token launch?
What is the token distribution date?

The token got distributed straight after the ICO ended

When did/will the tokens get tradable (listed on exchanges)?

TBC: a few days after the ICO ended

Was there a pre-ICO?

There wasn't any pre-ICO
However, there was a special discount (some sort of pre-ICO) planned for the early participants.
But the ICO ran for only 3 days (instead of 30) so everyone got a discount… which means no discount for anyone.

How much money was raised during the pre-ICO?
When was the pre-ICO (start & end dates)?
Was there a private sale?

TBC: Quoine has a number of angel investors.[a]

How much money was raised during the private sale?
When was the private sale (start & end dates)?
How much money was raised in total (private sale + pre-ICO + ICO)?

Unknown due to angel investors.

What was the approximate price for each token during the ICO?

Amount raised was approx. 105 million USD

Total of Qash tokens created was 400 million

1 Qash = approx. 105 / 400 = approx. 0.26 USD

What is the token allocation?

400 million Qash token: 80% of the 500 million Qash tokens generated were distributed to the ICO participants


Is there any referral program for the ICO?

Yes, there was a referral program for the ICO.

Is there any bounty campaign for the ICO?
Online presence
---
How which chat platform are the team members most active?
How many people are on their Facebook group (in total, for the english speaking ones, there can be several groups)?
How many followers do they have on Twitter?

9K Followers as of early Jan 2018

How many subscribers do they have on Reddit?

8K readers as of early Jan 2018

How many followers do they have on Medium?

210 followers as of early Jan 2018

How many people are on their Telegram group?

9.5K members as of early Jan 2018

How many people are on their Slack channel?

Slack channel is no longer active.

Is there much Youtube videos covering the project?
What is the maximum number of views these youtube videos get?

The most popular YouTube video discussing Qash has over 40K views (early Jan 2018).

Overall, is there a strong and well maintained social media presence?

Yes and no.
Overall, Quoine's social media presence is quite strong: the Quoine team produces content on a regular basis and the bounties created during the Liquid Qash ICO (another Quoine project) created quite a lot of content. However, there seem to be a lack of objective content - content that is NOT created by Quoine team - and it doesn't look like Quoine is trying to change this.
There is a lot of confusion between the 3 projects that Quoine is running (Quoinex, Qryptos and Liquid Qash). It is very chaotic, one thread is called Qash but sometimes talks about Quoinex. Another is called Quoine and talks mostly about Quoinex. The community will struggle to grow if topics are not set clearly.
The Telegram channel is quite active. However, one often gets its queries ignored: maybe simply because there are too many people on the channel or who knows why.
Noise
---
Much mainstream media coverage?

No, there is not much mainstream coverage.

Much niche media coverage?

Yes, there is a decent amount of niche coverage by cryptocurrency only outlets.

Much buzz on social medias?

There is not a lot of buzz; in fact, most reviewers like to mention that it "flies under the radar" even though they agree it has a bright future.
TBC: The Liquid Qash project might have a lot more buzz in the Asian region (Japan especially)

Any recognisable partners such as governments, companies, institutions or influencers?
Any recognisable advisors?

Yes, the project has a number of high-level advisors.

Masaaki Tanaka -- former board of director at Morgan Stanley and advisor to Japan Financial Services Agency
Atsushi Taira -- former SVP ast SoftBank Group Corp. and former CMO of Yahoo! Japan
Shozo Isaka -- Investment Group Leader at JAFCO Co., Ltd.

Any recognisable investors?

Famous investment firms: SBI Investments, Jafco, B Dash Ventures and more.
Famous individual investors: Paul Kuo, Koh Boon Hwee, David Katz and more. None of them seem to be from the crypto world though.
Overall marketing
---
Is branding taken seriously?

Yes, branding is taken seriously and works together across all platforms.

Is this project more marketed than usual (given the type of project, market cap & what competitors are doing)?

No, this project seems to fly under the radar.

Is there a clear and well defined marketing plan?

This is expected - considering the organisation behind the project - although not communicated since a "proprietary style" ran project.

Is/are the project lead(s) regularly active on social media, publishing articles, being interviewed (videos & podcasts) & giving talks?

Overall, the leads of the project are very active: getting interviewed, attending conferences, attending AMAs on reddit, participating in the Telegram chat group and so on.

Is the team mostly communicating about business (partnerships, exchanges...) or technical topics?

Unknown. We could not find out

Is there much help available to get new users up to speed (wiki, articles, youtube...)?

There isn't much 3rd party coverage in English regarding how to use Qryptos or Quoinex, the two existing products of Quoine. So we can expect the same for Liquid Qash.
However, the Quoine team does publish a lot of help for their projects (FAQ, tutorials, articles…) and provide good support (email, Telegram…) so it does compensate.

Have marketing bounties been established to incentivise the advertising of the project?
Code quality & transparency
---
Is the code publicly available (i.e. on github)?
Was the code audited by 3rd party companies/organisations? if yes, was the audit published publicly?

One of the Big 4 firms is auditing the code (C.f. section "6.5 Compliance and Security" of the white paper)
TBC: But there isn't any public publication of the audit

Is there any history of hacking?
Is there any history of big bugs?

N/A. Liquid Qash is not live yet

Is there any strategy in place to avoid hacks or similar issues?

N/A. Liquid Qash is not live yet

Has a bug bounty been established to incentivise the discovery of exploits and bugs?

N/A. Liquid Qash is not live yet

Is the company/organisation regularly reporting progress on the social media streams (facebook, Tweeter, Reddit, Medium, Telegram, Slack)?

Yes, the organisation is active on social medias and making sure everyone knows their progress
Technology
---
Not that some points here could still need clarification.
Is this project a fork of another project?

No
But Liquid Qash is using some element of Quoinex and Qryptos

How clear is the white paper?

The white paper is very clear and easy to read.

Is the white paper surprisingly short or long (i.e. 3 pages)?

The white paper is extremely long: 73 pages.
Many of the pages, however, contain graphics instead of full text.

In the white paper, has the concept been fully thought through and described?
Is the white paper clear on the technical implementation?

Yes, it is clear on technical implementation including diagrams.

What type of DLT is this (blockchain, DAG...)?

It is an exchange, Qash token is ERC-20 compliant.

Is there any privacy/anonymity feature (ring signature, zk-SNARKs...)?
What is the consensus used (PoW, PoS, else?)?
What is the cryptographic algorithm (maturity & strength (quantum proof?) of hash)?
What is the block time?
What is the block size?
Is there a prototype or proof of concept?
Is there a test network/project?
Is there a live network/project?

No.
The Liquid Qash go-live is planned in Q2 2018.

Is the live version in alpha or beta?
What programming language is it written into?
What license is the code written under?
How many transactions per sec can it process, in theory?
How many transactions per sec can it process, in reality (right now)?
How long does a transaction take to process (from the moment one sends to the moment one receives), in reality?
How is the transaction fee calculated?
Can the project easily scale to millions of users?

"[Liquid Quash] Order Management System (OMS) and Matching Engine (ME) provide 24 unparalleled banking-level performance capable of processing millions of orders per second. Our OMS provides a professional-grade FIX API, with both common and advanced order types and execution algorithms."

Is there any history of network congestion?
Can the project easily run for decades (scale over decades)?
Is there any technical issue related to mining?
Is there any sensitive part of the tech that is not complete?
Does the technology have any unique feature?
Storage
---
Is this an ERC20 token?
Any hardware wallet supporting this crypto (Ledger, Trezor, Keepkey)?

ERC20 tokens are supported on Ledger, Trezor and Keepkey

Any regulated exchange listing this crypto?

Yes.
Quoinex and Qryptos.

Any web wallet?

Any web wallet supporting ERC20 token

Any desktop wallet?

Any desktop wallet supporting ERC20 token

Any mobile wallet?

Any mobile wallet supporting ERC20 token

Any paper wallet?

Any paper wallet supporting ERC20 token
Sources
---
---
---
Closing
---
Authors and contributors
---
If you liked this article, please:
---
Share this post
Vote up
Comment if there is anything incorrect or missing to the article
Donate

BTC: you're funny
IOTA: ZPIXGFSROQRVZXHMQOSTCBRJODELQEUKMIYVARCABAQLFXTUMHBXESWIAWQRJO9RXTWPPADSQCTWMFQJYFNNBJJYKX
ETH: 0x5C3c3C12ba509Bb277D0997A91AdCF9EFf7b439E
ERC20 tokens: 0x5C3c3C12ba509Bb277D0997A91AdCF9EFf7b439E
PIVX: DEyCTTsK89LSDVxHGzi8iHdWs4EBiZVAuZ
NEO: AaFdvPJ6zACF7eiFHfbUAXqn7wbkipdwnd
BCH: 357p1BEgz3p67VhXz3HtSF4iMp7nxAVN71
DASH: XjxB8CaEBQizhpjQgHRfSxvtsjjXivb7Sw
LTC: LRKEHbMUmtyAeumKcQR7bJn9ndjuphVXAY
QTUM: 0xc6cc90e81c6e431675fc9655d7035da08d23d24e
STORJ: 0x7cb93df618c196c892fc646159549ebd281c800f
XLM: +RgwjTD4RuaSUYXOXANTyQ==