Elusive Billionaire Taizo Son is an investor of QUOINE
Taizo Son is perhaps best known as the brother of Softbank CEO Masayoshi Son, Japans's richest man. He is also the founder and current chairman of GungHo, a major Japanese gaming company that has released games like Puzzle & Dragons and Ragnarok Online. Taizo also founded Mistletoe, a venture capital firm focused on early-stage startups.
As a strong supporter of the blockchain technology, he is also an advocate of Initial Coin Offerings (ICOs) and truly believes that ICOs through which cryptographic tokens are sold in an effort to bootstrap a blockchain network – could be "major methods" for startups to access capital.
He told CNBC amidst the Singapore Week of Innovation & Technology:
"ICOs are very good because they democratize venture financing for not only professionals like venture capitalists, but also individuals can participate in exciting projects from start-ups to support."
Through his Mistletoe Venture Capital fund, the brother of Softbank CEO Masayoshi Son has been an early supporter of fintech companies like QUOINE and will back QUOINE's upcoming ICO/ QASH Token Sale.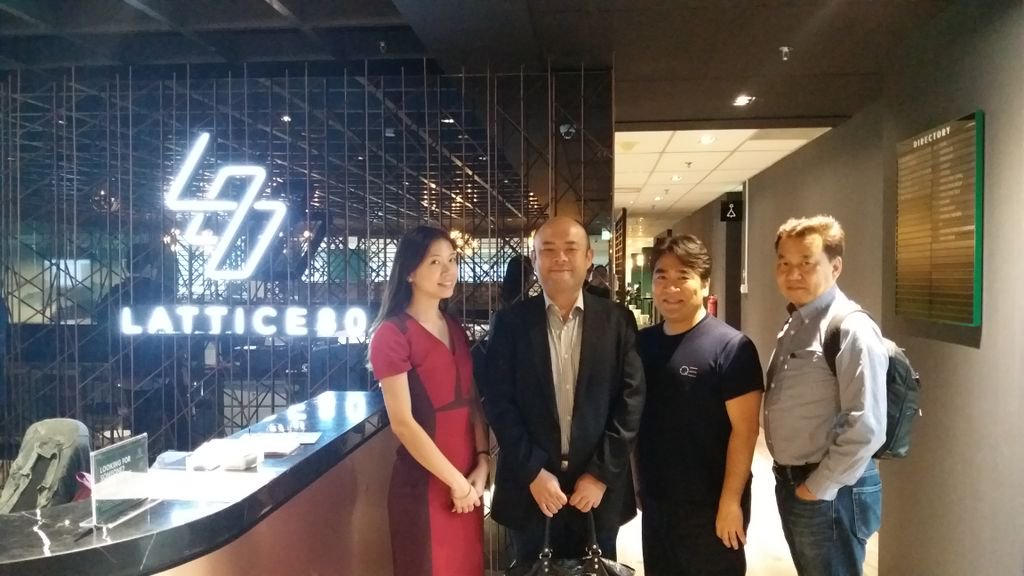 From left to right: Katherine Ng (QUOINE Head of Marketing), Taizo Son (Founder of Mistletoe), Mike Kayamori (CEO and Co-founder of QUOINE), and Atsushi Taira (Chief Growth Officer of Mistletoe)
Like other investors at QUOINE, Taizo expects the blockchain to finally democratise finance and believes that LIQUID platform has the power to bring together the global network of cryptocurrency exchanges all around the world to its single trading platform and provide liquidity for the illiquid crypto space.
QUOINE's backers and investors are major advocates of the crypto/blockchain technology with a strong background in Blockchain technology, fintech and financial services regulation. Many of them have served as senior executives and board members at Asia's largest firms, such as Yahoo, PayPal and Rakuten.
Given the leading role of the Financial Services Agency in developing rules of cryptocurrencies in Japan, it is notable that QUOINE Corporation, with the support and belief of our network of investors, became the first global cryptocurrency exchange to be officially licensed by the Japan FSA in September 2017.
The QASH Token Sale is the first regulated ICO approved by the Japan government. Further details about the QASH Token Sale, whitepaper, and registration for participation are available at https://liquid.plus. The latest news and updates regarding the QASH Token Sale will be discussed on our telegram channel.
ABOUT THE COMPANY
QUOINE is a leading global fintech company that provides trading, exchange, and next generation financial services powered by blockchain technology. With offices in Japan, Singapore and Vietnam, QUOINE combines a strong network of local partners with extensive team experience in banking and financial products to deliver best in class financial services for its customers. More information is available at www.quoine.com
In 2014, QUOINE launched Quoine Exchange, now known as QUOINEX, which became one of the largest bitcoin exchanges in the world by transaction volume. QUOINE offers powerful trading features, a sophisticated user dashboard, and secure regulatory compliance to individual and corporate customers. QUOINEX provides trading services for bitcoin and fiat currency pairs in Japanese yen, US dollar, Euro, HK dollar, Indonesian rupiah, Singapore dollar, Philippine peso, Indian rupee, Australian dollar, and Chinese Renminbi. QUOINEX has exceeded USD12 billion in transactions in the past two years. In September 2017, QUOINE Corporation became the first global cryptocurrency exchange to be officially licensed by the Japan FSA. More information can be found at www.quoinex.com
In June 2017, QUOINE launched a fully digital cryptocurrency exchange and trading platform called QRYPTOS, exclusively for cryptocurrency trading in desktop version at www.qryptos.com.
In October 2017, QUOINE became the first licensed global cryptocurrency exchange in Japan to launch a global Initial Coin Offering (ICO), also known as the QASH Token Sale. QUOINE Corporation was officially licensed by the Japan FSA on 29th September 2017. QUOINE launched its QASH Token Sale website at https://liquid.plus on 1 October 2017, to fund the growth of the QUOINE LIQUID platform. More information can be found at:
QASH Token Sale Website (and registration): https://liquid.plus
Whitepaper download: https://liquid.plus/quoine-liquid_v1.6.pdf
QUOINE ICO Brand Reel:

QUOINE LIQUID Reel: