Pinkcoin has created "a manifesto for a better world".
To get an even better understanding of the necessity of the 4-year old project, this 2 minute video is worth checking out: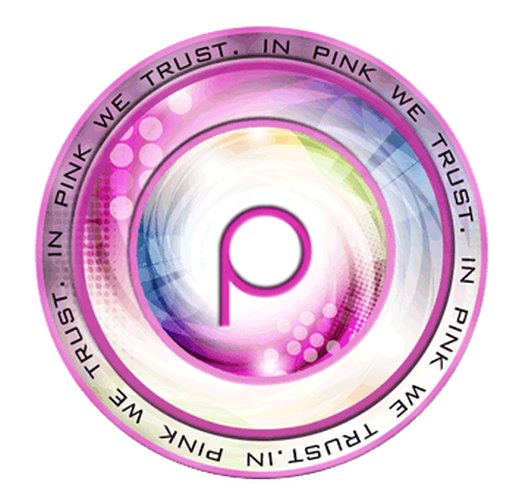 With everything one hears in the media these days you never know what to believe...we're bombarded left and right with ads to buy this and buy that, to look this way, feel that way and to donate...donate...donate. Media ads propagate donations for starving children, funds to rebuild disaster stricken lands, donations to further cancer research and each request with a promise embedded within, that your money will make a difference. But does it really?

In 2015 allegations that James T. Reynold's Cancer Fund of America's 4 main charities were a sham rocked the worlds of proponents who advocated for donations. According to the New York Times the charities had been "falsifying financial documents...and overvaluing gift donations" as well as spending funds in wildly inappropriate ways such as on, "dating websites, meals at Hooters and on couple's Caribbean cruises" among other things.


(image credit)

For more than a decade the inconsistencies went unnoticed as millions of dollars disappeared... never making it to their intended recipients and unable to be tracked or recovered.

With this in mind, is it safe to trust donation propaganda? If only there were a way to track donation transactions on an open, unchangeable ledger...
 
Well, we're in luck. As it turns out, there IS an answer.

Introducing Pinkcoin, a subversive donation platform which proclaims to have created a "manifesto for a better world".
Aptly renaming the common white paper, the "Pink Paper" the developers write that the peer run platform was built on the premise of, "unbound kindness, and undying compassion". Described in an article by Coin Telegraph as "a philanthropy coin", Pink joins the ranks of other charity coins bringing with it it's own campaign, Donate4life.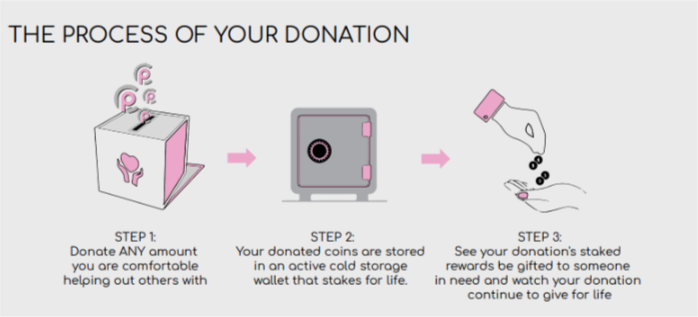 Receiving nearly 3,000,000 donations to date the revolutionary Donate4Life campaign turns a one time donation into a permanent investment with your profits being paid directly to a supported charity for "eternity". As a bonus you can track your donations, at least for your lifetime, transaction by transaction.

Wait WHAT!?

Pink Coin is a "secure and trustless network (created) to disrupt the non-transparent charity model" by giving the community access to the blockchain through their block explorer allowing senders to track the recipients of their donations in real time.
As both a proof of work and a flash proof of stake coin, new coins are generated when coins are mined and/or staked, returning to the user a percentage of Pink Coin based on work contributed or the weight of a user's staking wallet. 
What does this look like?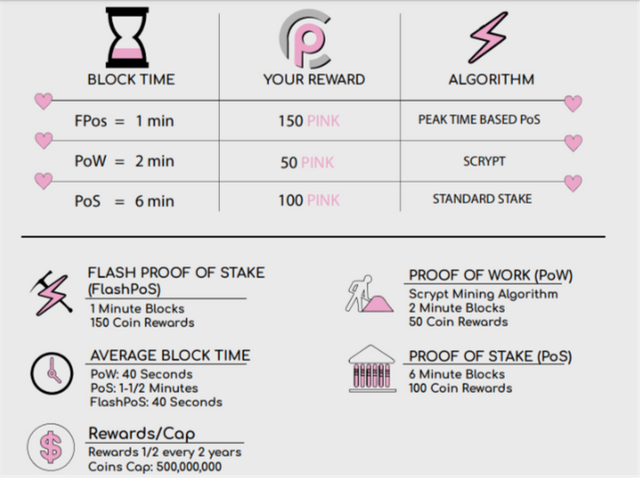 Pink is HUGE...with dozens of developments in the workings according to their roadmap.
Some highlights include support of their wallet on various platforms, side staking, partnerships and eventually...a global takeover.
Already available on a number of exchanges including Bittrex, Cryptotopia, and Poloniex, PINK is looking great from a number of perspectives. With a current circulating supply of 381,906,699 the coin is still being mined/staked with a current market cap of $7,128,594 USD.

Aside from the PINK communities drive to take over the crypto philanthropy space, PINK supporters have been doing some other really cool stuff. Last year when the Poloniex Trollbox disappeared, one PINK enthusiast took it upon himself to fill the void by creating a new Trollbox backed by PINK Coin.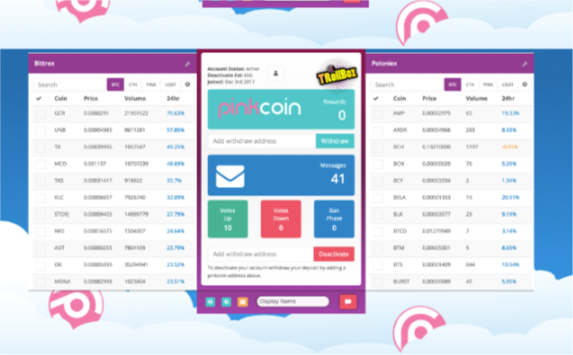 (Image credit)

The platform is in its infancy but already gives users the ability to track coins across Bittrex and Poloniex through sidebars, with high performance charts "coming soon". They've also instituted a voting system which, in theory, will weed out scammers using down votes while rewarding active members with up votes for contributions. To many down votes results in being banned (with a refund) while the more up votes you get the more staking rewards you receive from the pool. There is no fee to create an account however, to take part in the rewards system members must contribute $5 (refundable at any time) which is staked to allow the reward system to thrive while supporting future developments within the platform.  

Keeping followers and the public up to date, PINK Coin's official blog "The Great Pink Buffalo" highlights an awesome number of fundraisers the PINK community has initiated such as, raising the equivalent of $30,000 towards hurricane relief, being matched another $30,0000 by the exchange Bittrex and a campaign to raise money for solar kits.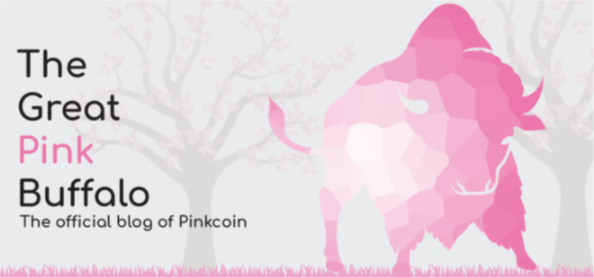 [Old analysis removed on May 17, 2019]
@MyEmpireOfShit: There's nothing great going right now with the price, but the volume on the weekly chart is on the verge of looking pretty good. And I did some analysis on the weekly RSI...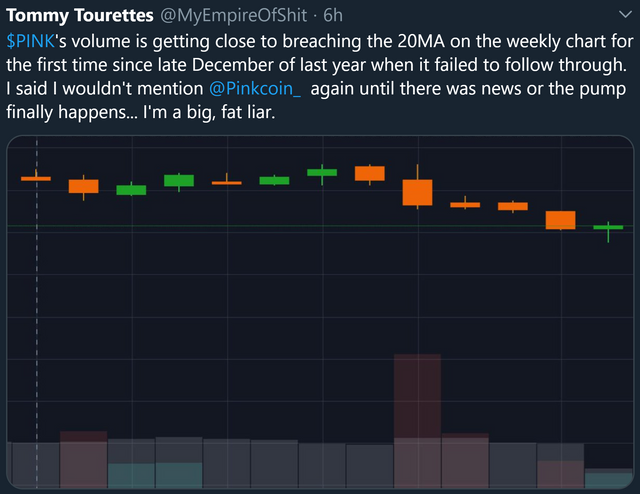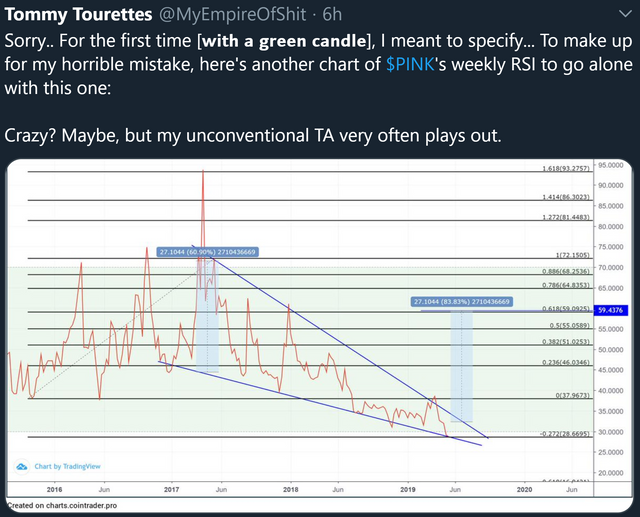 Regardless of current value, both charts are certainly looking set for a rise in the long term. As a team, IDC is certainly bullish on this coin for a lot more reasons that just it's future price. We see exponential potential in PINK's ability to change the world using their own blockchain technology to bring people together, heart to heart, hand to hand. Using their staking technology, every donation benefits everyone involved. In fact, this benefit goes beyond monetary gain...being a member of the PINK community you could even experience a boost in your sense of well being, carrying with you the knowledge that YOU are making a difference as a sender OR a receiver of Pinkcoin.
Are YOU interested in donating, staking or earning interest on your coins?? PINK Coin has made entering the market unbelievably easy with their brand new PinkPi Staking Box.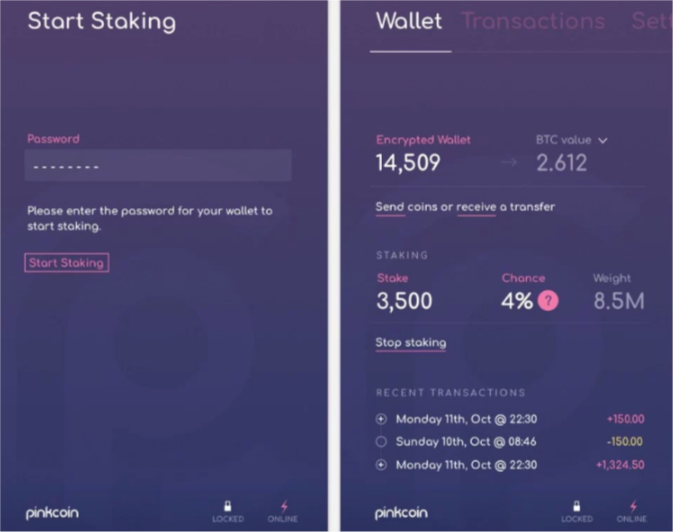 Compact, plug and play and energy efficient this staking medium, with a simple yet concise UI is a "custom made investment machine...made with the masses in mind." 
Join IDC  as we ride with PINK while "simultaneously be(ing) a champion of charity"!
 °Br¡tT^N¥° (@TheJadeCrow on Twitter)