It seems as though there is yet another fork in the road for Bitcoin, and that fork is happening tomorrow. A group based out of Asia is prepared to launch Bitcoin Diamond (BCD) on November 24. Specifically, once the blockchain height reaches 495886, a snapshot of all existing BTC wallet holdings will be captured and some time in the near future, those who control their private keys will have access to 10 BCD for every 1 BTC you own.
According to the dev team, BCD is architected to correct the following perceived deficiencies in the areas of :
Privacy
Origin and destination addresses are masked which enhances protection from hackers and accountants.
Transaction Costs,Time, and Speed
Anyone who has been subjected to the egregious degradation of Bitcoin service levels of late will welcome any solution(s) that positively impact the free movement of crypto.
Barriers to Entry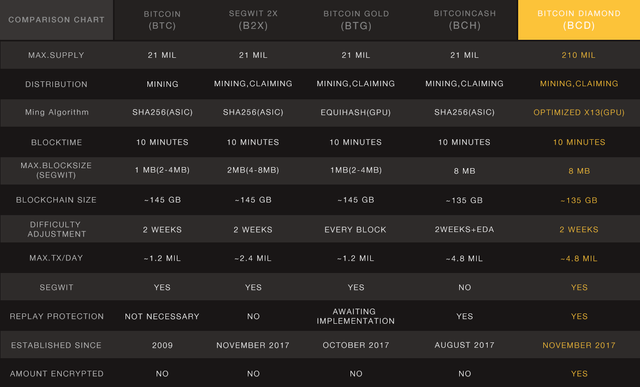 ASIC resistance and a 10X maximum size are the teams response to the issue of who gets to play in the crypto space moving forward.
The bottom line is that Bitcoin Diamond screams of "me too" syndrome. It really offers nothing new in the form of technology or protocol enhancement. Since the maximum supply is pegged at 210 million coins (as in 10 times the amount of BTC, BCH, and BTG) you can expect BCD to be worth considerably less than the other forks we've seen this year. The dev team are all anonymous and the exchanges that have pledged to support the currency would be generously described as "C-list" in both quality and popularity.
Although BCD shows every sign of being little more than a small Holiday bonus for current BTC holders, there is potential for a small pop. Should BCD get listed on one or more of the major exchanges, there is strong potential for a run up.
My own plans are to dump BCD and re-invest in one of the better privacy focused cryptos (i.e. Monero, Zcash, etc) But I am interested to learn what you plan to do.
Very grateful for your reading and support. Please upvote, follow @hongro888, and resteem.
DISCLAIMER: These are my opinions and not to be construed as investment advice. All investments in crypto carry substantial risk and should only be undertaken with money that you can absolutely afford to lose. Consult your investment adviser and/or significant other before making any investment in anything.