Hello Steemit.

Welcome to sub-article 002 of the top gainers and losers weekly series. This week we saw the largest correction in the market in a long time which has had a drastic effect on the outcome of the tokens or currencies selected in this weeks posts with very stable assets seeing huge losses and not many seeing many rises in price at all. I'm not here to promote sh*tcoins so coins like President Trump, a coin that was on both the top gainers and losers at several points this week didn't make it onto this list. It was quite a shock however the low amount of good projects I was about to find to talk about here in the gainers sub-article. For last weeks article, in which I covered Theta Token, click here and of course follow to keep updated on this series and more on my blog. For my post of this weeks losers, click here.

Top gainer: Bitcoin Diamond [156.21%]
My pick: Revain [149.90%]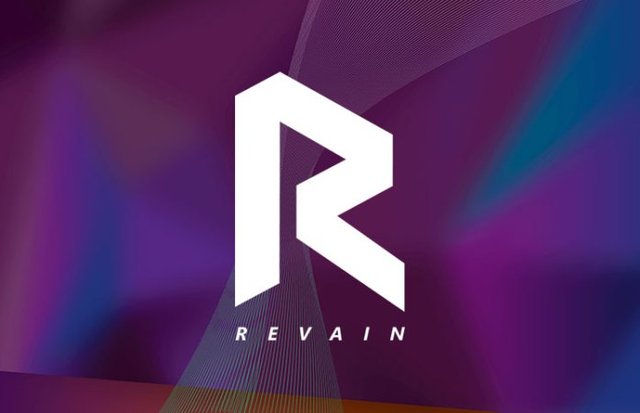 Now with a rise like that it might be worth asking why I have picked a shoddy coin that had a massive pump that is going to see a massive dip down in price after being extremely undervalued. That would be a very fair argument if I thought that that was the case, but with Revain [R] I don't believe that to be so. What caught my attention with Revain (besides it being in my face all day on KuCoin with it's distinctive single unit ticker symbol) was that this rise has been steady all throughout the week and those active in the community or with any investments within it will know that that has been nothing short of a miracle in this last seven day cycle. If this had just seen a meteoric rise out of the blue I wouldn't be discussing it, but it hasn't, it has grown steadily throughout the week with a short burst before stabilising when others were fawning with another jump alongside the majority of assets yesterday. R currently sits at ~$1.86 with a peak of ~$2.77 with a market cap of just over half a billion. This time last week R sat at ~$0.72 so if you were an owner of this asset and sold at the high, congrats. If you still own your stake then well done still with your stake being worth well over double and just under a tripling of your investment. Here is the chart for Revain this week.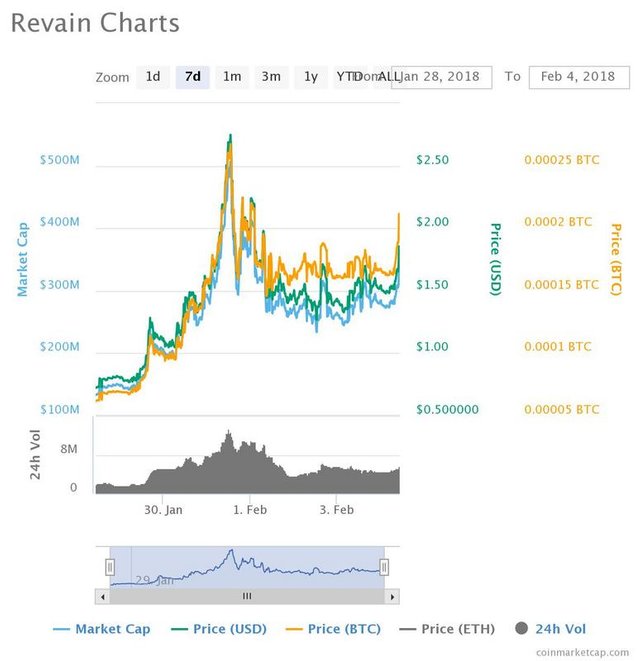 So what is Revain and why should you be interested? Revain claims to be the first review platform based on blockchain technology, specifically the Ethereum blockchain, which is used as a means of creating genuine reviews of legitimacy. Due to being attached to the blockchain the reviews are non-editable and not capable of being manipulated for the malice or benefit of others. They intend in the future on applying their asset towards ecommerce and gaming among others but at the current time of writing the platform is used for ICO's. Revain as a platform actually uses two tokens that are counter-reliant upon each other, the RVN token and today's topic: R. They claim that the balance between these two tokens leads to a non-volatile, stable price, however literally one line down from this statement the whitepaper says that because R itself is used to gather funds during ICO's that due to the speculative nature of the market we should expect high volatility. What is interesting about that statment is that unlike alot of other tokens in today's sphere who are jumping on the bandwagon they do not claim that it will necessarily rise, they just refer to it as possibly volatile. I like to see statements like the latter instead of the former as it highlights to me that their interest is the product, not the price. People often forget that the people behind these projects want you involved, they want an inclusive market and to do this lower price actual helps as logic would suggest. R tokens are an earn-able token and not just an exchange commodity and are available as essentially non-fee atomic swaps on their platform calculated at the following formula.



The platform itself is already usable, with version 0.4 readily available. In the name of research (and the pursuit of free tokens) I have signed up with Revain to use version 0.4 which was released on the 29th of January, which our chart shows coincides with it's meteoric rise. This is hard evidence for me that R hasn't just raised in price for no good reason, it's because it's an asset of a working product and I like working products, I trust them and I feel safe in my investment. My first review on Revain 0.4 was of my beloved KuCoin Shares (I'm only the tenth person to review it apparently) and the process took me at best 2 minutes as was logged in the blockchain instantaneously. I was maybe a bit harsh with my 4 star rating of the team.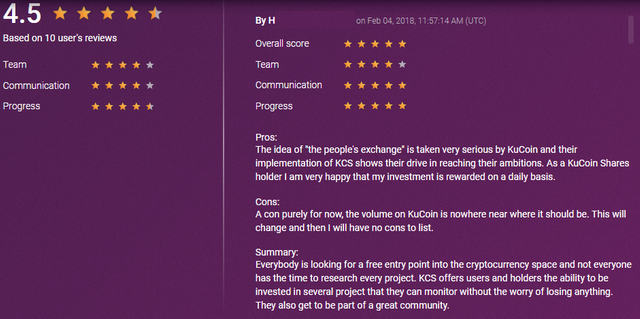 There are currently 20 assets available to review on Revain and you can submit upto 5 reviews a day before receiving your RVN rewards. This number will grow and as such so will your opportunity to earn more regularly. Being that I enjoy reviewing assets in detail (this takes me a little longer than two minutes) I am more than happy to set aside ten minutes of my day for the possibility of earning more of a coin that seems to be growing in value more and more. But how does the system make sure my review is legitimate like they claim in the whitepaper and what stops this platform from being spammed and my potential earnings being diminished? IBM Watson, that's what. Via IBM Watson, Revain looks to utilise the Tone Analyzer & Natural Language Understanding protocol which detects many aspects to clarify legitimacy. The formula in brief works as such.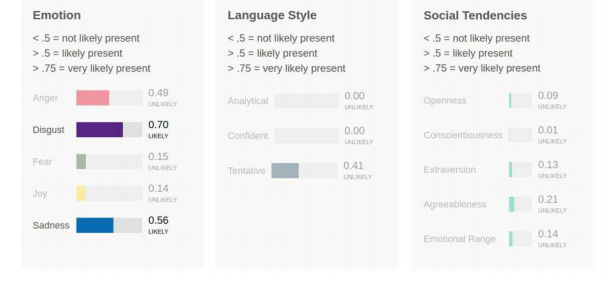 At this point, I do not plan to invest in R itself, but the project looks very, very promising. I will continue to utilise the actual platform itself and earn my R via this methodology for the time being. It could be that i miss out on a huge opportunity by not attaching myself more to it now, however if the platform does grow, just remember that I was review number ten on KuCoin Shares and I let you know about it then. The current price is a steal based on their ambitions so I will be closely monitoring it and there may come a time when I invest, most likely on the dip (of course), if there ever is a substantial one. Current growth implies that i may not see this day.

For the second part of this article looking at this weeks loser, check out this link here.

I personally think I did well to Revain from making a pun till now.
HJB. CryptoKnight.

Twitter:
@hjbcrypto

Dtube:
@hjbcrypto