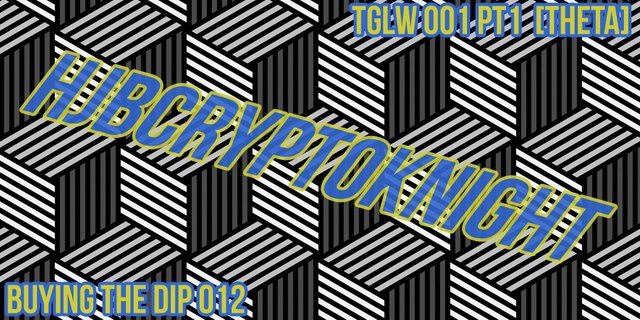 Hello Steemit.

The new series just keep coming and coming. This one is one I had been considering for quite a while but the downwards momentum of the majority of the market postponed that as the value of this project wasn't quite the same. Now that we are starting to see normal movements within the market again I think the time has come for this project to have some legitimacy. As opposed to covering all the gainers and losers (via CoinMarketCap) I will be covering just one per week for each respectively. I will be choosing this via a means of personal choice based on the surprising nature of each of where I see future opportunities for each selection. This selection process will be limited to the 30 options available to me for each seven day period, however during the briefing of each post I will highlight which coin has been at the top of each list at the time of writing. My post on the Losers can be found here.

Top gainer: RefToken [629.13%]
My pick: Theta Token [58.55%]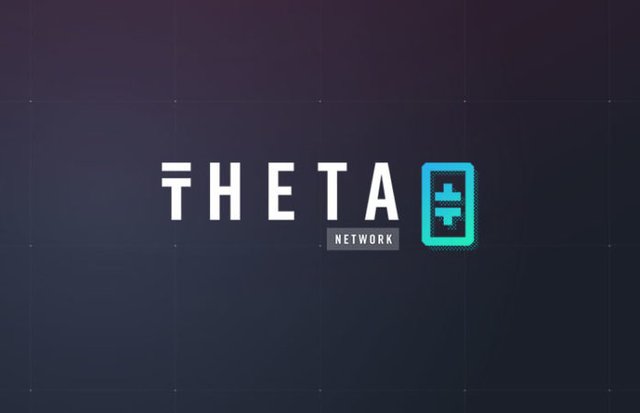 I have selected Theta Token for one simple reason, it may not be seeing RefToken's astronomical rise this week but I am highly confident that it will see that rise and more over time. Theta looks to be a highly promising project in line with this new wave of cryptocurrency assets we have seen in recent times, projects run by people who already know the world of business and that are implementing those skills and knowledge into the cryptocurrency space via Sliver.tv and it's pre-existing team. Does this mean we will see it in the top 10 on CMC? I don't view this as likely, but at this point of the market growth I think the idea of the top 10 is becoming less and less important and it is now about which projects are going to stand the test of time in this market that will only continue to be larger and larger.

Currently valued at ~$0.26 I see Theta as an absolute steal, not quite the steal it was at when it was valued at ~$0.14 but a steal all the same and we have already seen THETA reach ~$0.31 and if you bought in at that price I imagine you would be very, very happy still. I have yet to invest in THETA purely due to the exchanges it currently sits on which are OKEx, Huobi & Gate.io however I fully intend to strike a position within THETA and Gate.io is an exchange which continues to impress me with some of the assets they have available on their exchange including a coin that I have missed out on a rise on (hurry up Cobinhood support) in Odyssey which gets an honourable mention on this post. Here's the movement for THETA over the last seven days.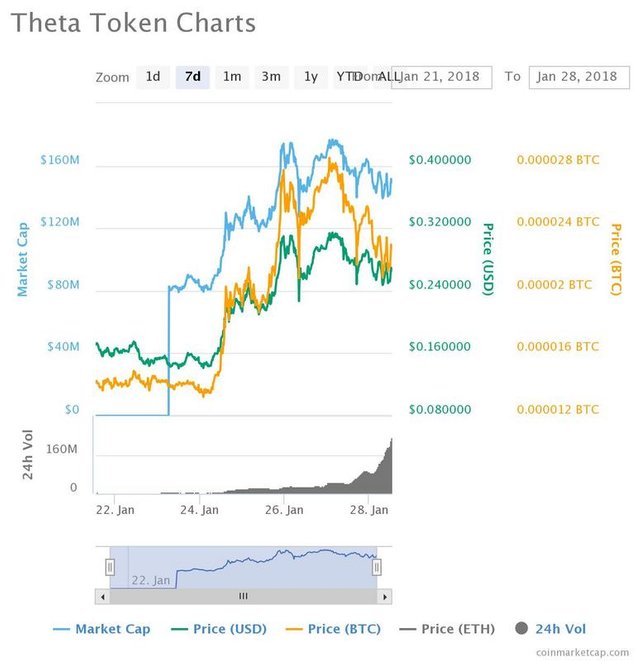 Theta is an open-source network and protocol offering the ability to build specialised dApps which seems to be very much the way forward in the current space. As I often mention utility is my number one priority when reviewing a possible investment opportunity. Theta aims to be not just a competitor to current video streaming services but looks to offer things than others can't or at least not in the same way, though this being said their team of advisors included very influential people within this industry including Justin Kan, co-founder of twitch and Steve Chen, co-founder of YouTube. The team itself is made up of mainly MIT computer science and engineering graduates and their CEO Mitch Liu fits this billing as well as holding an MBA via Stanford Graduate School of Business. A good product with a bad team may do well for a while, but what we're looking for is longevity, with this team and these advisors I think we will see this longevity and with an upwards movement at the heart of it.

Currently the Theta Token's utility is that of redistribution of video streaming capability. Some of you may not remember dial-up (to be fair I hardly do myself) or may not have lived in a shared university building where bandwidth is being distributed between 200 people, but for those who have had to deal with this and the subsequent dread that is buffering, you know full well what you would give if you could just improve your bandwidth for ten minutes or for the next hour. Theta is the solution to that problem and in a unique way which is where they association with and ownership by Sliver.tv comes into play. eSports as in industry continues to grow and grow and sliver plays a large role in this industry. By using Theta's blockchain, sliver will fully implement this solution and end the days of buffering which realistically represents the peak of mankind (I may be exaggerating, but the idea is brilliant). Theta does not intend to limit themselves simply to gaming however and include on their website music, tv and movies, education, enterprise conferencing and peer to peer streaming as part of their implementation vision.

Theta's roadmap is where we should be looking for a scale of when we are really missing out on our opportunity and where we see the evidence that despite the rise of the token, there is still more to come. The next large indicator of a rise is in March when the token is implemented fully into sliver's platform, making this not just an investment but a purchase of goods, realistically any time before March is a good time to buy, but as the age old saying of crypto goes, "the best time to buy was yesterday". Spring to Fall (autumn thank you very much) of this year will be the period of creating the native Theta blockchain and as such price boosting announcements can be expected throughout this whole period before the actual launch which is planned for Q4 of this year. For the rest of the roadmap please see this link here.

All in all Theta looks to be a great project and will definitely be within my portfolio in the near future. For once I may not be buying the dip, but this time next year I think I will be looking at the chart and being full of regret had I not and may not get a chance at this price again. The project is there, the team is there and the hype is there.

For the second part of this article looking at this weeks loser, check out this link here.

I hope you were a winner this week.
HJB. CryptoKnight.

Follow me on twitter:
twitter.com/HJBcrypto

Youtube/Dtube:
Coming Soon