Dinasty Coin - The Official Currency of Italy.

(And other local coins)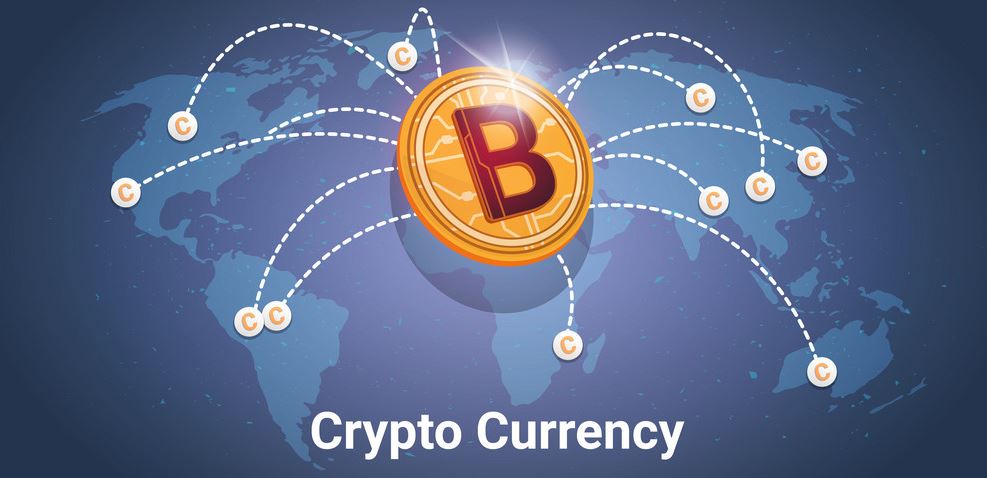 "We cannot solve our problems with the same thinking we used when we created them."
–Albert Einstein

Introduction
Every day, blockchain technology is grabbing the headlines with new and exciting ventures, promises and get-rich-quick schemes. Many of these are announcements consist of real ideas and applications using the latest blockchain technologies to decentralize issues embedded within traditional industries. These ventures are causing a global paradigm shift which is literally distupting what is currently considered by the masses as the "normal way" of accomplishing day to day tasks.
Some of the ideas being implemented today are by well known and well established corporations such as IBM, Ford, Amazon and Nasdaq. The obstreperous reality is that these new concepts are spanning across every industry whether we want it to or not. The first, and most popular major applications fall into the logistics, banking, data security and privacy realms.
What is the Internet? While it may seem like a simple question, defining the Internet isn't easy. Because unlike any other technology, the Internet can be whatever we make it. We can shape it. We can mold it. But most importantly, we can use it to connect people, communities, and countries around the world. it is part of our lives.
Most of us tend to take printed materials for granted, but imagine life today if the printing press had never been invented. We would not have books, magazines or newspapers. Posters, flyers, pamphlets and mailers would not exist. The printing press allows us to share large amounts of information quickly and in huge numbers.
In fact, the printing press is so significant that it has come to be known as one of the most important inventions of our time. It drastically changed the way society evolved.
After 10 years, it is clear that blockchain is here to stay. It (the blockchain) is going to revolutionize the future and is already touching every industry on the planet. The impact will continue to affect everyone as time marches forward. It is being compared to the most significant technological disruptions in history similar in scope to the printing press and the Internet.
Not all ICOs are bogus, but many ARE
Many of the news stories we've seen lately surrounding the Blockchain promise to make investors a boatload of money with simple ways to contribute to their new ventures. A good portion of these stories are ones surrounding "Initial Coin Offerings" or ICO's, which are being positioned to look like the traditional stock market IPO. The reality is this is not true, and there is no comparison.
The problem with the majority of these new ventures and their respective ICOs are the failure to deliver on most of their promises. In the last few weeks, it has come out by several investigative authorities that as many as 81% of the ICO's of 2018 are being exposed as shams.
While it is true that a small portion of the blockchain technical solutions and ICOs are real, to properly invest in any of these can be challenging. The investor should do their research. If you are an investor, at the very least, you should make sure the company offering the solution is at least well established and has a good reputation. Make sure that they have a real product and/or idea which is being improved on. You should certainly be careful and perform due dilligence surrounding the investment opportunity. The reality is that many investors are jumping in quickly for the fear of missing out (FOMO) without doing proper due dilligence.
Before the ICO
On the other side of the fence are the ideas and products which were started years ago and are now just coming into the limelight. These new and novel ideas are being proven as sound and some of these are just picking up speed. Some have working proof-of-concepts and working products which you can use today. In some cases, before the "ICO", these blockchain ideas and products were not looking for "investments", but instead, looking for adopters of the new technology.
While there are thousands of "Cryptocurrencies" already up and running, most of these are not currencies at all. They are connected to specific use blockchain solutions. But some, like Bitcoin and Ripple certainly are "monetary" solutions built using blockchain technologies.
This article shares some ideas and examples of currencies surrounding local areas, as opposed to global currencies like Bitcoin.
Cryptocurrencies for Localities
There are dozens of coins targeted as "local coins". Isreal, China and others. This article will touch on just three. Feel free to add information in the comments below about others.
ICELAND:

As with scam ICO's, there have been multiple cryptocurrencies which were only meant to work within a specific area. Some work, and some do not.
One well known controversional example is the "AuroraCoin" - Blockchain ticker "AUR". This particular coin has failed to gain any traction locally in Iceland, yet continues to live.
Auroracoin was launched in early 2014 as an Icelandic alternative to Bitcoin and the Icelandic Krona. The creator of this coin is still unknown. The plan was to distribute half of the Auroracoins to 330,000 people in Iceland's national ID database free of charge. As of 2015, the legal status of cryptocurrencies in Iceland was unclear, though the Auroracoin airdrop involved government approval and use of the national database of citizens.
Some Icelandic politicians have taken a negative view of Auroracoin. During a parliamentary debate on March 14, 2014, The vice-chair of the Parliament's Economic Affairs and Trade Committee (EATC), emphasized that potential tax evasion through the use of Auroracoin could impact Iceland's economy. He also said that the public should realize that Auroracoin "is not a recognized currency since no-one backs the medium".
MP Frosti Sigurjónsson, a member of the ruling Progressive Party and Chairman of the EATC, suggested in a blog post on his website that there is evidence that Auroracoin is an illegal financial "scam".
Officials from the Icelandic Parliament stated that "they will make it illegal to own or trade Auroracoin", however, it was also stated by officials that "they will never be able to control such a decentralized system, or stop Icelanders from using the currency, without turning Iceland into a police state."
Between its peak of around 0.1 BTC and November 26, 2017, Auroracoin's value fell to 0.00008027 BTC. Auroracoin has begun to stabilize since the remaining pre-mined coins were burned on April 22, 2015.
Interestingly, as of the time of writing of this article, Auroracoin is currently trading on several global cryptocurrency exchanges for as much as $1.18 USD. Just this last week, it peaked to over $1.50 USD. The fact that people are trading this coin in exchanges proves that people should do their research before investing on items for fear of missing out.
NEW YORK, NEW YORK:

One local cryptocurrency is currently being positioned as the official coin of New York City.
From what I could find online, NewYorkCoin (NYC) had a very similar beginning to it's older brother bitcoin in that the original developer of NewYorkCoin literally disappeared at launch. NYCoin is a completely fair launch coin with no pre-mine or holdbacks. Originally, it was an easy, low difficulty, coin which could be mined with a CPU. It had no network fees to send and receive lightning-fast instant transactions with 30-second confirmations.
In mid-to-late 2017, several miners and NewYorkCoin community members decided to commit resources to waking up this forgotten value transmission asset by building a development team and community to help NewYorkCoin realize its full potential as day-to-day permission-less global zero-fee payment solution.
The technology behind the coin is very solid and proven. Today, NYCoin is being mined by miners using computers with ASIC's and the difficulty to mine has become very high. It is currently very difficult to mine this coin with a CPU and very difficult with even moderatly sized GPU Rig.
NYCoin originally launched on March 6th, 2014. As far as anyone knows, the original developer has never communicated with anyone since it was launched with minimum fanfare. The original developer posted 1 tweet, 2 facebook posts and 12 posts on bitcointalk forum in original "New York Coin LAUNCHED" Announcement forum (with last activity March 7th, 2014). The original github account for NewYorkCoin has never been modified since creation. The original 'NYCoin' code is open-source and viewable to the public at github code repository. NYCoin is the only other true cryptocurrency besides Bitcoin that has an unknown developer that disappeared at launch, whose identity remains unknown to date and has never been heard from since launching coin.
NYCoin was launched at a time when New York regulators were going hard after bitcoin startups and prosecuting the founder of Bit-Instant. NYCoin is one of the most usable and disruptive cryptocurrencies available offering users NO NETWORK FEES, instant transactions with 30-second confirmations.
There are a few NYCoin ATMs sitting across all 5 New York Boroughs. The new backers of the coin have opened a New York City Center in Manhattan, and the code is still all open source on github. There are many followers for this coin, and from what I am told, there are over 50 current merchants accepting the coin with plans of hundreds more this year.
As of writing, the coin's monitary value is not very high - In fact, it is only worth $0.000084 USD per coin. However, in the last 24 hours, the trading volume across all of the exchanges exceeds $34,691 USD. It is traded on a few Crypto exchanges including YoBit and Trade Satoshi.
Additional validity to the coin is the fact the Coinomi wallet has just added the NYCoin to their smartphone application (Both Android and Apple IOS), making it easy to use at merchants across the City.
I don't believe this is a Sham, and it is obviously picking up some traction now.
ITALY:

Then there is the Dinastycoin (DCY) - The official Cryptocurrency of Italy.....
Dinastycoin started as more then just a digital currency. It exists as an entire ecosystem and ideology. It was originally invented to be the protagonist of the Italian's financial freedom.
This cryptocurrency is evolving into the first Italian cryptocurrency which promotes "Made in Italy" in ways you have never seen before. Without any of the usual boundaries we see today, the main purpose of this project is to free Italians from the limitations that the current systems have in place.
This philosophy is now called "Dinasty of Freedom", and has spawned an innovative project that envisages the creation of an economic and independent ecosystem, with which each member can generate a daily income, either through the extraction of the DinastyCoin cryptocurrency, or by participating in collective earnings programs, redistribution and exchange of products and services produced by the same members of the Community.
The Dinastycoin (DCY) cryptocurrency itself is an anonymous and decentralized cryptocurrency based on the CryptoNight algorithm. It is a secure digital currency with peer-to-peer methodology, not controlled by governments, banks or other institutions. It is a public and transparent system.
The coin is currently very easy to mine with low difficulty.
Dinastycoin allows completely new use-cases, very different from traditional payment systems. They can be used both for transactions between users of the Dinastycoin network and also to purchase goods and services in the proprietary e-shop.

The entire community of end users and merchants offers hundreds of online and offline stores so anyone, worldwide, can start using Dinastycoins right away.
CryptoNight and ASICS - Can Dinastycoin be mined effectively?
Most recently in the news, the new Dinastycoin version 2.1.3 is in beta testnet. This is exciting because it addresses the new cryptonight ASIC miners and other issues plaguing the cryptonight algorithm.
From the press release dated 5/6/18, following the problems encountered since the new ASIC designed to work on CryptoNight algo, Dinastycoin engineers have proceeded to create a New Version (2.1.3) that includes the new cipher LWMA which is able to counter all attacks targeted at the blockchain.
In the current version (2.1.2), Dinastycoin uses the algorithm Zawy v.1, which has solved the previous problems of bgminers that blocked the production of the block -- sometimes even for a few days. The newest algorithm allows Dinastycoin to keep the current version of the cryptonight algorithm without being forced to fork to cryptonight v.7 version, as done recently by Monero. At least for the moment.
The basic problem which has materialized since the introduction of the new Asic Miners for Cryptonight is that too much power is produced by some Miners during their mining operations using these Asics. This has created alternative chains, which have had to be identified, canceled and/or restored. This task creates many problems for all the pools.
Dinastycoin's engineers are now running the new version 2.1.3 in testnet mode to validate that the updates are effective and do not create any problems for the current blockchain.
In addition to the application of the LWMA algorithm, some bugs have been fixed making the blockchain and the wallets more stable, with less risk of crashes.
Some bugs addressed and squashed are:
Added Enable_blockchain_explorer support that will allow the Pools to directly and more easily implement the Dinastycoin blockchain explorer
For Linux versions, the daemon also supports the Blocking Host block that automatically blocks IPs that create blockchain problems
Added Fee Address option to daemons
Added the mnemonic seed Import and export for the simplewallet that allows users to recover a wallet by remembering a sequence of keywords
Added New RPC Commands to the wallet
A new GUI wallet is being created with all of the above features and repairs.
It is inevitable that a fork is required to change to the new LWMA algorithm. At the time the version is made available, the Dinastycoin engineering team will communicate the exact block number where the new fork will occur.
It is very clear that this is a very active and forward thinking engineering team.
OVER 300 Merchants around Italy accepting Dinastycoin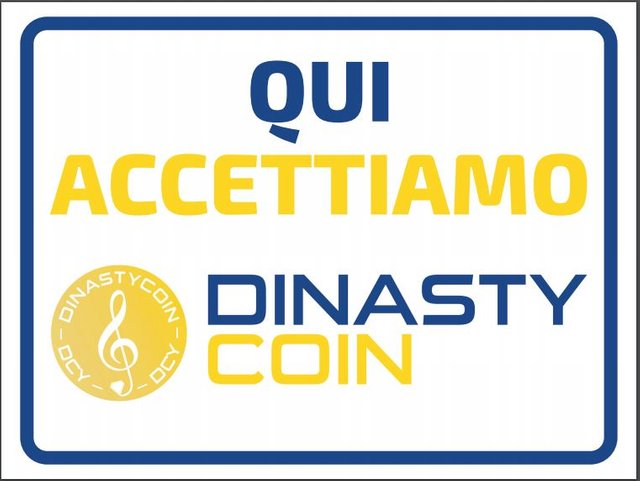 You can order a pizza, get a haircut, and even purchase household goods using the Dinasty Coin today in Italy.
Got more information about Dinastycoin - you can check out the website (http://www.dinastycoin.com), but the best resource right now is on Discord. The Discord group is very well staffed, has information about mining, the forks, roadmap, announcements, news, and general discussions. This is the best place for answers - https://discord.gg/eHSHmQ6