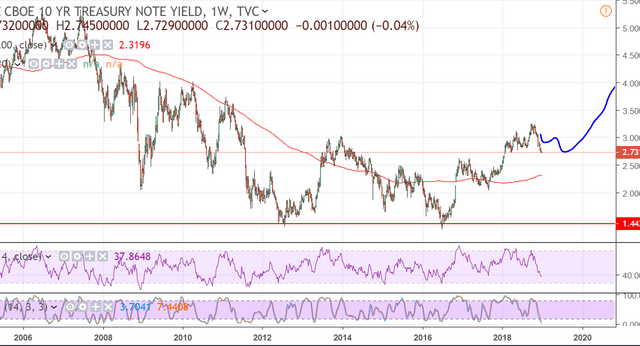 My rates target has officially been touched. At the peak of the rates when bonds were crashing I said that I felt that (with growth slowing) the FED was making the wrong move in this environment and that rates were coming back down. At 3.10 I started calling the top in rates for 2018 and then at 3.20 I was pounding the table.
While everyone was calling for 4% on the ten year and Master Powell continued to talk about 4 hikes in 2019, I was telling everyone to go to the other side of the boat on this one.



And look at us now. We have reached the target of the low 2.70ish and we are now in a wait and see approach. The FED is forced to eat some crow and roll back his 4 hikes in 2019 to 2, and maybe 0 soon. I believe that this will take much longer to resolve than before with rates like going sideways in a range for a little bit.


However, now that we are here we can start looking ahead to see if my thesis continues to resolve in the right direction. I believe that we are entering a SECULAR RISING RATE environment where the dips in rates will begin to only be dips with higher lows along the way. I am targeting a true 4% on the next inflationary spike coming likely sometime in 2019...
---
Published by Hey I'm Snuffles
on

with SteemPress
https://mentormarket.io/heyimsnuffles/rates-target-low-has-been-hit-now-what/
---