In Part 1 I talked about choosing your portfolio. We did everything on paper before actually buying any coin.
In Part 2 I explained how to buy your first coins using Coinbase.
But to buy other coins not support by Coinbase or to pay smaller fees, we need to go to Exchanges and learn how to use them.
Using GDAX
GDAX is a special case because it is owned by the same company as Coinbase. They only support BTC, ETH and LTC but you can buy at lower fees compared to Coinbase.
The good thing is that you can login and use GDAX with your existing Coinbase account and can use the same bank accounts as on Coinbase.
The GDAX interface is more similar to other exchanges and thus more complicated to use.
If you have a European account and login to GDAX, it will warn you that you can't trade USD on a European account. To fix this, just switch to an EUR trade in the top left corner. You will always have to choose a combination of 2 currencies to trade. This can be a buy or a sell order.
See image below for an example of switching to ETH/EUR.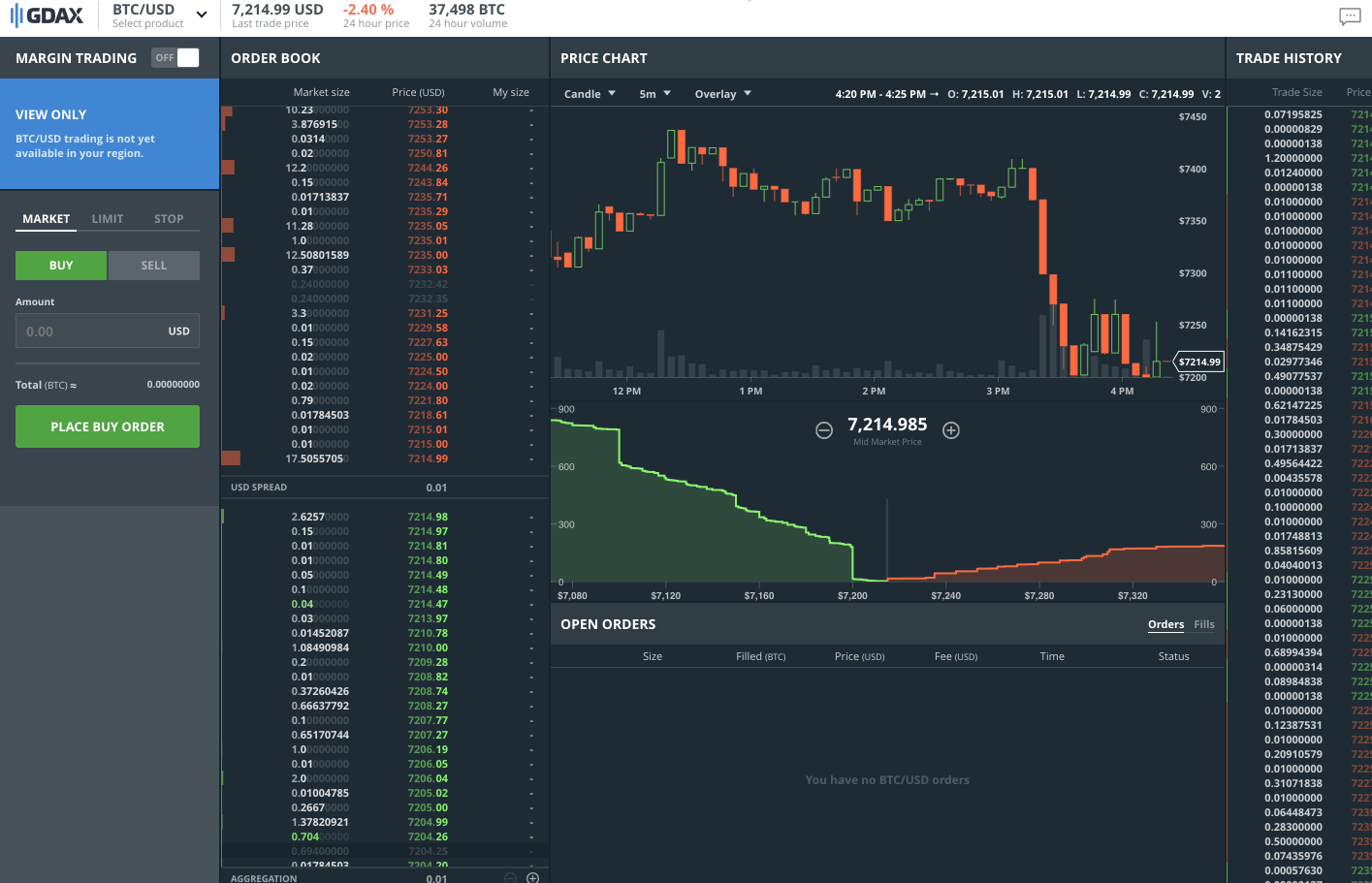 Now we can either buy Ethereum for Euro or sell Ethereum to Euro. If you want to buy/sell Bitcoin or Litecoin, you just switch to another product in the top left menu.
Let's have a closer look at the trade panel.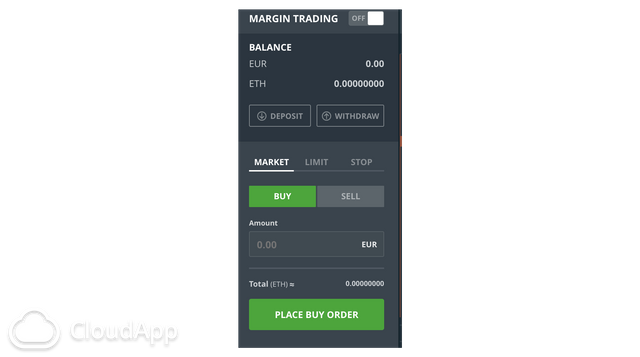 There are 3 trade options:
If you don't know the difference, always use Limit. This allows you to determine at what price you want to buy or sell.
With Market price, you pay what the market is asking and if there is a sudden temporary peak, you may end up paying too much for your coins.
You can see the last price in the top banner or you can analyze the price chart in the center of the page.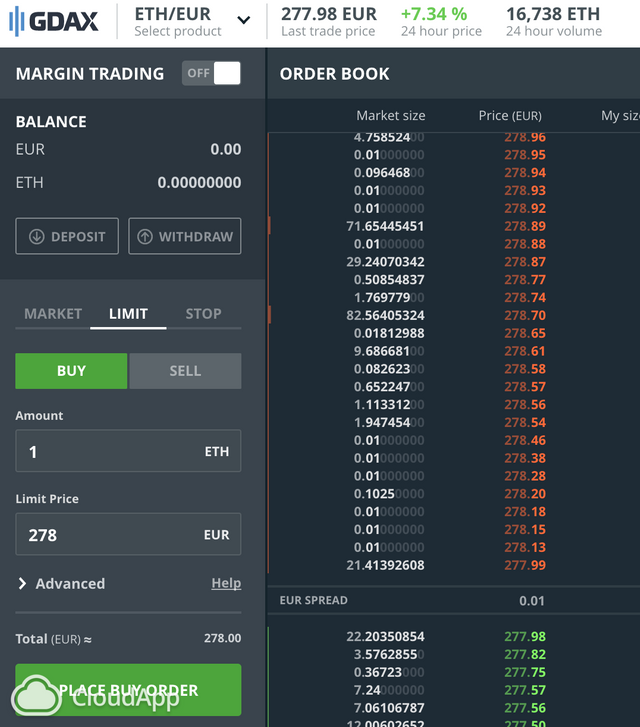 For example, in the above screenshot I'm trying to buy 1 ETH for 278 EUR. The last trade price was at 277.98 EUR so I might be able to get it (if I had any money in this account).
Using Bittrex
If you want to buy another coin, such as NEO, you'll need to go to another exchange.
I like Bittrex because it is relatively easy to use and they support a lot of coins. Some people recently had their account deactivated by Bittrex. Bittrex claimed in a statement that it was less than 1% of their users and the reason was a failure of proving identity.
I never had problems with Bitrexx but be aware that there is always a risk and that you shouldn't leave a large value of coins on an exchange anyway.
When you have setup a Bittrex account and login, you'll see something like this: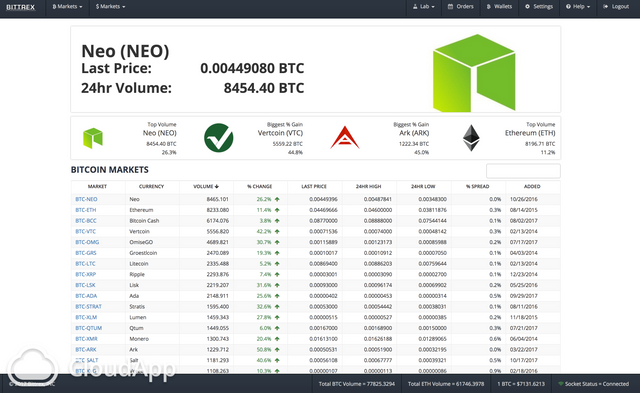 When I buy coins on Bittrex, I send BTC or ETH to Bittrex instead of linking a bank account or using a credit card with Bittrex. I'll explain later how to do this, let's focus on the buying part first.
Let's buy some NEO using BTC.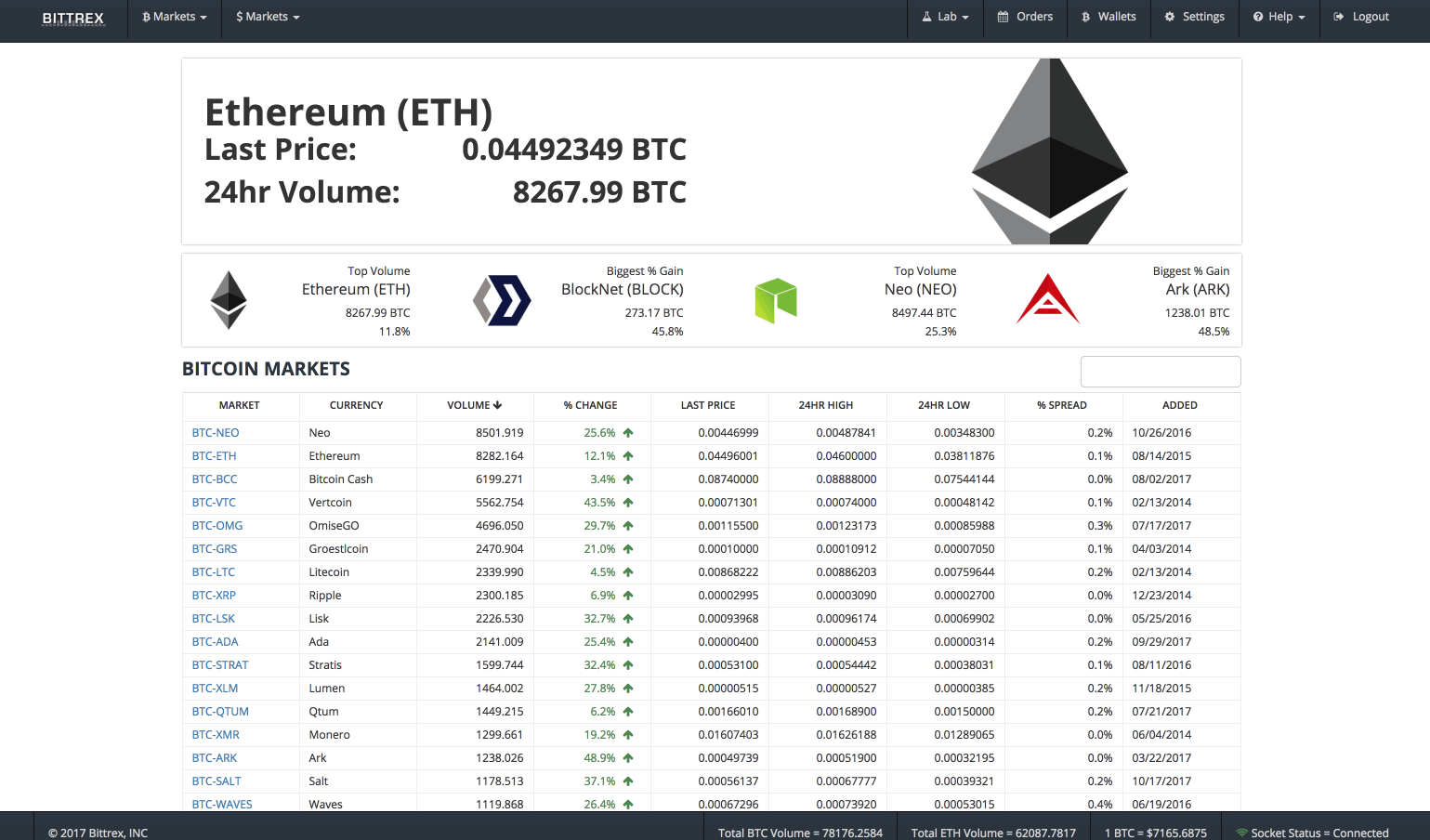 Just look for the pair you want to trade (in this case BTC-NEO) and click on the Market, this will bring you to the trade window.
From here on, it's pretty similar to GDAX. You'll be able to sell or buy and define your price.
Bittrex makes it easy for you to get the last/bid or ask price and all orders are set to be Limit by default.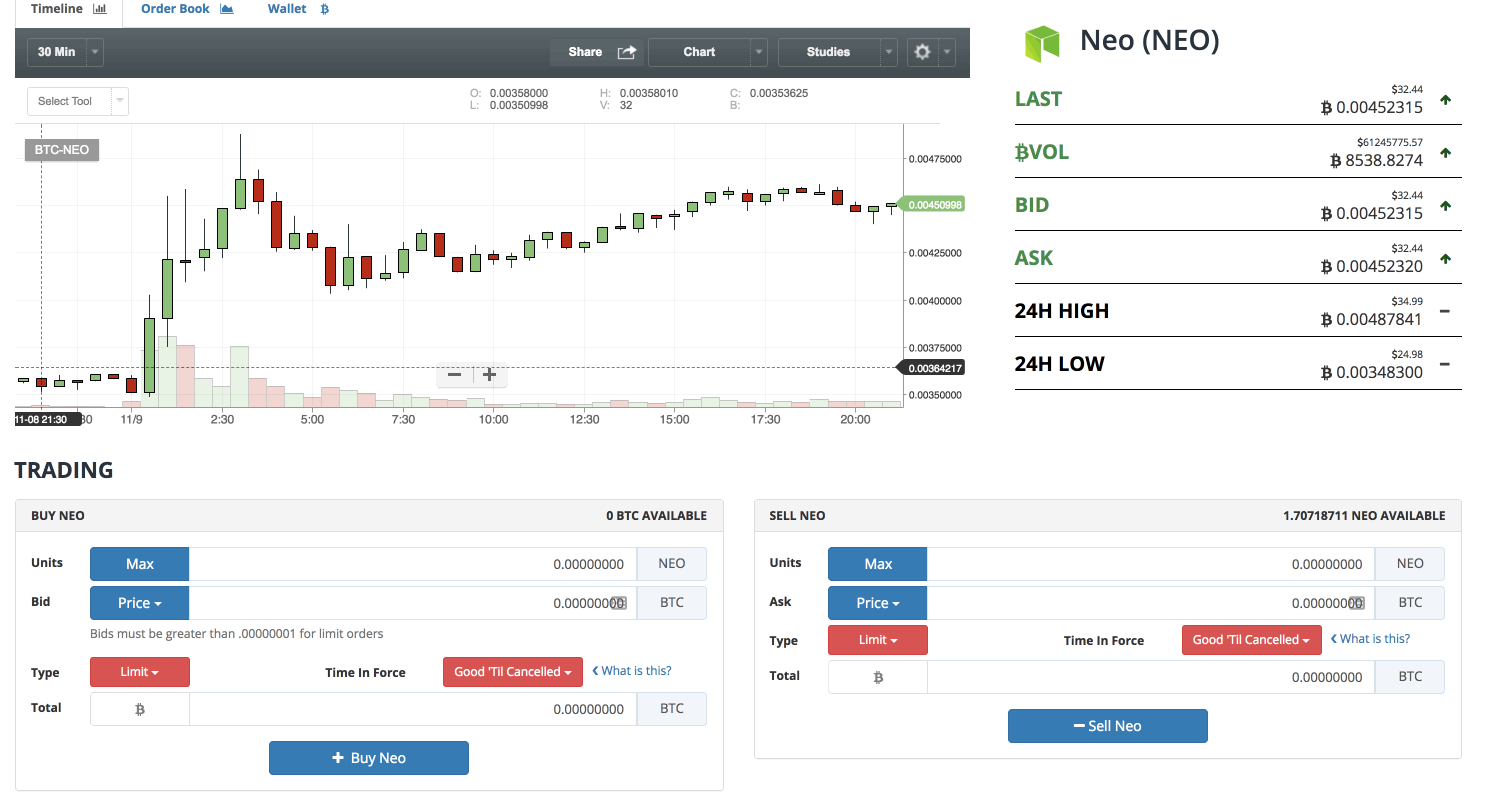 When you click Buy, you'll get an overview of the fees that this transaction will cost.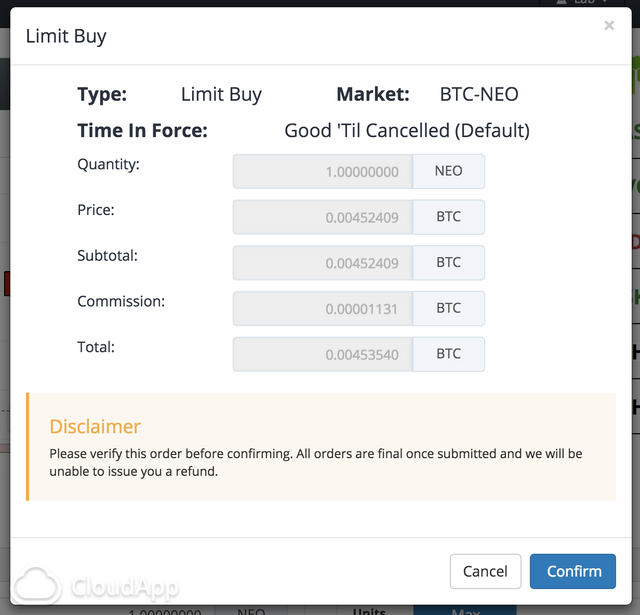 If an order is filled, the coins will appear in a wallet linked to the exchange.
Each cryptocurrency has its own wallet. Always be aware what type of wallet you are using.
I'll write more about using wallets and transferring coins in Part 4 of this series.
Other Exchanges
Most other exchanges work in a similar way. They will show a price chart and let you put a buy or sell order on the market. Orders are only fulfilled when someone is willing to sell at the price that you have set in your order. So it might take a while before you actually get your coins.
Use exchanges at your own risk. Don't place huge orders the first time you use them. Mistakes can cost you a lot of money!
But once you are familiar with how they work, it's pretty easy to buy and sell cryptocoins on the market.
Stay tuned for Part 4 of this series! And don't forget to upvote my post on SteemIt :)