In the Part 1 I talked about choosing your portfolio. We did everything on paper before actually buying any coin.
In this post, I will show you how and where to buy.
Your first purchase
The easiest and cheapest way to buy cryptocoins is Coinbase.
First, you need to create an account and follow their process to verify your ID.
If you live in EU or UK, you can do a SEPA transfer and you only pay €0.15 to transfer money back to your bank account. Keep in mind that it will take a few days to transfer the money to Coinbase.
Another option is to use a credit card. You'll pay a fee of 3.99% but can buy instantly.
Once you have money on your Coinbase account, you'll pay a 1.49% fee for each buy and sell.
You can find all Coinbase rates on their support site.
Although the fees are a bit higher than other exchanges, it is much easier for a beginner to buy their first coin without making costly mistakes.
Coinbase currently sells Bitcoin, Ethereum and Litecoin.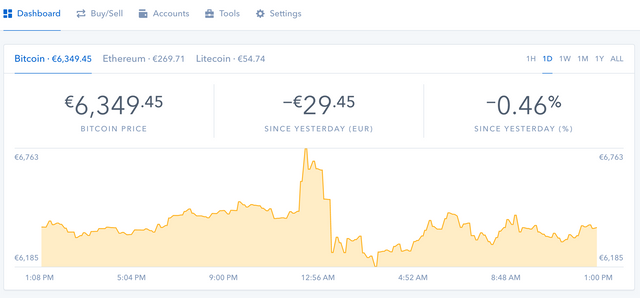 To buy, just go to Buy/Sell in the main menu and you will get a screen looking like this.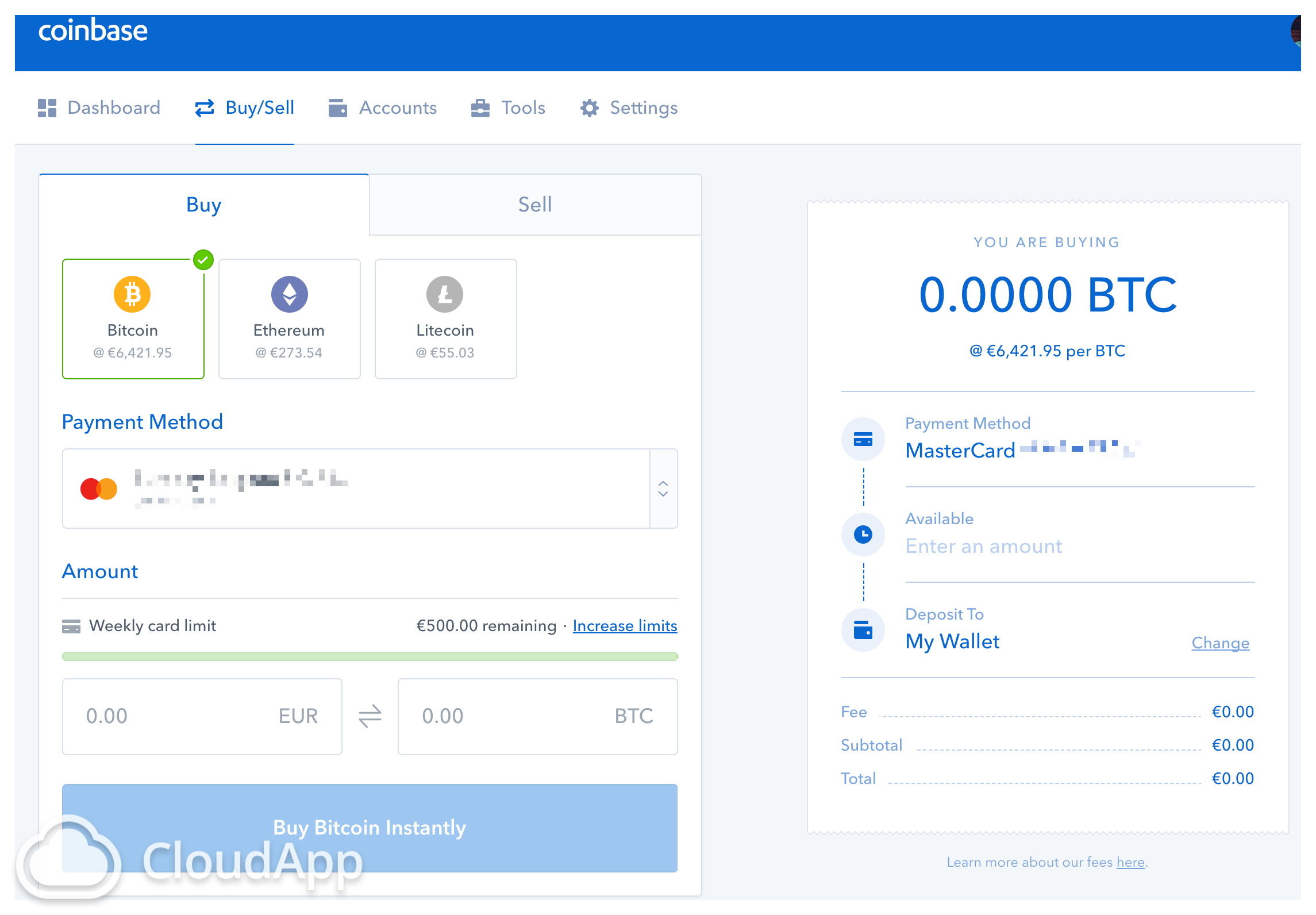 Here, you can choose between Bitcoin, Ethereum or Litecoin, choose your preferred payment method and the amount you want to buy. If you choose 1 ETH, it will automatically calculate the cost in your local currency. Or you can choose 100 EUR and it will calculate how many coins you will get in return.
In the right-hand panel you will see an overview of all your fees. In below example I chose to pay with creditcard (just to make the screenshot) and you see how fees are calculated.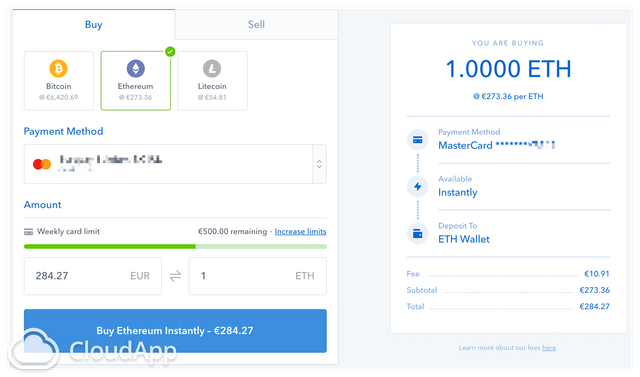 That's how easy it is to buy on Coinbase. Now you can buy your first coins!
Exchanges
If you want to buy other coins that are not supported by Coinbase, you'll need to use an exchange.
I'm not going into all the details of how to use an exchange in this post (I'll come back to that later). But although it is more complex than using Coinbase, it is not rocket science! If you are familiar with the stock market, you should be able to figure it out (if not, wait for my next post).
Here are some exchanges you can use:
Kraken: Exchange with a good reputation, but not the most user-friendly. They refer to Bitcoin with XBT instead of BTC. Other coins they support are Ethereum (ETH), Bitcoin Cash (BCH), Monero (XMR), Dash (DASH), Litecoin (LTC), Ripple (XRP), Stellar/Lumens (XLM), Ethereum Classic (ETC), Augur REP tokens (REP), ICONOMI (ICN), Melon (MLN), Zcash (ZEC), Dogecoin (XDG), Tether (USDT), Gnosis (GNO), and EOS (EOS).

Bittrex: Another big exchange. I use it because they offer a large collection of altcoins and I found it easy to use. They currently support 190+ cryptocurrencies. All trades have a 0.25% commission.
There are many other exchanges, such as Poloniex, Bitfinex, Binance and many more.
Be aware that there is no real regulation, people have lost money online before by using exchanges (Mt. Gox is a good example). Since these platforms are online, theoretically they can be hacked. Use for trading online and transfer your coins to an offline wallet afterward when trading for large amounts (more on how to do this later).
And always choose a strong passport and setup 2-step authentication when creating an online account!