Trade 1 SBD for 6.65 Steem Now!
Do you want to buy Steem for really cheap? Use your SBD rewards to buy Steem now because one SBD will give you around 6.65 Steem.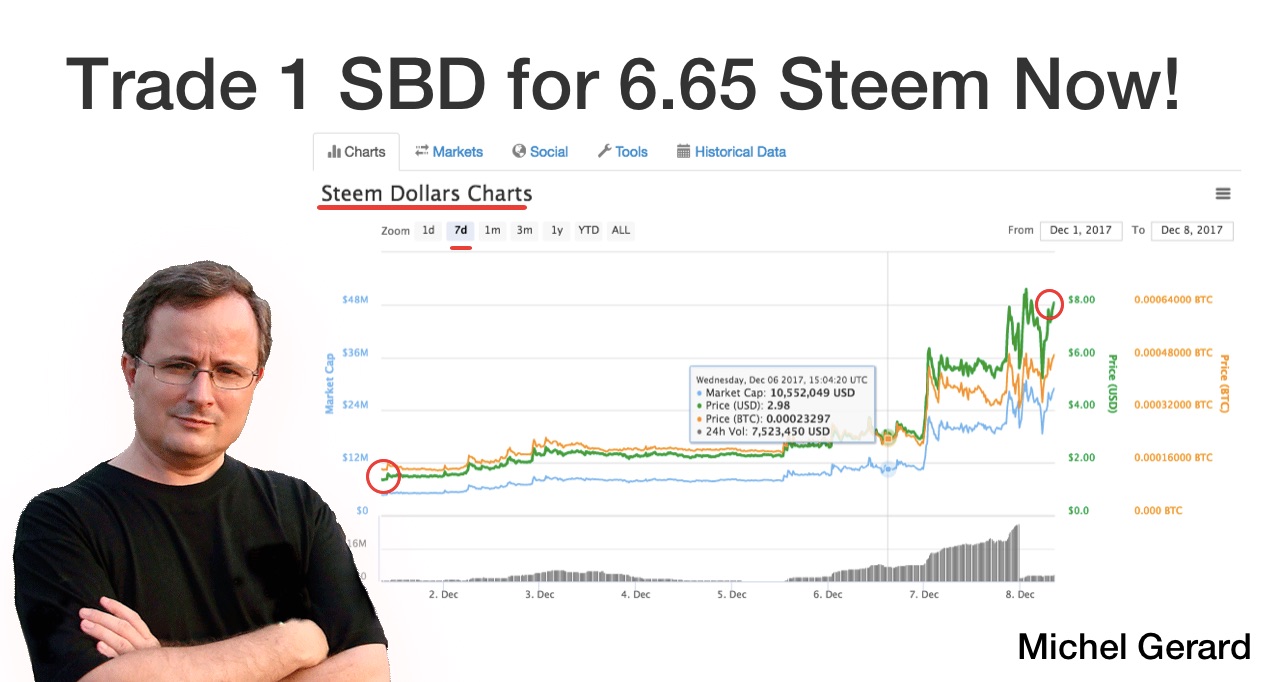 When you make a blog post on Steemit, you have the possibility to get your rewards all in Steem Power, or 50% in Steem Power and 50% in Steem Backed Dollars. 
Now let's say that a post you have made earned you $10. If you chose to get 100% of your rewards in Steem Power, you have $10 worth in Steem Power. In the contrary, ii you chose 50% in Steem Power and 50% in SBD, you have now 5 Steem Power and 5 SBD.
Change your 5 SBD on the market and you have around 33 Steem that you can power up. Your new total is 38 Steem Power earned instead of 10.
Trade 1 SBD for 6.65 Steem Now!

Since the first December I noticed that the Steem Backed Dollar was higher than $1, at around $1.6. This is very weird becaused it is supposed to stay very close to $1 as explained in the faqs.

It works like Tether (USDT), which stays at $1, so it is an equivalent of one USD when trading back and forth on the exchanges. USDT has managed to stay pretty much around $1 since it was started, so what's happening with SBD?
Let's look at the price right now.

It is now at $7.94 and it is raising crazy! 
This is the graph showing the change since the first December 17.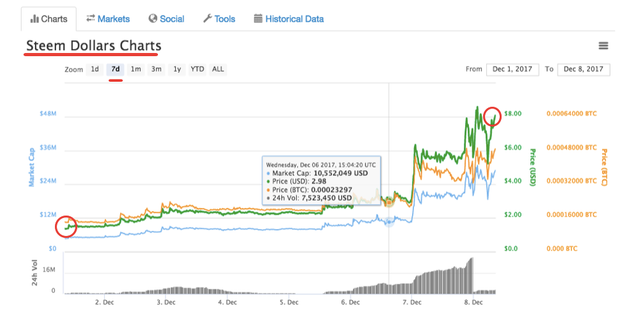 On the first December 1 SBD was around $1.7 USD, and after 6 days there is a surge with higher prices. The trading volume has also increased significantly. I believe this is a short term opportunity that has to be taken before things go back to normal.
How I changed 6 SBD for 39.92 Steem

First, I clicked on the 6 Steem Dollars I had and selected "Market." It opened the market place.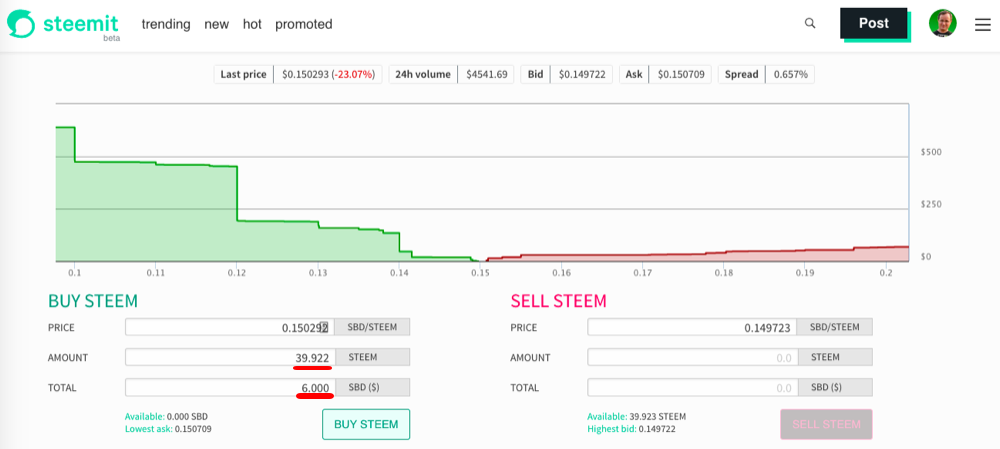 I selected the amount available, which was 6 and it gave me an amount in Steem, which was 39.922. I clicked "Buy Steem."
That was processed immediately.

The Steem is also showing at the top.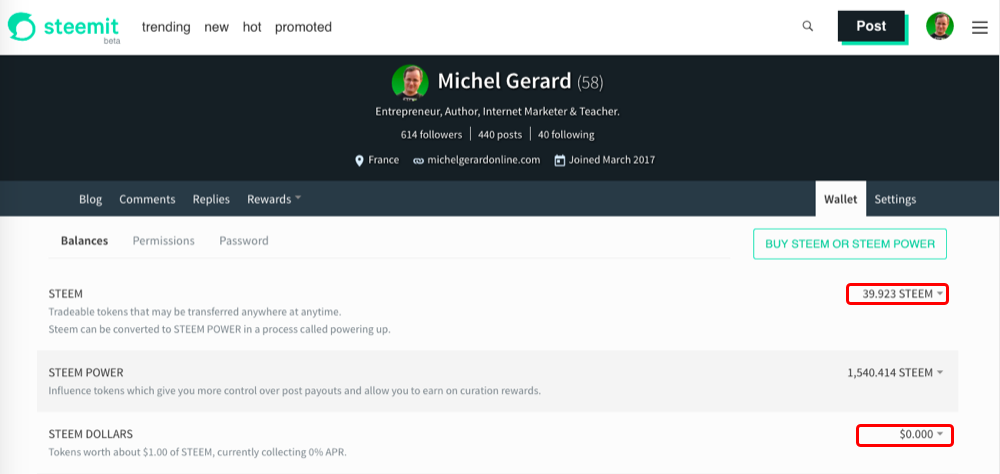 Now, how much is this in USD?
Let's have a look at blocktrades.us.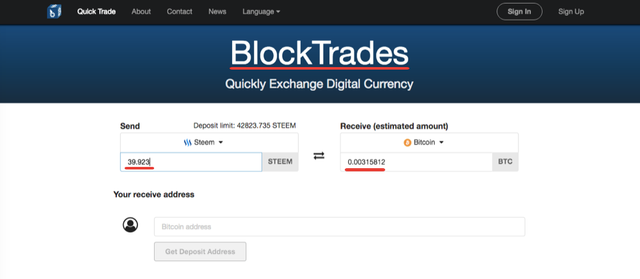 You can change 39.923 Steem for 0.00315812 Bitcoin which equals to $49.59 according to the CoinDesk Bitcoin calculator.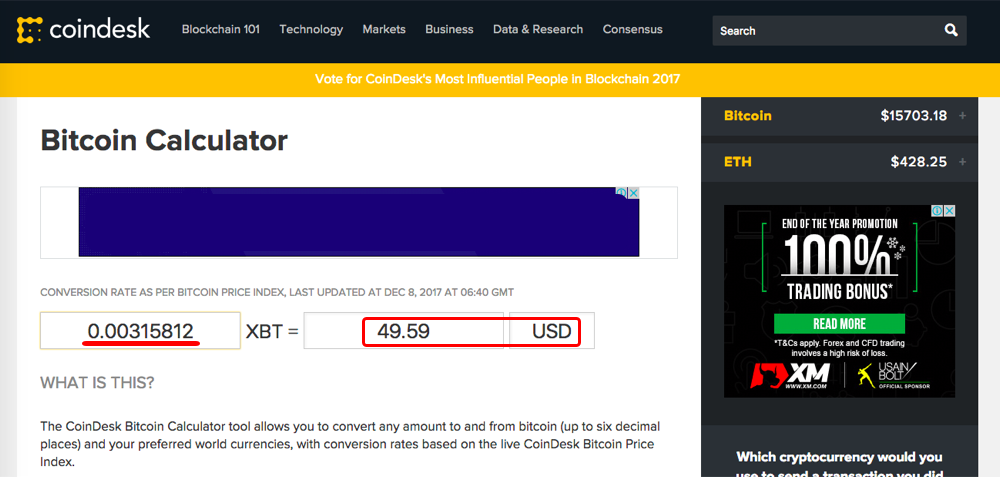 I didn't change the Steem into Bitcoin, and then USD because I'm going to power it up.
Now, I have been using 6 to 10 SBD to boost each of my posts lately and I'm considering to buy Steem instead with my rewards, or just use a smaller amount to boost my posts until the SBD value comes back to $1 USD.
Thank you to @fitinfun and her post that encouraged me to go ahead changing my SBD to Steem: Trade SBD for STEEM in the Internal Market? It's working for me.
Would you upvote this post and follow me for more because this will encourage me to make more posts about Steem like this one?
Michel Gerard