My First Successful Crypto Trade!
I have tried a few times day trading cryptocurrencies a couple of months ago and I have not been very successful. At the time, I put 0.05 BTC in Bittrex and 0.05 BTC in Poloniex, which was about $300 in total.
I have different long-term investments in cryptos, but day trading is something I really wanted to try. I am no expert, just a beginner, and I welcome your comments.
Would you read about my experience learning day trading with me today?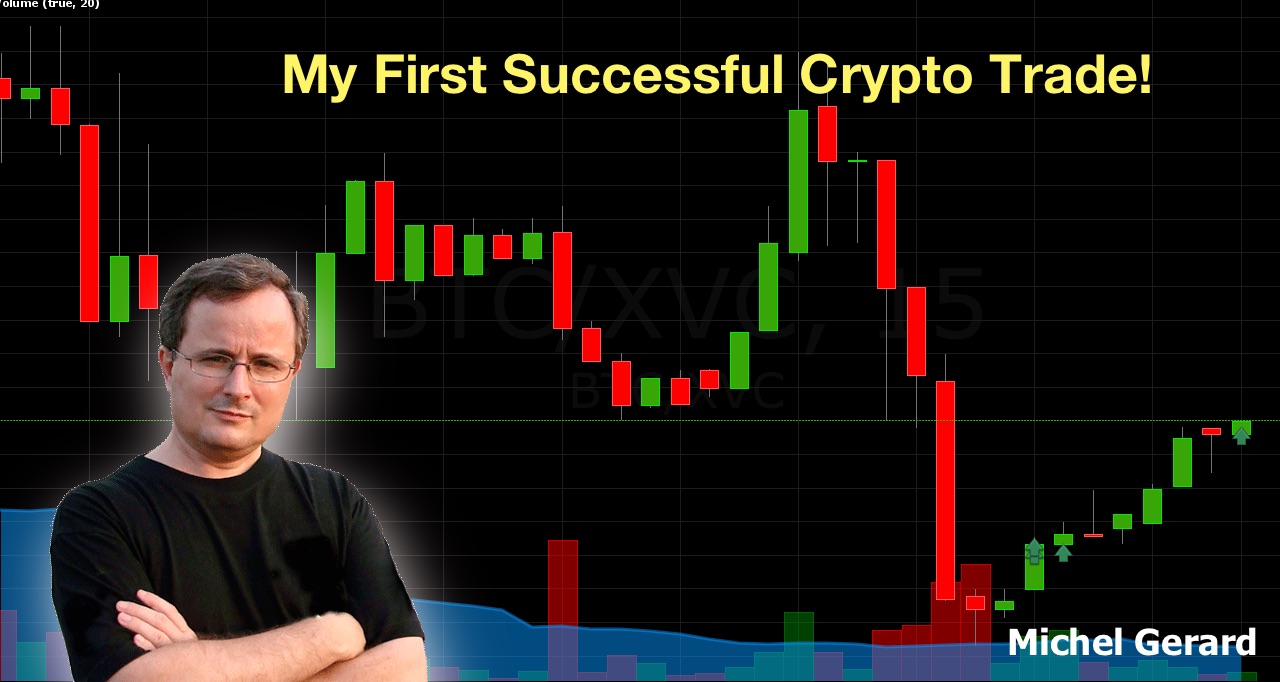 My First Successful Crypto Trade!

After doing a few trades two months ago, which were based more on luck and tips from others, the value of BTC I had on both accounts decreased. I had a few small successful trades purely on luck and failed in others simply because I didn't know what I was doing and didn't monitor the progress of the trades.
Thanks to Bitcoin increasing in value, my Bittrex account went back to $150, I then bought Steem and sent them back to my wallet on Steem. My Poloniex account showed yesterday a balance of 0.02096647 BTC, and a value of $159. Basically, I am back at the same value in $USD, but I lost quite a lot in BTC.
Learning cryptocurrency trading

The difference between then and now is that I took the time to seriously study about trading cryptocurrencies and learn some methodology in order to get a better chance at getting a profit.
So, seeing that I went nowhere with trading, I stopped and bought a cryptocurrency trading course with lifetime access by a professional and successful trader. There is a free webinar that you can access there, which can teach you quite a few valuable things about trading cryptocurrencies as well. I took the course, read two recommended books about trading, and I have just scratched the surface of all the other resources available.
Disclaimer: if you click the link above and purchase the course, I may get a small commission.
This being said, I today decided that it was time to do some practice and use my newly acquired knowledge.
First successful trade with Poloniex using Coinigy

One of the tools I tried for free a couple of months ago was Coinigy and I finally paid my subscription to continue using it. If you would like to try it please use my referral link https://www.coinigy.com/?r=842aeb1c because I will get $15 if you purchase later on.
After looking at several coins to trade, I finally decided to go for XVC, which had a bottom formation going on. I know nothing about this coin and the choice was based on what I saw in the chart.
This is the first Coinigy chart where I placed my first trade.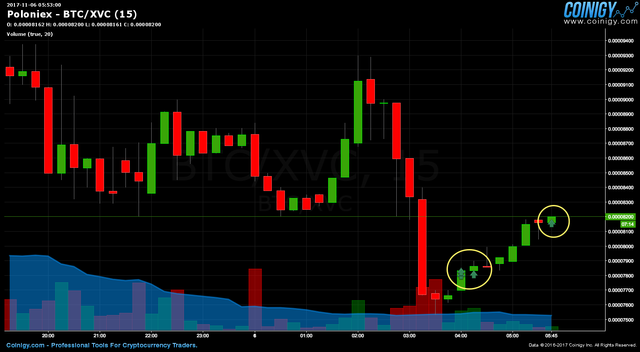 I put 25% of my BTC on the first entry point, and then I wanted to add 10% entries a bit higher using stop buys, but I messed up in Coinigy and two more entries went immediately. If you are trading crypto, you might be laughing right now!
As it was going up, I put a stop loss above my entry points so that I won't have to worry losing the trade. 
The fourth 10% order was done successfully at a higher entry point as I was monitoring progress, and then I moved my stop loss much higher, so I could take a profit anyway.
I went outside and about 15 minutes later received a notification on my phone about the sell.
This is the second chart showing when the sell occurred.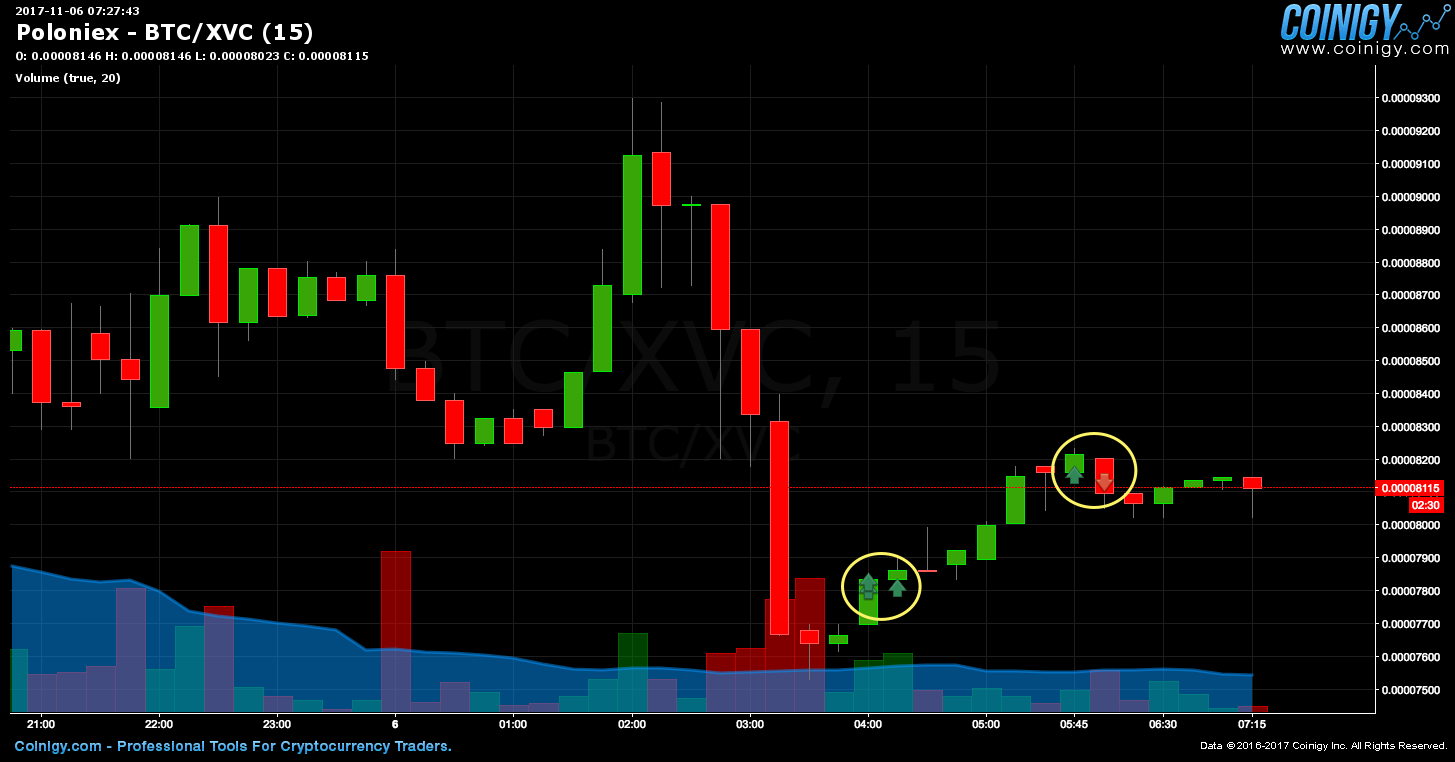 It was going down and the stop loss worked perfectly while I was away.
I started with 0.02096647 BTC in Poloniex and finished at 0.02116335 BTC with a profit of 0.00019688 BTC.
Now, fellow traders with more experience than I have, you may laugh out loud because this is a very small profit, $1.41 exactly and less than what this post on Steemit will get, but this trade was successful because that's the first time I felt in control. I didn't lose money, traded small amounts and got a profit, all I need to do even better on the second trade.
This post is kind of a trading journal for me and I hope you enjoyed reading it.
Would you upvote this post and follow me for more because this will encourage me to write more trading posts like this one?


Michel Gerard