My Cryptocurrency Trade Prediction, November 26, 2017.
In this blog post I am going to pick one cryptocurrency that I hold long-term and make a prediction of how it is going to go in the weeks to come, where I am going to buy more and then sell for profit, just by looking at the chart.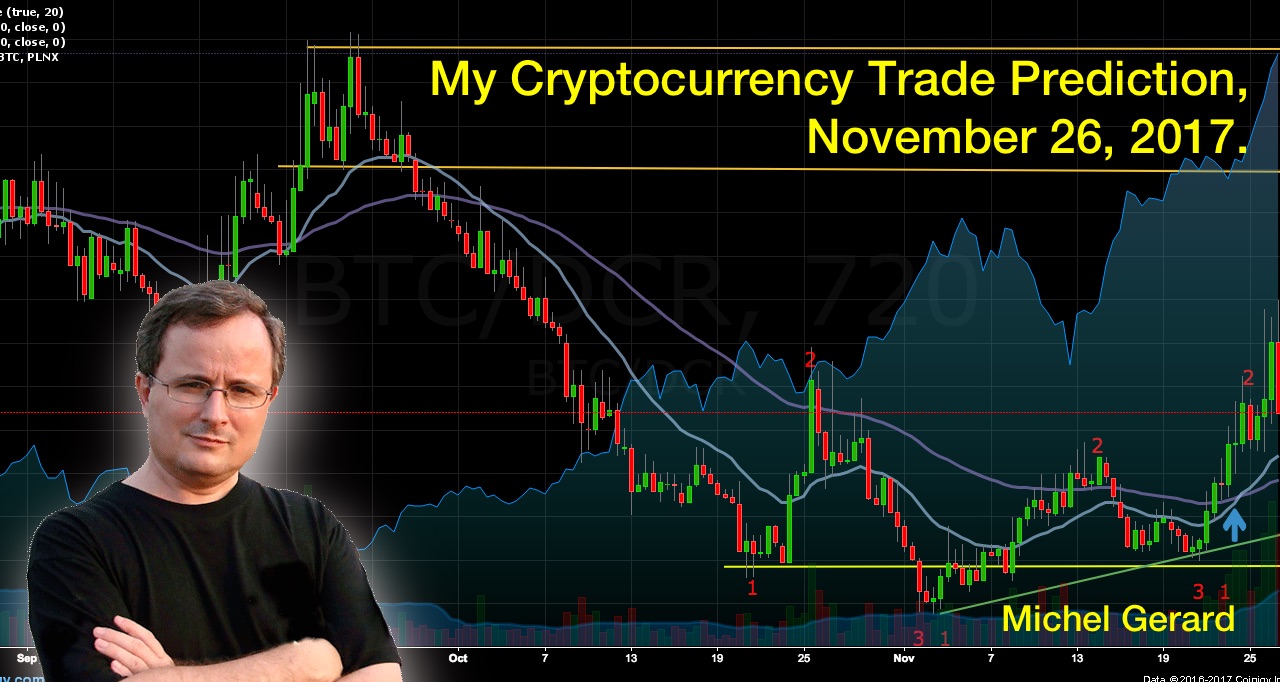 My Cryptocurrency Trade Prediction, November 26, 2017.

If you have read my previous posts about trading cryptocurrencies, you might be famiIiar with me saying that I am a student of the cryptocurrency trading course by Digital Currency Traders.
This weekend Douglas Lampi asked traders in the course to make a trade prediction and post it in the private forum. This is my prediction that I'm sharing with you here.
If you are interested to join the course or just buy the book "Cryptocurrency Rags To Riches" you can use my special discount coupon code "michelsentme" at check out, I will get a small commission and you will get a 20% discount.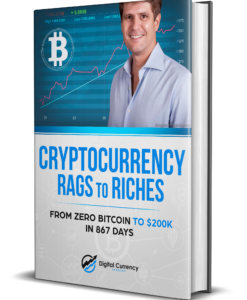 My Cryptocurrency Trade Prediction for Decred

In July I bought 2 Decred (DCR) at $24.88 that I held in my Exodus wallet. Today it's at $58.72 with a 136.06% increase in value from the time I bought it. I think that this coin has a very good potential to go very high.

So, here is my trade prediction for Decred (DCR).
First let's look at the chart on Coinmarketcap.com.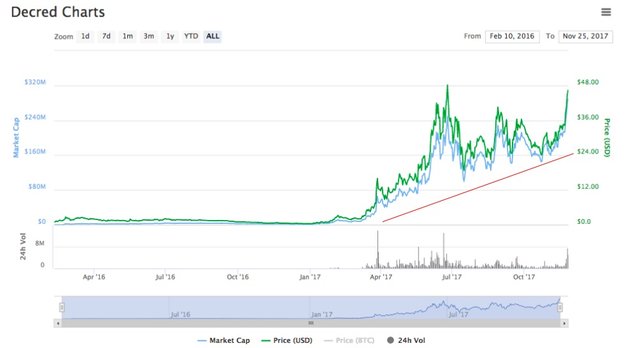 Decred has been in an up trend since the beginning and doesn't have this pump and dump we usually see with new coins and this tells me that it should be a good coin to invest in.

Now let's look at the trading chart in Coinigy where I have drawn some lines and put some entry and exit points.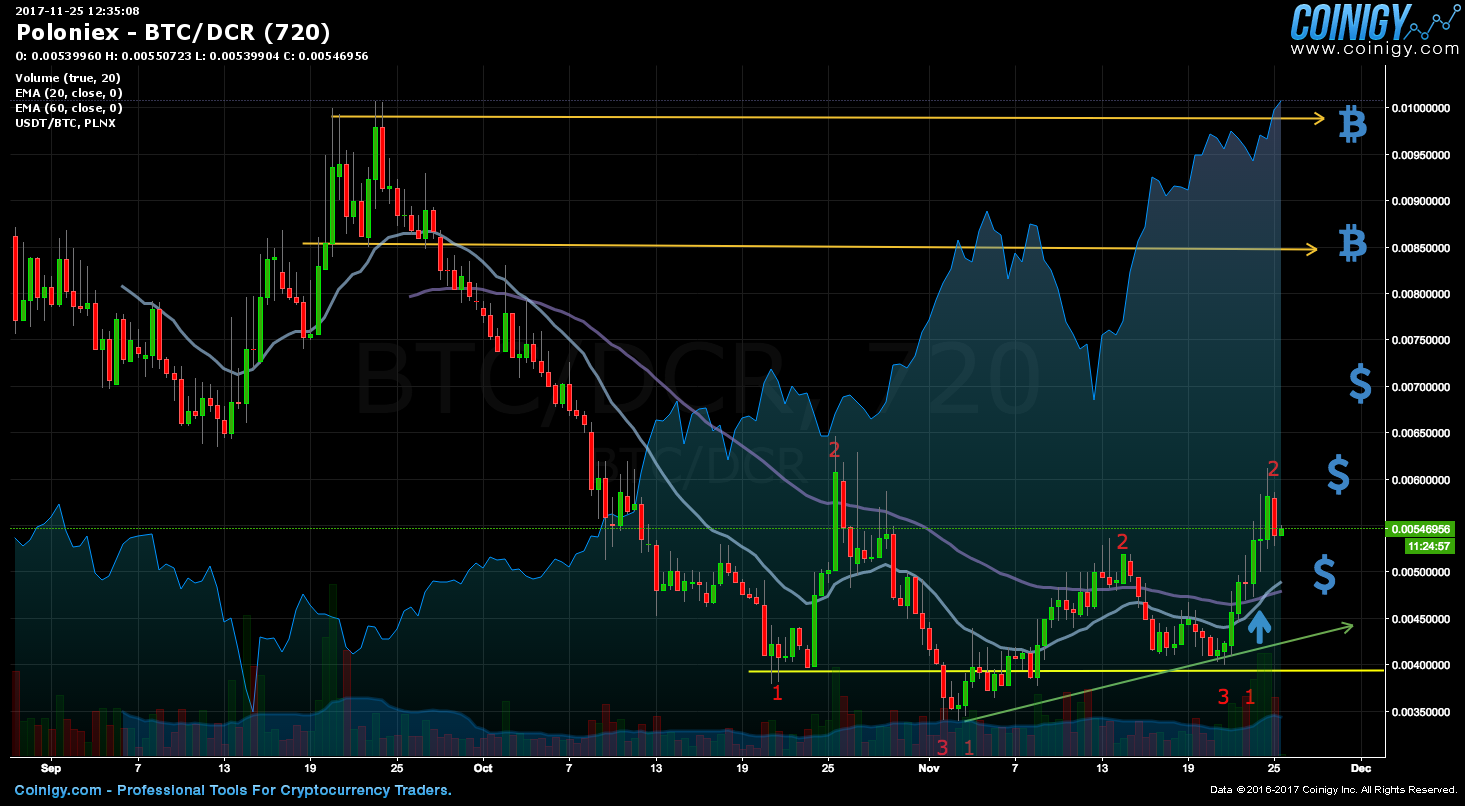 On the BTC/DCR chart for a 3 months view, I have a 1-2-3 bottom formation with a lower low, and then another 1-2-3 bottom formation with a higher low, at the same level of the first low. Then another 1-2 and I expect to have 3 as a higher low to follow the upward trend.

The moving averages have crossed signaling that it would be a good time for a first buy, which is indicated with a $ sign at 0.005 BTC. If the market proves me to be correct I can add a second buy at 0.006 BTC, and then at 0.007 BTC.

I would take 1/3 of the first profits at 0.0085 BTC where there is a Bitcoin symbol, and then another 1/3 at 0.01 BTC where the coin used to be, around September 22, 2017. I would keep 1/3 to see where it's going.
I predict that the whole trade would take about 8 to 10 weeks to complete
This trade prediction is not intended as a trade or investment advice, but only a personal thought of where I think this will go. I can be wrong.
What do you thing about Decred? Do you have a prediction to share with us here in the comments?
I use Coinigy to look at charts and place trades, if you would like to try Coinigy please use my referral link https://www.coinigy.com/?r=842aeb1c because I will get $15 if you purchase later on.
Would you upvote this post and follow me for more because this will encourage me to make more posts about cryptocurrency trading like this one?
Michel Gerard