Crypto Trade Prediction Turns Bad!
Cryptocurrency trade predictions don't always work as intended even when taking all the steps to identify an uptrend based on past movement patterns.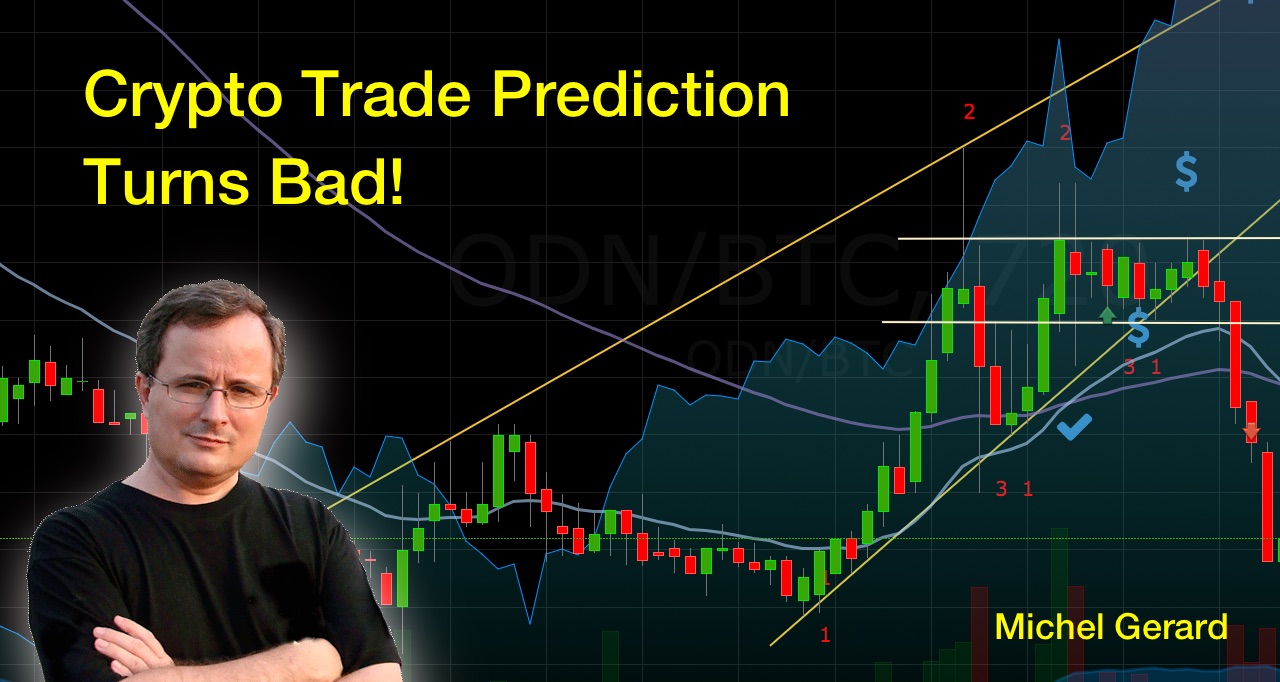 Any cryptocurrency news or event can completely disturb the prediction, and I failed to identify this in this trade prediction I am going to share with you.
Crypto Trade Prediction Turns Bad!

On November 30 I made a prediction and trading plan for a cryptocurrency named Obsidian (ODN) in my trading journal on the Digital Currency Trader forum where I am a student.

This blog post is part of my personal trading journal that I share with you hoping it is useful. I am a student of the Cryptocurrency Trading Course by Digital Currency Trader that you can join to learn with me. Use my special discount coupon code "michelsentme" at check out, I will get a small commission and you will get a 20% discount.
ODN/BTC Trade Prediction and Outcome

After looking at different charts and trying to find a favorable 1-2-3 bottom formation, I came across Obsidian (ODN) on Cryptopia and decided to give it a go.
This was the chart for ODN/BTC as I saw it on November 30.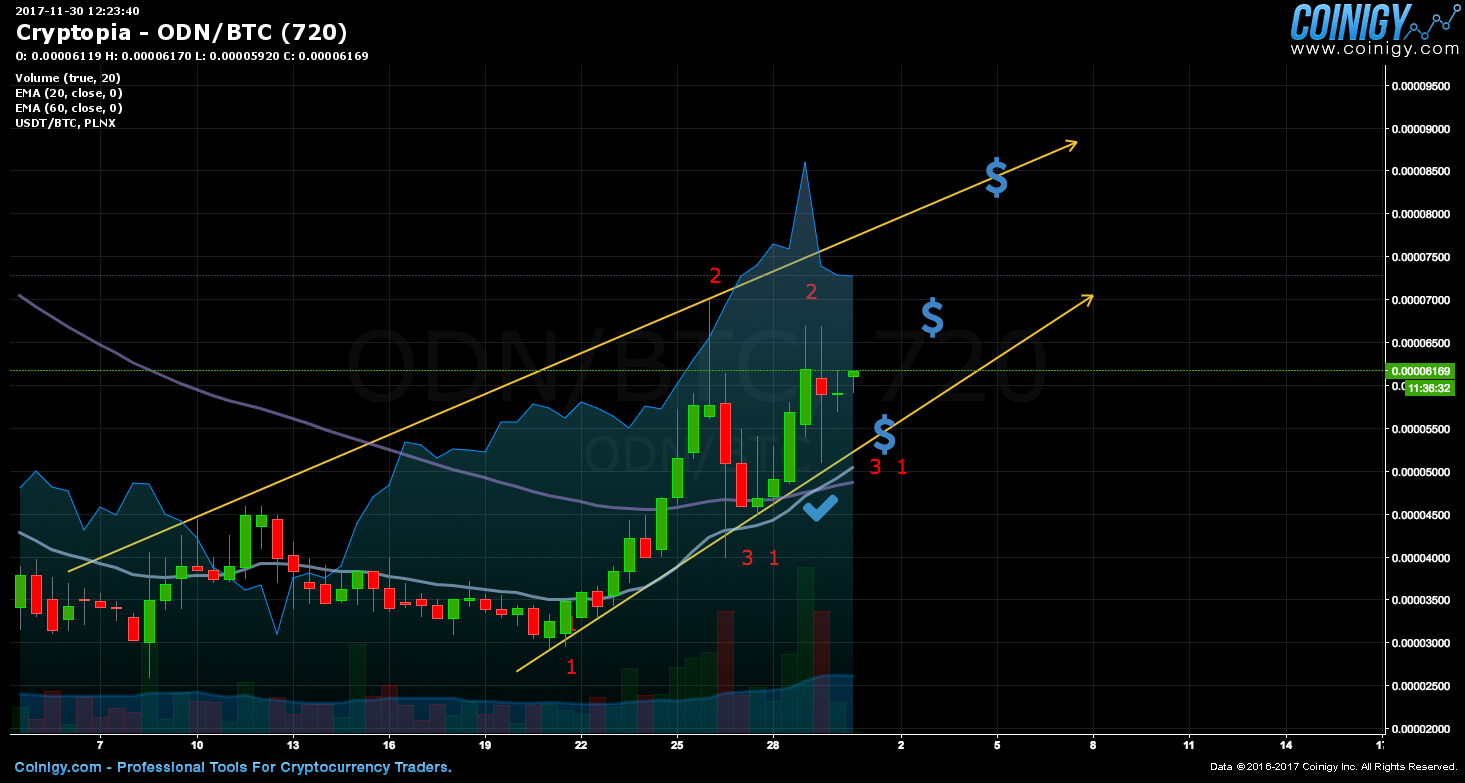 We can clearly see one full 1-2-3 bottom formation and another one in formation, indicating that this should go up. The moving averages also had just crossed indicating a change in the trend.
The plan was to enter the trade where you see the first "$" sign, when it touches the lower trend line and forms the second 1-2-3 bottom formation. It was then to buy more at each "$" sign has it progresses upward. 
I bought before it touched the lower line and from there it moved between two parallels showing indecision in the market.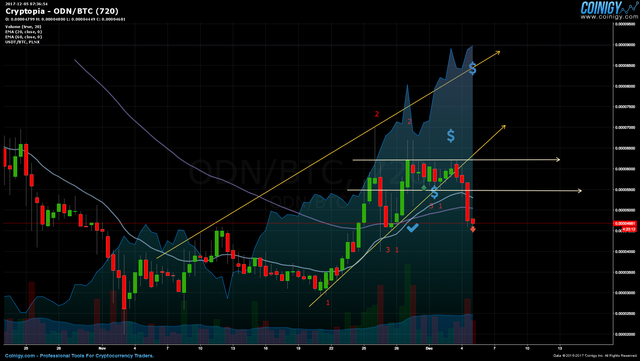 Then, it went down instead of up as I predicted. I exited the trade before it goes to deep and suffered a small loss.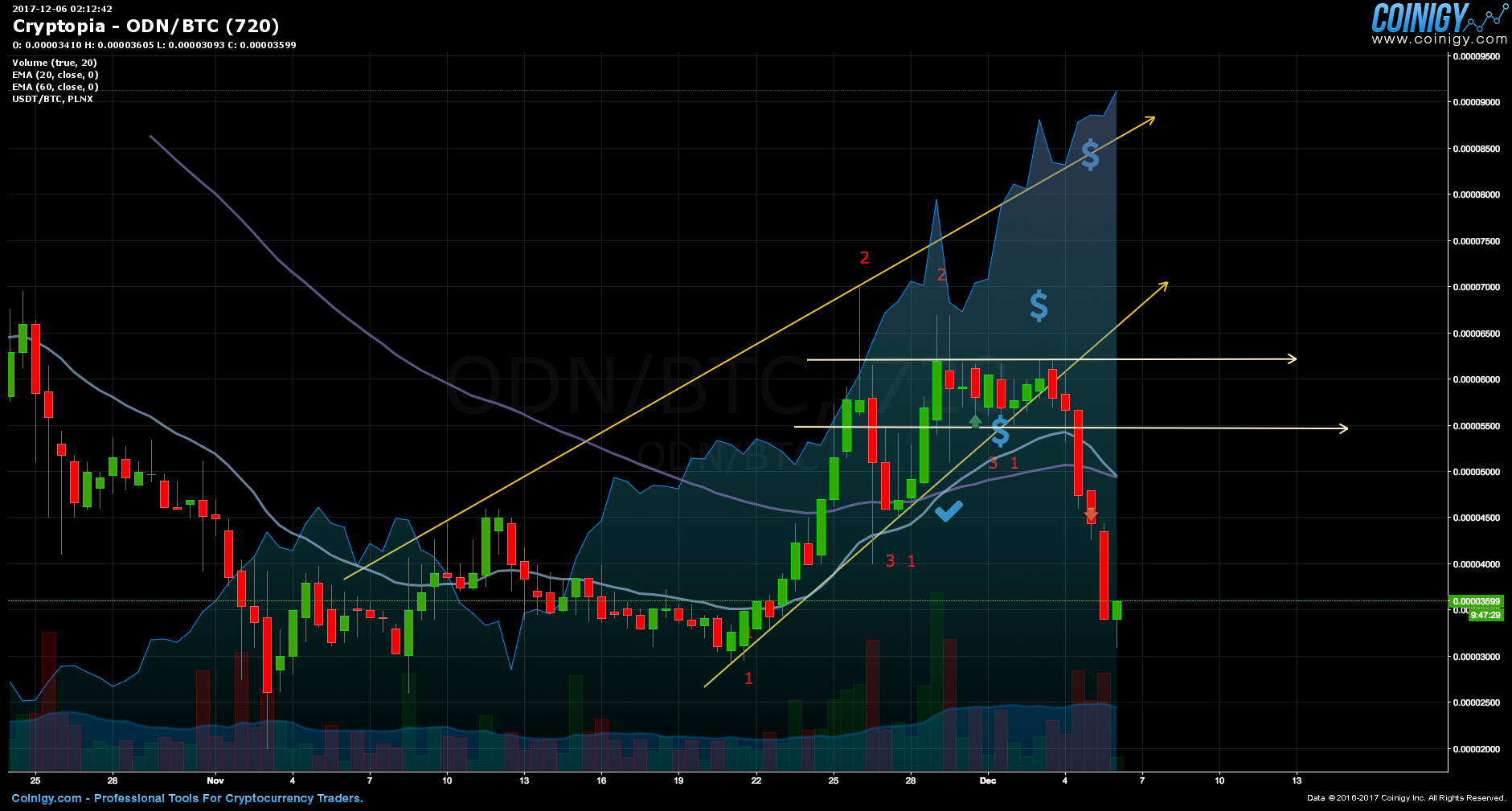 It went much lower as you can see.
Many cryptocurrencies are in a down trend now due to people selling their altcoins and buying into Bitcoin waiting for the next Bitcoin forks. 
Apparently there is a Bitcoin Platinum hard fork (BTCPLT) on 12 December, a Super Bitcoin hard fork (SBTC) on 15 December, and finally a Bitcoin Uranium hard fork (BUM) on 31 December, according to this article: https://atozforex.com/news/2017-december-hard-fork-expectations/
This throws out of the window any prediction based on past chart patterns.
The good thing is that it's going to be altcoin shopping time very soon, what I just have to do is identify another good 1-2-3 bottom formation that this time would certainly be early January after all the crazy forks have been completed.
I use Coinigy to look at charts and place trades, if you would like to try Coinigy please use my referral link https://www.coinigy.com/?r=842aeb1c because I will get $15 if you purchase later on.
Would you upvote this post and follow me for more because this will encourage me to make more posts about cryptocurrency trading like this one?
Michel Gerard