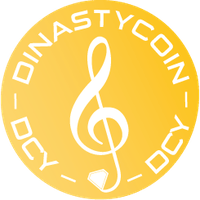 Does #Dinastycoin Have What It Takes to Be The Next #Crypto Success Story?
If you have not read any of my #blog postings here on #Steemit - My simple postings are usually related to #privacy coins and #Dinastycoin or #DCY is no exception. I decided to start mining this coin and along with that I decided to bring my findings to light and just let you decide if this is a coin worth mining or investing in for you.
Let's start off by reading some information that is readily available on the #Dinastycoin ANN Page
About us..
The Dinastyoffreedom community has been active since October 2015. The innovative project starts a new vision of the economy and individual freedom where an ethical and
supportive community is working together. All members can sharpen their awareness of their individual power.
The DCY currency was born as a consequence of the expansion of the community and was made public with the supply of integrated Wallets and miner software in May 2016.
There was no premining of any coins. The registration process in the Community is simple, intuitive and free.
Since the beginning of March 2018, we are an official cultural association, named "Dinasty of Freedom". Our team has more than 170 core members working on making this project a long term, sustainable success!
With the information that follows you might want to take the time to read every word.
Here is the rest.
Dinastycoin (DCY) is an anonymous and decentralized cryptocurrency, that is a secure digital currency with peer-to-peer methodology, not controlled by governments, banks or other institutions. It is a public and transparent system, managed and viewable by the entire Community without management by third parties. A real community where you can be the protagonist of your own financial freedom.
The current power distribution on our planet is the legacy of the world where the economy is controlled by the few. The status quo was shaped throughout centuries, making human beings engage in rat races, detrimental rivalry, and bloodshed. In spite of humanity's hope to overcome local crises through education and internationalization, we still fail to have full control over our lives.
However, state-of-the-art advancements in technology, mathematics, and cryptography may become the key to subvert this paradigm. The advent of cryptocurrencies is the first sign that the new world is coming. It is marked with a hope that the economy will interlace with the technology, that communities will set new transparent principles, and impartial cryptographic algorithms will control its implementation.
It is in our philosophy to encourage enlightenment through breakthrough innovations. Emancipation begins with laymen getting access to financial resources that will give the oppressed the hope for quality education,drinking water, and a better life. CryptoNote is not about creating yet another digital currency. It is the mindset and concepts that represent the first small step to regain the power over ourselves in order to live peacefully and prosper!
Dinastycoin allows for completely new use-cases, very different from traditional payment systems. They can be used for both transactions between users of the Dinastycoin network and also to purchase of goods and services in the proprietary eshop available. Our entire community of end users and merchants offers hundreds of online and offline stores so you can start using your Dinastycoins right away.
Some hard facts about the project:
  •   We have created a complex and complete software platform where all can make decision and proposition together 
  •   We have our personal private Social Network that is already in use by our italian community
  •   We have our market place already in use by our italian community
  •   We have our Mobile web app that allows people to go to the physical shopping and to pay using QRcode...
  •   We have created a new ecosystem mainly where every member is ONE important piece of this project

Director's Board http://www.dinastycoin.com/board-of-directors/
The creator and founder of this project is a Living Trust subject of international right."
This is very well articulated. It might just be the best I have read. After reading every detail very closely and then doing my own research. I decided to join the DCY #Discord to find out more.

Once in the #Discord chat. I noticed how the administrators had organized their chat rooms and information so well and it made the things I was looking for easy to find. Here is an example from their #news room.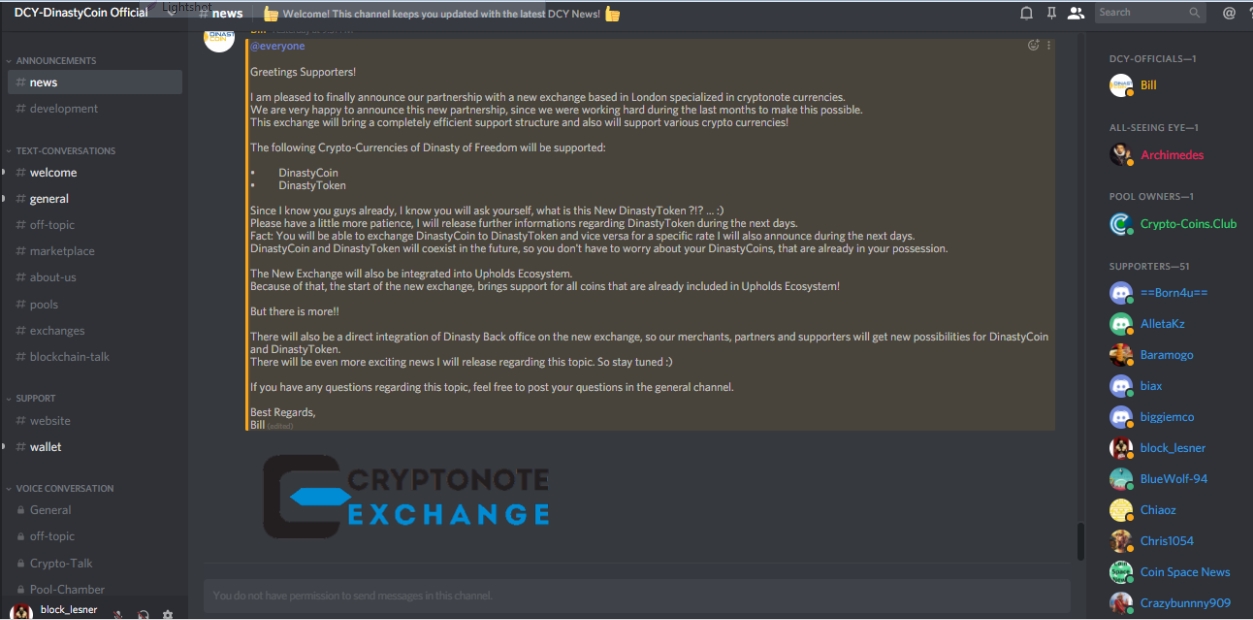 Maybe the image is a bit hard to read but if you look to the left. You can see how they organized every chat room so well. That is no easy task folks and most #crypto coins don't take the time to do this kind of detailed work. You will also notice on your right all the supports, could be you if you join, are colored blue which is a nice touch.
As you go through all the different chat rooms in the discord. You will notice every room is organized, thoughtfully and put together well so the reader can find the information quickly and will know what is going on right away. Updates and current news are easy to follow. Between their #ANN page and their #Discord. You will be able to find very detailed information.
I also wanted to mention this coin gives nice rewards in #mining and as you might have gathered from the photo. One can do both #CPU and #GPU mining. Just follow the link to the #Youtube video so if you don't know how to mine or if you just want to know more particular information on exactly how to mine #DCY. This is a very good video put together by Feeders Rising.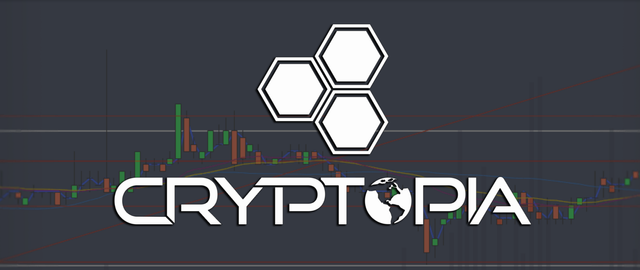 Additionally, I wanted to bring light that this coins is already being traded on the exchange #Cryptopia
To me this is one of the best characteristics of #DCY. If and when good news comes out or when benchmarks are reached. No one will have to wait to get to a new or bigger exchange as the price will rise. Just like any other big name #cryptocurrency.
Don't get me wrong. More exchanges are beneficial and necessary for continued growth but some of the newer #CryptoNote coins don't have this luxury and if that is not enough. I noticed today there is a good deal of accumulation going on. Just look here. This was taken today on #Cryptopia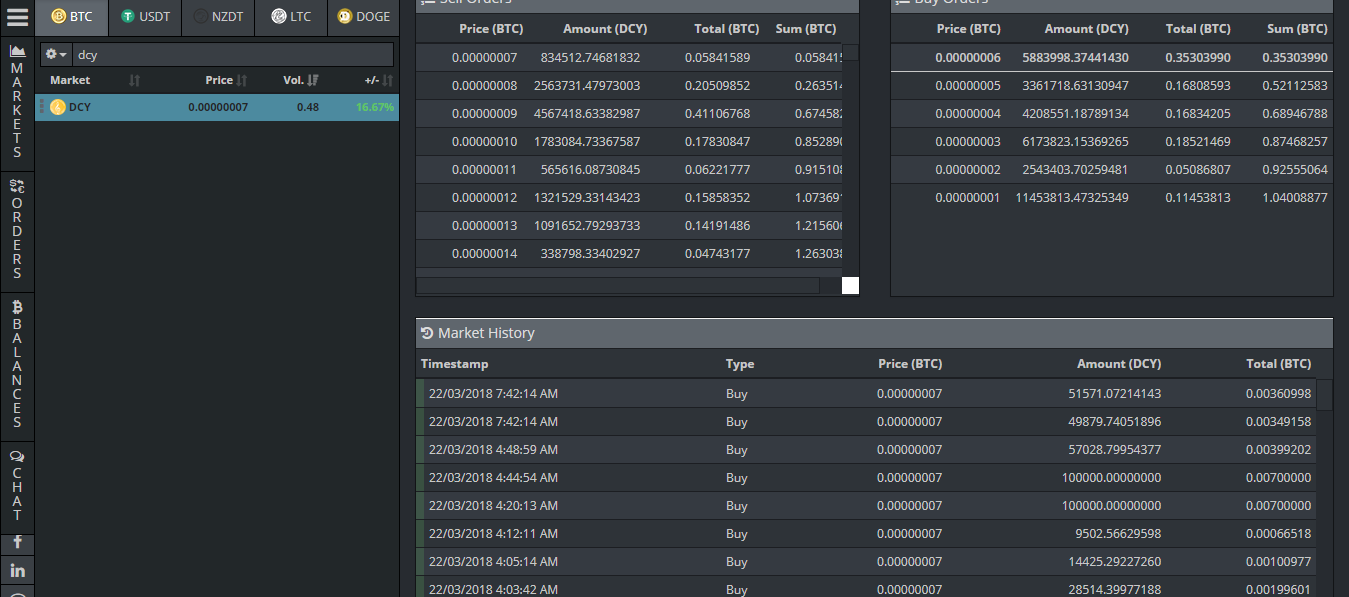 Next, #DCY was just accepted on another exchange and you can gather that information below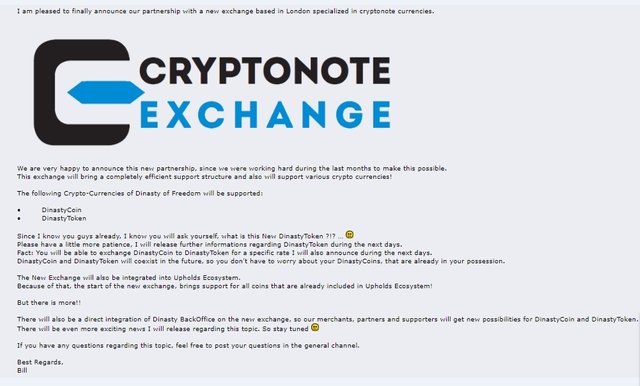 Lastly,
On a final note, I just wanted to share this amazing #news about #DCY
Bill - 03/03/2018
@everyone Dear Supporters,
I am pleased to announce the latest news and updates about the project!
A long time passed by, and you may be thinking, are they still alive? And yes, we are stronger then ever and much has been done within the last months!
The project made big steps forward, most of them you can´t see, but they were very important to make this project a long and sustainable success!
In the last months, we managed to get new partners on board that want to work with us on a long term success of the dinasty ecosystem.
Also, we worked further on our various side projects to evolve the ecosystem around dinastycoin!
Our booking platform for hotels and apartments made a big step forward and is currently in the final testing stage. We already have partners, spreaded all over Italy, that will accept payments with dinastycoin!
Not only hotels and apartments, also bars and various merchants will accept payments in dcy! This is happening now, actually i could sneak out 2 little screenshots(pics) for you so you get a first idea Smiley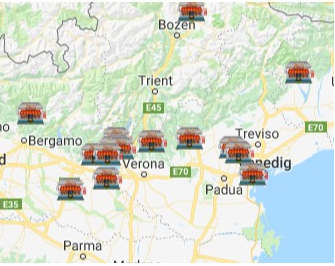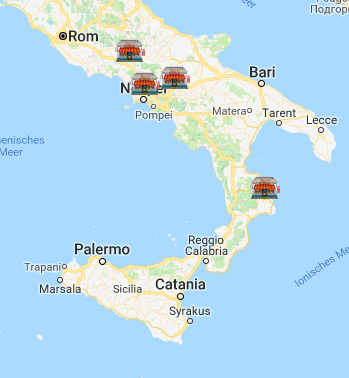 I hope you found this information helpful and there are many more big surprises waiting for you in both the #ANN page and in the #Discord. I did not include all the good news. There really is so much more to find out.
I wanted to also include some important #links that you can find below.
Website http://www.dinastycoin.com/it/
Check out our brand new Discord Server
https://discord.gg/mnrfcMP
Telegram Official Channel
https://t.me/joinchat/Es0dxRJImRjyWlAiCPtKHg
Telegram News Channel
https://t.me/joinchat/AAAAAEkoLU7qlYnyfkYa9g
Telegram Support Channel
https://t.me/joinchat/Es0dxQsliOiqAerw1b3ukQ
Latest Sources - Github
Source: https://github.com/dinastyoffreedom/dinastycoin/releases
Exchanges
Cryptopia
https://www.cryptopia.co.nz/Exchange/?market=DCY_BTC
BTC-Alpha
https://btc-alpha.com/exchange/DCY_BTC/
Pools
Official mining pool
http://poolmining2.dinastycoin.com/
Alternative mining pools
http://dcy.crypto-coins.club/
http://dcy.poolmining.us/ Announcement: https://bitcointalk.org/index.php?topic=2701750.0
http://dcy.hashgang.io/ Announcement: https://bitcointalk.org/index.php?topic=3014604.0
http://dcy.coinwire.eu/ Announcement: https://bitcointalk.org/index.php?topic=2751893.0