Nomics is an interesting platform that aggregates crypto data in a presentable manner similar to CoinGecko, Messari, Coinmarketcap etc. Has over 3000 cryptos listed on it and offers free and paid data for those who need it.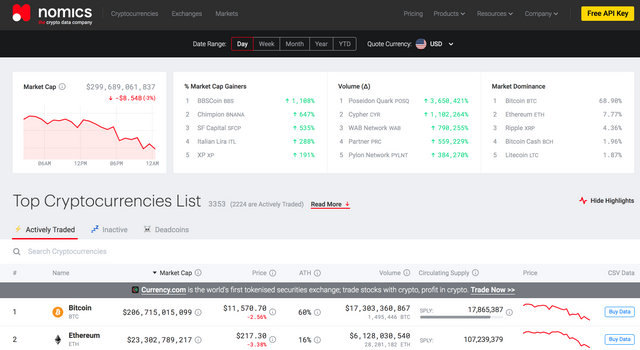 Information is easy to understand for new users and there's ample info available to research into your favourite tokens in the crypto world. It's interesting to note that they display the market dominance of top 5 cryptos on the front page top right corner.
I tend to take market dominance into consideration when I'm trading so it's good to see what's going on there quickly by using Nomics. Looking up Steem I'm a bit disappointed of course as it's price has diminished off late considerably and also quite quickly. But we can look beyond that for now.
Nomics is overall easy to navigate and figure out for yourselves if you are new to crypto.
If you are looking for information on cryptos and vital statistics as things change in real-time, then this is another option for you in addition to the ones we already know and use.
Good luck with your trades and investing in crypto markets.
---
If you like my work kindly resteem it to your friends. You may also continue reading my recent posts which might interest you:
---