Bitcoin future in near term
Yesterday in a four-hour time bar, the exchange rate was around $ 6100 and $ 6600. Following a steep fall, a steep rise occurred, buyers massively opened their positions, and within a hour they bought themselves well above the initial exchange rate. Then came the usual back-up and stagnation, and the exchange rate was back from the average of $ 6350 in the beginning of September.
The tug of war has been in place for two weeks, and the upcoming Bitcoin ETF decision, expected by the market as a mess and guideline, will be received by the US Securities and Exchange Commission no later than September 30. I see a good chance that, in the absence of more serious market news, BTC will continue to move along the graph over the next week, and the market may also enter the wait mode.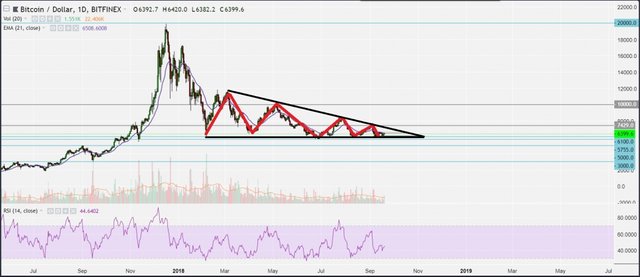 Although the decision does not have much importance for the future of cryptographic money, the massive exchange rate movement can be enveloped in the case of acceptance, rejection and even a new postponement. The direction of the outbreak at the end of September can determine the direction of the whole market for the coming months.
It will produce a strong outbreak. The uncertain market is looking for a crutch, and the decision of 30 September will do exactly that. In the case of a positive decision, it is almost certain that a longer or shorter bull run will start, with rejection or a further delay, this $ 5750 bottom may fall.
The downfall can also lead to the ultimate capitulation that is expected by many, during which "this is a deadly affair, will soon reach 0 by all", even sell their kept crypts, which have been unimaginable so far. In this case, the profitable investors who have been waiting for a long time for a few months will buy at a discounted price, which will cause a strong rebound.
my autumn expectation:
dribbling 4900 bottom
rejection 3000
positive news 8-10k peak
How do you think? Tips September 30 midnight?