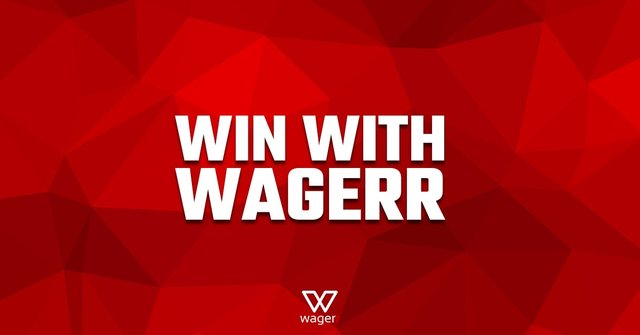 Firstly: Who am I?
I am in no way affiliated with Wagerr, however I did buy in to the ICO (In rounds 16, 17 and 18 to be specific). Whether that puts me in the "shill" category is up to you. I've been following the project for a few weeks and whilst I am by no means an expert I felt it would be prevalent to try and relay some of the information I have learnt.
Why am I writing this?
Currently Wagerr is a small but growing team and I think one of the areas they could do with a bit of investment is PR. They have a great concept and great branding but outside of their slack I think they are under representing themselves. I'm sure this will change now that funds are being slowly released to them from their escrow service.
The real driver behind this has been some recent fear, uncertainty, and doubt around the project. Some due to a lack of understanding, and some blatant lies told (which I'll get on to later).
What is it?
I'll let the team explain the project with an extract from their whitepaper: (https://wagerr.com/wagerr_whitepaper_v1.pdf)
"Wagerr is a decentralized sportsbook that brings trustless sportsbetting to the entire world. Due to its strict use of Application Specific Smart Contracts (ASSC) and 2nd layer network controlled by Oracle Masternodes, Wagerr solves the security, scaling and incentive issues that have plagued smart contracts since their inception. Additionally, Wagerr combines leaps in technical design with an economic linkage that creates a deflationary, and self regulating economy. Through decentralized governance and contract fees, structural mechanisms balance Wagerr's token value by dynamically adjusting supply based on the current exchange rate and betting volume within the Wagerr network. Wagerr does this all while avoiding single points of failure and implementing a network and system that is fully decentralized."
Basically, Wagerr is opening betting to the blockchain. There are several casino-type projects coming out but Wagerr seems to be the leader (at least in theory) in the sports betting sphere, which the more I learn about it, the more lucrative it seems.
With the addition of e-sports and fantasy betting I really see potential in the project.
What it isn't is a vehicle for pumpers and dumpers to get rich quick by trading coins. The product comes first and the value of the coin comes later.
Coin overview
Wagerr is a pre-minted currency with 200 million initial coins. Some coins will get 'burnt' as part of the fee when placing bets meaning this will be a deflationary currency. New coins will be minted yearly to combat this and will be distributed to "Oracle master nodes" and staking wallets. We'll come on to that.
ICO details
The ICO is now finished. It was structured as an initial 10 rounds, with 10 bonus rounds which activated if the previous round completed on time. The ICO ended a few days early after all round sold out.
The buy-in price changed per round as follows:
Rounds 1-10: $0.05
Round 11: $0.055
Round 12: $0.06
Round 13: $0.065
Round 14: $0.07
Round 15: $0.075
Round 16: $0.08
Round 17: $0.085
Round 18: $0.09
Round 19: $0.095
Round 20: $0.10
 Some of the bonus rounds had stretch goals which were:
Round 12: Securing funding for this round ensures Wagerr team adds on an affiliate referral system to incentivize and reward users who bring in new players.
Round 13: Securing funding for this round ensures that the Wagerr team adds eSports betting to the milestones and roadmap.
Round 15:Securing funding for this round ensures that the Wagerr team adds Live betting to the milestones and roadmap.
Round 18: Securing funding for this round ensures that the Wagerr team integrates into the wallet direct multi-coin and fiat<->WGR exchange service.
The round 18 goal was the big one. Having a Fiat exchange will be crucial to the success of this application in my opinion.
Roadmap
The plan is to release testnet in Q3. This will give the devs and the users a chance to put the technology through its paces and to iron out any bugs as well as for people to experiment with "Oracle Master Nodes". In my opinion the release of testnet will be the make or break of the project. If they can deliver a workable project at this stage it will prove the concept and I hope that's when we'll see an uptake in the price of WGR.
After that comes mainnet. This will be the final product and is slated for Q4. Assuming testnet goes well this will open the doors to the world and put Wagerr on the map.
At this point Wagerr will be investing heavily in marketing and PR to really get the word out.
I'm not much of a gambler but I know plenty of people waiting for this stage.
Oracle Master Nodes
Initially there will be 2,000 "Oracle Master Nodes". These will require 25k Wagerr tokens to operate which will be locked in to a 30 day contract.
These nodes will be responsible for reporting game results and achieving consensus on the network.
Other than the WGR requirement, these systems will need 99% uptime and will be evicted from the network if they fail to report results or report incorrect results consistently.
The number of masternodes may go up with the success of the network.
Running a masternode will net you a percentage of the minted coins and the fees associated with placing bets.
I expect that these will probably operate at a loss initially but I'm hoping to run one.
The complexity of running a masternode will come from obtaining and processing results in a timely manner. I'm personally looking in to site scrapers and API access and can't wait to put it in to practice during testnet.
Staking
If you don't fancy running a server, users will be able to 'stake' coins and receive WGR as it is minted in a distributed manner based on how much you're staking.
Interim Coin: Waves Asset
So, this is where there has been a bit of controversy. As Wagerr is building a new blockchain there is nothing to show between the ICO ending and the network coming live. Wagerr made the choice to issue interim tokens.
With the volatility seen recently with Ethereum, and decentralisation being a core ideal of the Wagerr team, they decided to issue tokens on the Waves platform.
Personally, the more I look in to Waves the better I think it is, but there are many that don't see it that way and "When will Wagerr be on poloniex/bittrex?" is probably the most asked question on slack at the moment.
The Wagerr tokens on Waves were made available for withdrawal to those that wanted to move them into their Waves wallets (the alternative was to just keep your balance on Wagerr.com until launch), and I think the team went above and beyond by also giving each user that decided to withdraw 0.003 Waves to cover any buying/selling fees. It's a tiny amount ($0.01 at the time of writing) but I saw it as a good will gesture.
Keep in mind that they didn't really need to issue anything at this point. Look at Tezos who are basically saying that you wont see anything for at least 4 months after the ICO.
Even so, the move to Waves has been controversial, but you're free to ignore the platform entirely.
It's also a good place to pick up Wagerr if you missed the ICO as it's pretty cheap at the moment whilst the early buyers sell their first round and bonus coins).
Future coin on wager blockchain
As stated previously, once mainnet is launched and a new blockchain is born and will be listed in the usual places.
Wagerr haven't said which exchanges yet, but my money is on Bittrex to begin with. The official decision is under NDA so there's a good chance I'm wrong. Again, just my opinion.
I asked Robert (the lead developer) about this and his response was:  "We have not stopped in our pursuit to get listed on traditional exchanges and can say we are still in negotiations and compliance review to get the token listed on major exchanges. However we cannot discuss which ones nor guarantee that it will happen" 
Debunking some FUD
As with all successful projects it seems that Wagerr has had a few targeted attacks to try and spread FUD.
There seems to be a lot of people irate at the fact that the ICO didn't end and instantly give 10x profits. These users are pretty easy to spot by their venom. If I wanted to warn you of a dodgy coin I would do it calmly, rationally, and back it up with evidence.
I've seen some baseless arguments with no evidence whatsoever. I think greed is responsible for this, and patience would serve them well.
What's worse than them though would be the fictitious post like the following:
https://bitcointalk.org/index.php?topic=1911583.msg19904820#msg19904820
Someone went out of their way to create a fake LinkedIn profile, masqueraded as a team member and appeared to say that the CEO was corrupt. 
This was easily debunked by the team but it does get you thinking. Why would someone do that? Is this project seen as a threat? I don't know. I hope so 😊
I've also seen claims that the team will "make off with the money" which just isn't the case. The team are slowly taking money from the escrow service used to hire new member and for operational costs but it's not like they got all the money in one hit and are partying it up somewhere.
Final thoughts
You may be reading this thinking "wow, this guy has drunk the cool-aid" and to a certain extent I have. I read the whitepaper several times, investigated the sports betting sphere, hung out on slack and chatted to the team, and then decided to buy in.
I'm by no means a whale, and I'm not expecting to retire off my Wagerr profits. I just saw a decent opportunity. Met a lot of good people on slack, and then got more and more frustrated with the FUD that has begun to circulate so decided to try and do something about it.
Further info
Obviously the first port of call would be the website: https://wagerr.com/
If you want to get a bit more involved, the slack community is at https://slack.wagerr.com/
The slack user @spidymonkey has made a great site to track the price without you having to use the Waves wallet: http://wagerr-calc.com/price.html