Note: All the snap shorts are taken from coinmarketcap, there you can see coin name, current price in USD and BTC, Marketcap, 24hr volume, and total supply.
Today I will be discussing about five such coin which can give profit in this bear market. Every coin has its time to show the potential and pump. So these are some coin which has potential to grow in this market.
1 . Red Pulse(RPX):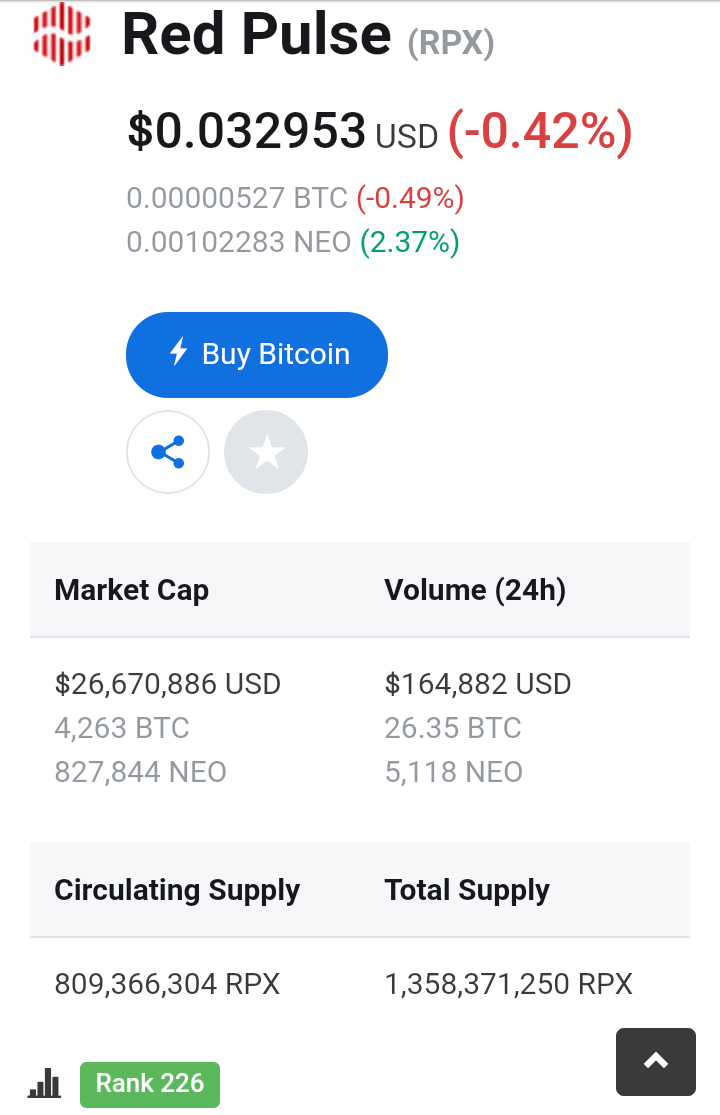 Red pulse token is very much undervalued token . Its original price should be more than 0.05$ or 1000 saotosi but its current price is 0.03$ or 530 satosi its still a great buying opportunity for this token. What happens is that when the market crash suddenly this token pumps up and you can get good profit on it. If you hold it for 1 month it can easily give 50 to 100% profit as it is based on NEO plateform.
All time high of coin is $0.77
Suggested Exchange: Binance
Suggested price to buy: 500 to 550 satosi
Short term and long term profit
2 . We Power (WPR):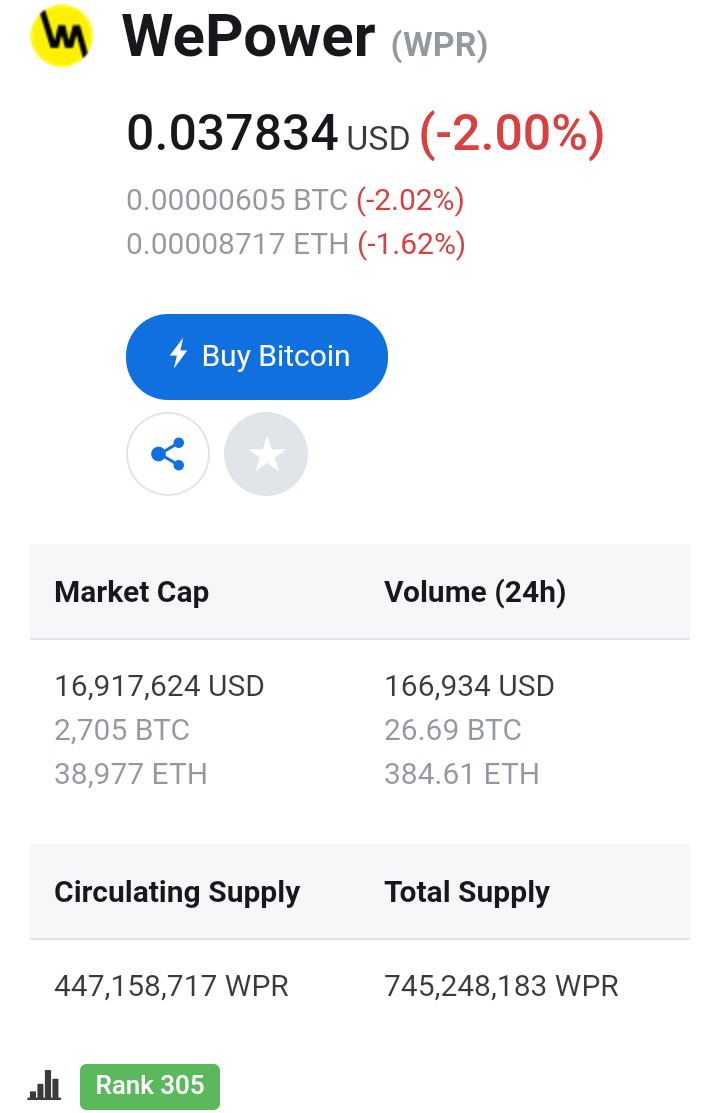 This token is hype of the current market and every coin gives good profit in a particular time this might be the time for WPR. It is the undervalued coin for short term gain. Its current market price is $0.038 or 680 satosi. If it comes near to 590 to 600 satosi you can grab it and hold for 3 to 4 weeks you can get good profit on it as always.
All time High of coin is $0.28
Suggested exchange: Binance
Suggested price to buy; 590 to 600 satosi
Short term profit
3 . Ethereum Classic (ETC):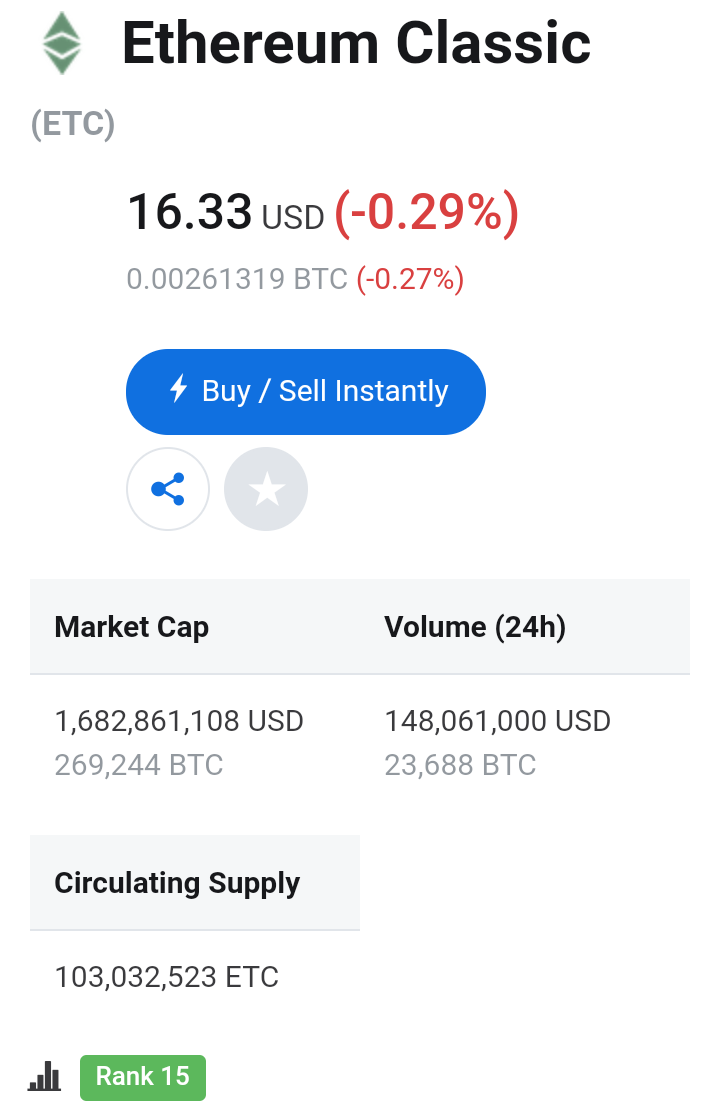 Ethereum Classic is all time favorite coin it is always best for the profit in bear market. Ethereum classic is stable or profitable in bear market. The time when all coins falls by nearly 50 to 60% ethereum classic either remains stable or falls by only little % or it even gives good profit. At this time it is going to be listed on coinbase so this might be good opportunity to get good profit on this coin. Its current market price is $16.35 or 0.002 6 BTC . if you hold it for a month it can touch $20 easily. For long term I can see this coin to even 100$ after a year.
All time high of coin is 45$
Suggested Exchange : Binance, Bittrex and poloniex
Suggested price: 0.0026 BTC
short term and long term profit.
4 .Quanstamp (QSP):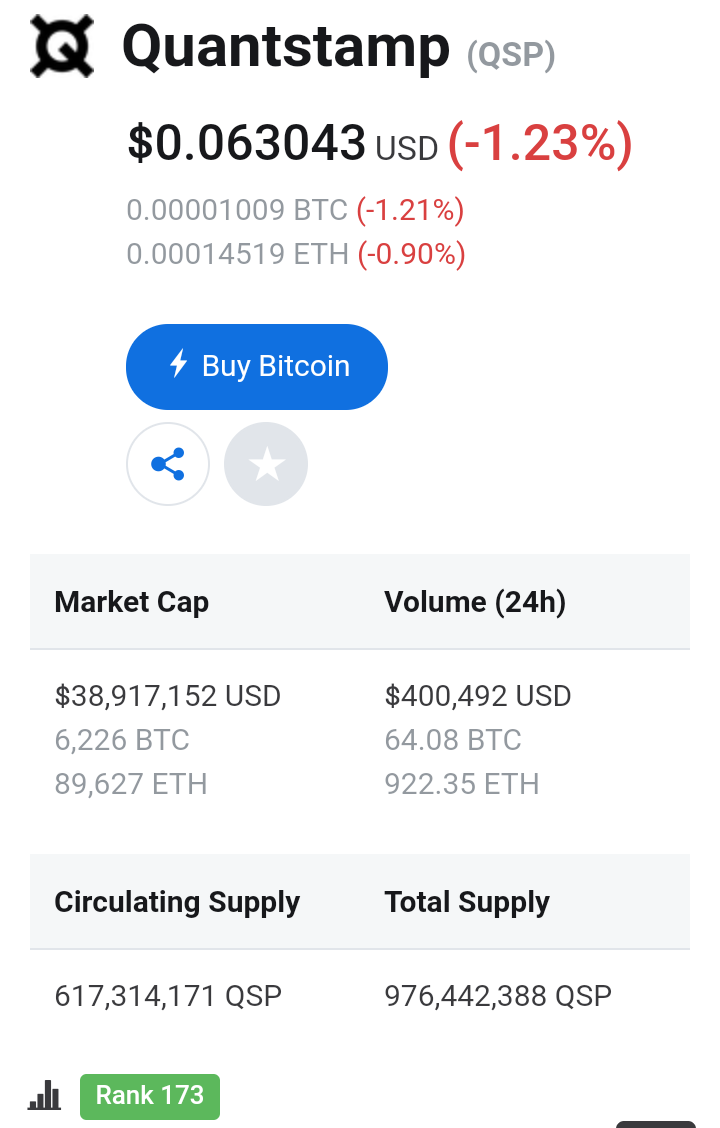 Quanstamp is ethereum based token. It has been all time good token for good profit since it has launched on the exchange . it is in the steady downfall because of the bear market but it has great potential to grow and I have some believe on this token.
All time high of coin is $0.77
Suggested Exchange : Binance
Suggested price : 1000 satosi
Short term 6 weeks and Long term profit 1 year
5 . Stratis (STRAT):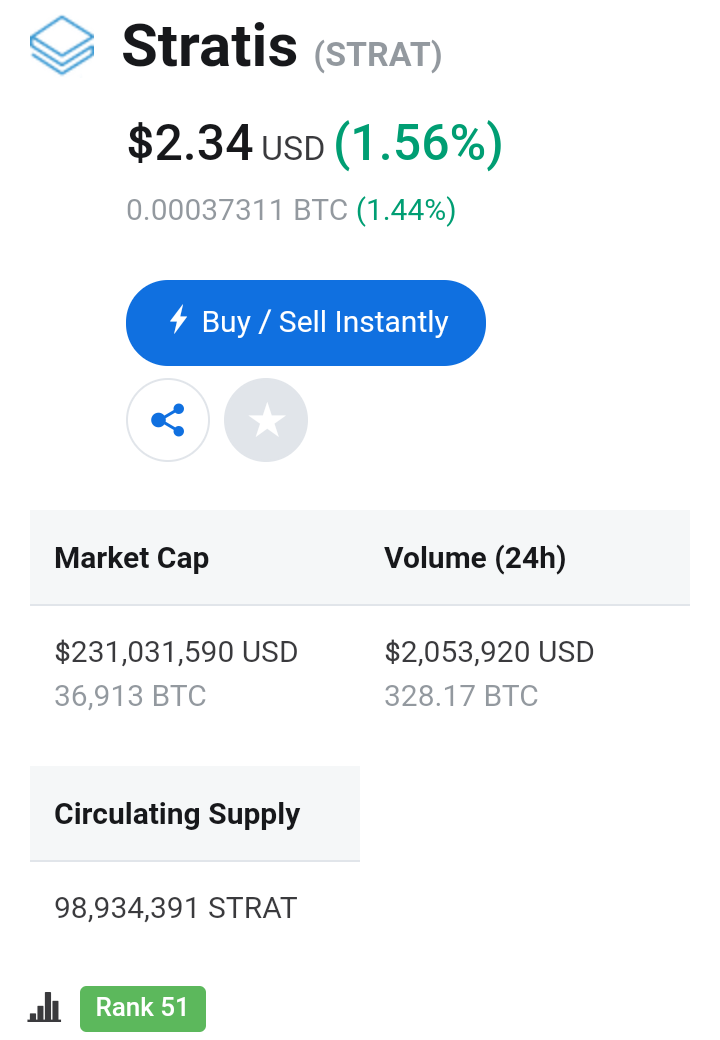 Stratis coin is best coin among all. This coin is a old coin and always best of all. It has very low circulating supply as compaired to other coin and market cap also not so high. So it has good potential to grow and this is great opportunity to grab it and it can give good profit in short term as well. Its current price is $2.34 or 0.00037 BTC. It can come little down as the market is bearish you can grab some of this coin at best price.
All time high of coin is $21
Suggested Exchange : Binance and Bittrex
Best price to buy : 0.00035 to 0.00036 BTC
This are all my coins for short term profit if you have some more coins please suggest me in the comment and if you like this article blog please upvote.
DISCLAIMER:
I AM NOT A FINANCIAL ADVISOR NOR A HEAVY INVESTER I'M A CRYPTO TRADER. PLEASE DO YOUR OWN RESEARCH BEFORE INVESTING IN CRYPTOCURRENCY BECAUSE IT IS HIGHLY RISKY AND ANY PROFIT OR LOSS WILL BE YOURS I WILL NOT BE RESPONSIBLE FOR ANY KIND OF DISBALANCE IN WEALTH AND HEALTH.
Regard: @dontmiss
Crypto trader and Photographer
THANK YOU