Antshares from China: The Highest Potential & Most Undervalued Crypto-Currency on the Market


Straight outta China. Antshares is a crypto currency/digital assets blockchain that might just be the upcoming Blockchain coder's ultimate dream.
For now, the majority of information about the coin is only available in Chinese, and the product itself is still in its early development stages. These 2 factors alone make for an extremely low current coin value & market cap. I believe the true value of this coin lies higher. 10,000% higher.
Here's why I believe Antshares is currently the most undervalued coin out there:
A serious platform built by serious people. Check out their Whitepaper.
Antshares integrates E-Contracts, a way to register intellectual property, actual contracts, and other forms of ownership. Since China's laws on patents and intellectual property have been... loose (to say the least) this system may give Chinese businesses the opportunity to better register ownership of intellectual material.
(Rumors of) plans to internationalize and have a better integration with the West. We'll know more on June 22nd.
A nice looking, consumer-friendly cross-platform wallet app.
Smart Contracts 2.0: A way to write smart contracts in any of the the popular programming languages (C#, Javascript, and more). Still in development.
Another major point is that China is a land of investment & opportunity. Businesses and individuals not only strive to maximize Crypto Currencies' potential alone, but also the actual products being developed on the Blockchain (in this case, built on Antshares). Applications built on Antshares by reputable Chinese businesses can potentially receive major investments. Think Ethereum ICOs, but with businesses truly having experience with increasing value in terms of actual development rather than just a focus on marketing and speculation.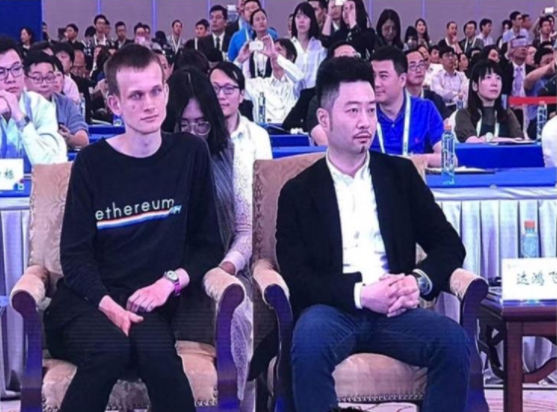 Vitalik (Ethereum, left) and Da Hongfei (OnChain/Antshares, right) in China
Antshares' market cap is currently in the same area where you find crypto currencies that are purchased with Counter-Strike skins (no joke). Antshares doesn't belong there. Antshares belongs in the Coinmarketcap Top 10 regarding the value it brings businesses & developers.
Considering the recent pedal-to-the-metal speed in development and attention it's receiving from the Chinese public (and Chinese businesses), and now also the rest of the world, I predict we'll see a price of over $100 per Antshare within the next 18 months. Perhaps even more.
Follow @deanpress on Steemit for more Crypto and Web Entrepreneur stuff!