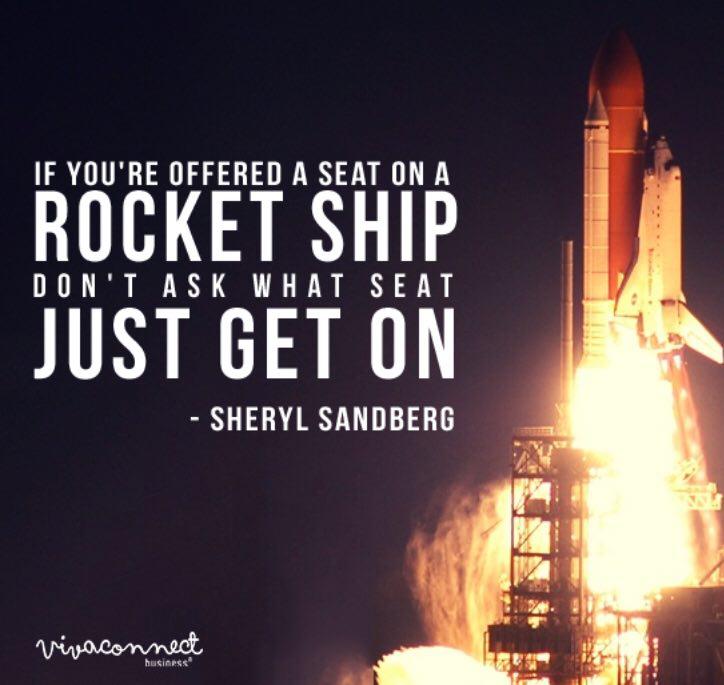 I'm not shilling coins every 2 days. My last big shill was 2 months ago! Remember IOT Chain? The Chinese IOTA?
https://steemit.com/cryptocurrency/@dawidrams/my-top-undervalued-coin-that-is-still-undervalued-but-has-a-potential-of-iota
It was priced around $1 and peaked over $9 a month after I discovered it!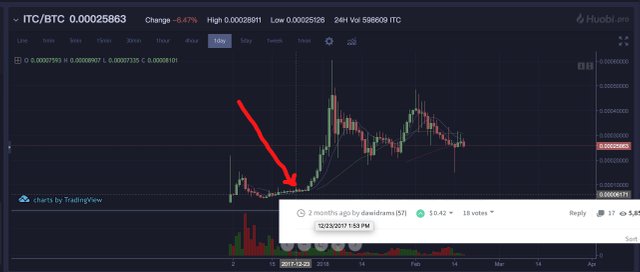 And it's still over $2.7 even after all dumps and market crash:
https://coinmarketcap.com/currencies/iot-chain/
I have another one!
Yes it took me 2 months to find another coin with quality and potential of upside like IOT Chain.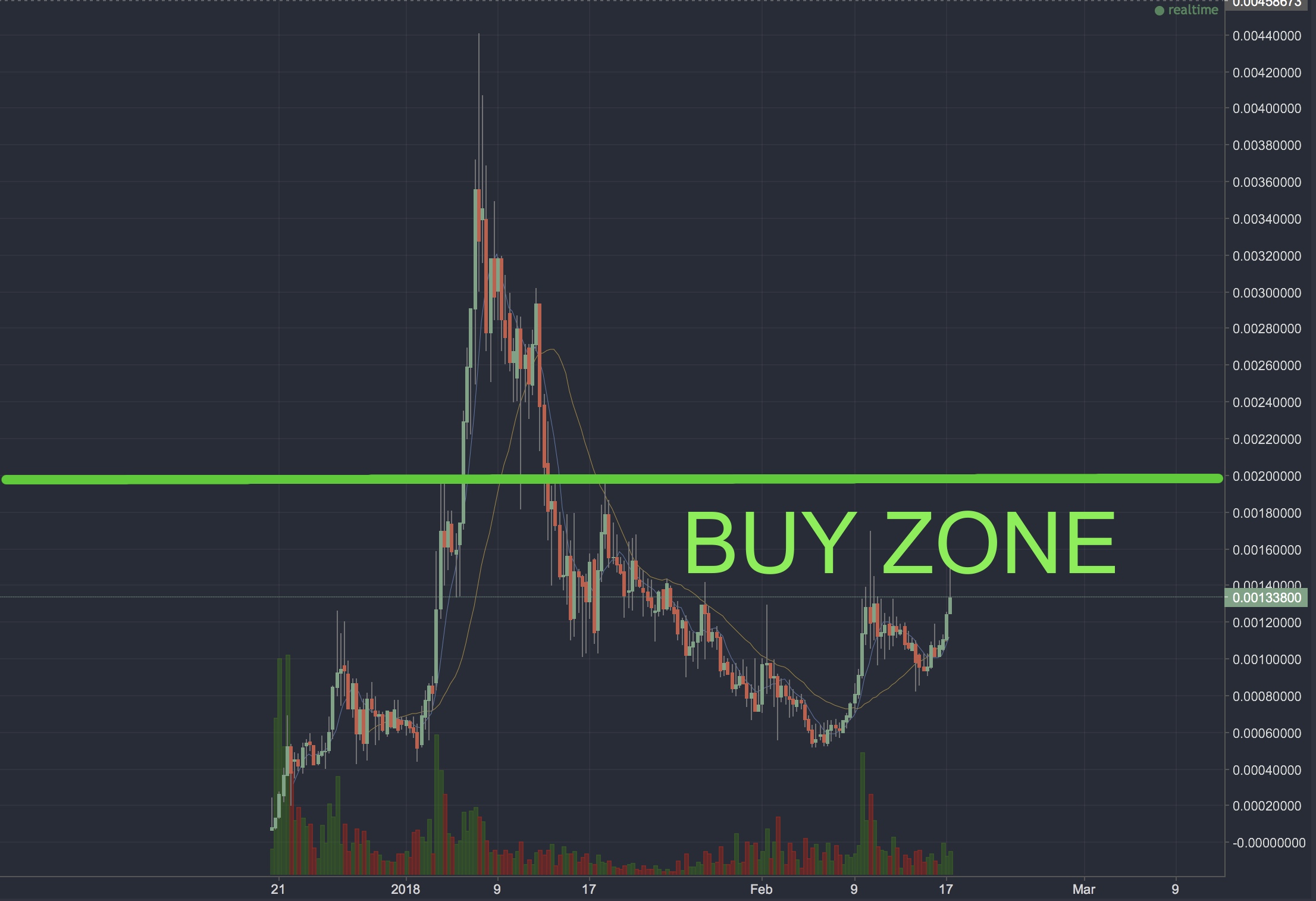 It's a coin with a very cool name, Oyster Protocol (PRL).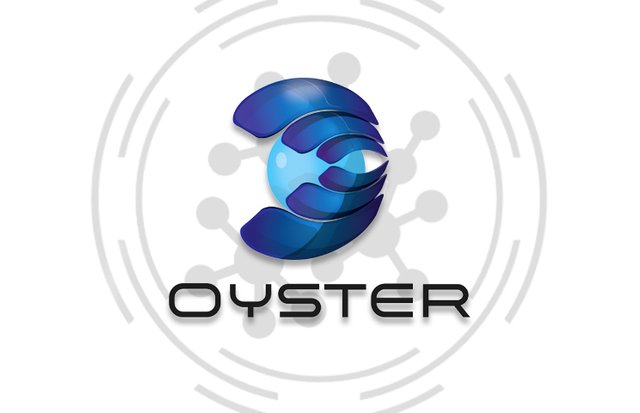 Quick explanation:
Shells(SHL) are used to pay for connectivity and Dapp operation across the Oyster meshnet, whilst Pearls are used for static data retention on the tangle. Shell is not pegged to storage like how Pearl is. In the future you will be able to use Shells to access the decentralized web, connectivity that entirely bypasses ISPs and centralized infrastructure. Full white paper will be published next week.
Q: "How do I get Oyster Shell's(SHL)?
A: You will get a 1:1 airdrop for the amount of Oyster(PRL) you hold at the time of the snapshot. More info to come!
Q: "When will the airdrop take place?"
A: After the coin burn on March 1, 2018. An exact date will be released soon.
Q: "If I keep my Oyster(PRL) on an exchange will I receive the airdrop?"
A: We are working with exchanges to get this to happen. As of right now the way to assure you will receive the airdrop is by holding them in a wallet you have the private key to. Ex: MyEtherWallet.
Oyster is unique because it enables a user-friendly way to implement both its revenue generation (only have to add a line of code), and file storage. While the floor value is pegged to the value of storage it provides. Oyster allows websites to have their own financial autonomy by not relying on monolithic advertising platforms like Google and Facebook. Any of these platforms can bully a website due to political motivations, whilst the advertisements themselves are rarely assertion-neutral. All completely decentralized.
Read more about PRL token usage: https://medium.com/oysterprotocol/dawn-of-a-new-era-3ca2e2f5a1c6
Oyster is a revolutionary protocol that resets the assumptions of the current internet paradigm and addresses the aforementioned issues with a new comprehensive platform. Oyster's primary operation is based off of the storage, retention, and retrieval of static data. The PRL token enables such data storage and is the first asset to be pegged to a known market value without a reserve or a centralized guarantor.
Q: "What makes Oyster Unique?"
A: Oyster is the first solution to ever:
Guarantee 100% that uploaded data is not leaked, no need to blindly trust a binary executable.
Have it's value pegged to something tangible and valuable (storage) in a decentralized way. Every other peg of value was centralized and hence fell apart, think about how the dollar used to be pegged to gold.
Allow websites and apps to earn revenue in a decentralized way, no political leverage or TOS from monolithic advertising platforms. This is a game changer for investigative journalism and similiar efforts.
Q: "What is the total supply?"
A: The hard cap defined during the ICO was 500,000,000. During that time a total of 108,592,692 were minted. 10,000,000 coin burn on March 1, 2018. New supply will be 98,592,692
Read more here: https://www.reddit.com/r/Oyster/comments/7n3t23/faq_oyster_read_here_first/
JOIN TELEGRAM: https://t.me/oysterprotocol
https://coinmarketcap.com/currencies/oyster/#charts
Why Oyster?
there will be an airdrop of a new coin called OYSTER SHELL 1:1 for each PRL you own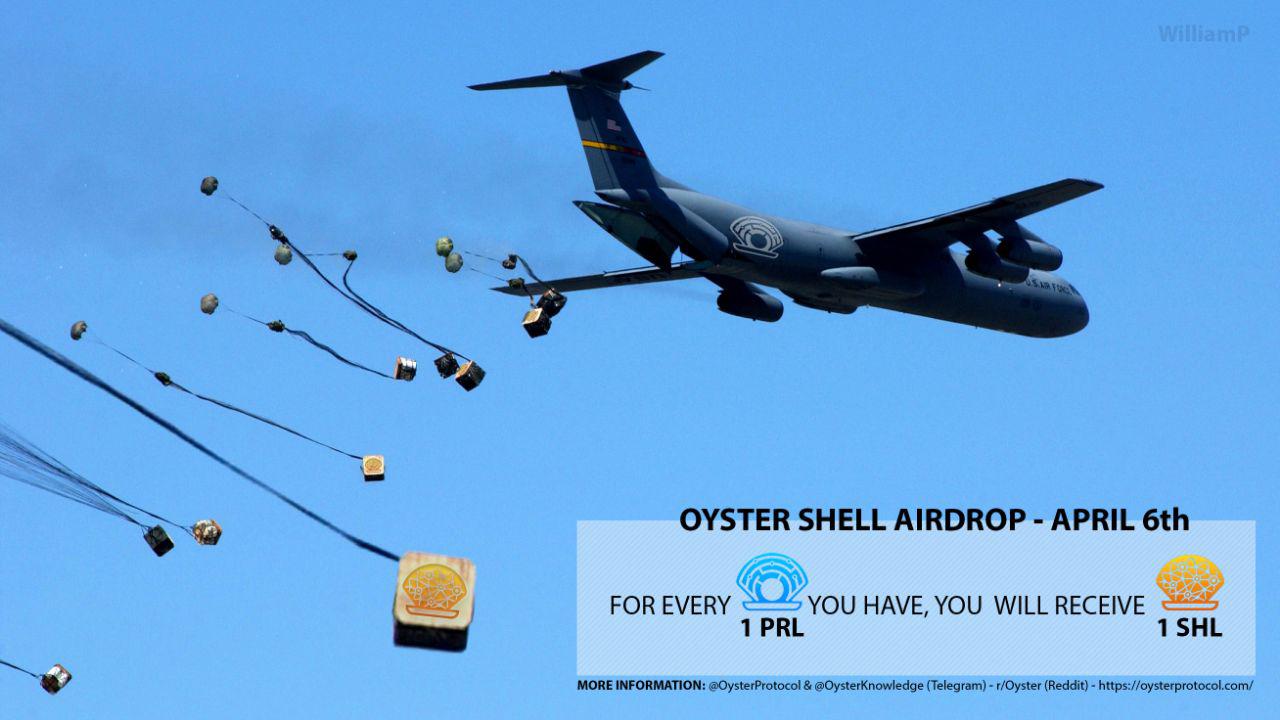 COIN BURN on 1st of March!

BURNING COINS + AIRDROP of a new TOKEN (April 6) = moon guaranteed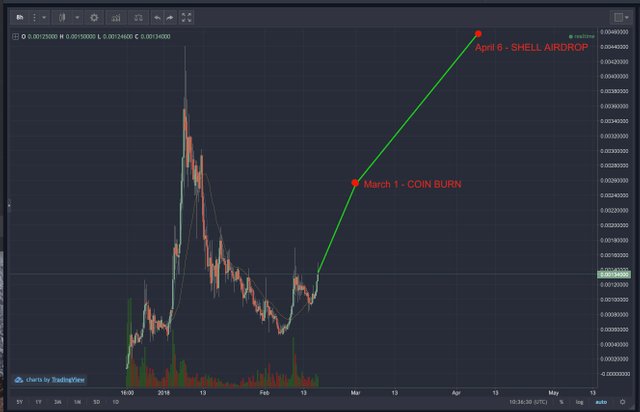 less circulating coins + your coins will essentially double! stock up now to get as much of a supply before they burn and then enjoy your holdings 2x!

it's still very cheap both in terms of a dollar price (just over $1) and the market cap (sub 100m),

it has a strong and rapidly growing community of believers

it's technically sophistication as it utlizes IOTA tangle technology as one of first dapps furring on IOTA (fist mover advantage),

It has enough key buzzwords to shill it over $10

many whales I know are accumulating and will drive this coin into a stratosphere

paid groups are accumulating, recently released report: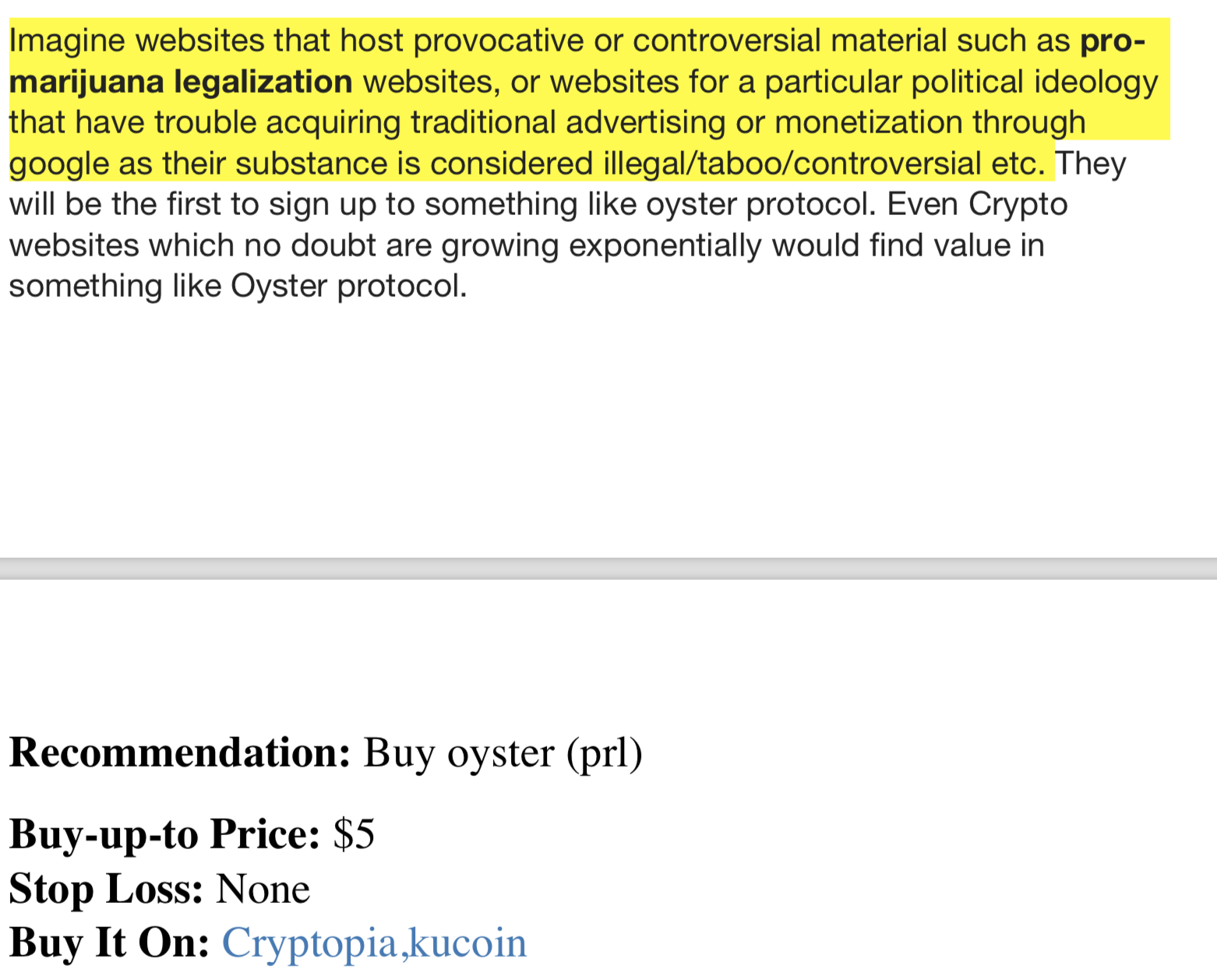 Safe buy zone is everything under $2. Accumulate here and don't look at price swings.
Buy here:
https://www.kucoin.com/#/trade.pro/PRL-BTC
https://www.kucoin.com/#/trade.pro/PRL-ETH
Website: https://oysterprotocol.com