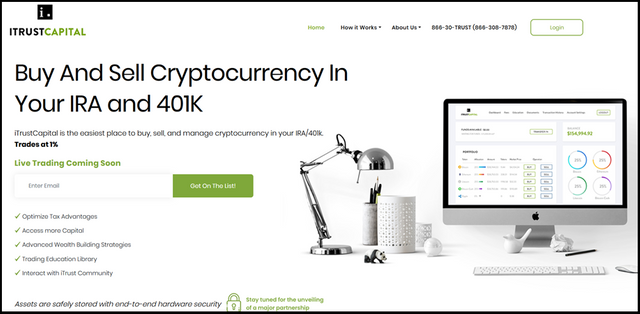 ---
Using your IRA or 401k to invest in cryptocurrency becomes easy and manageable thanks to iTrustCapital. This fully regulated and SEC/IRS compliant platform helps you invest in cryptocurrencies through your retirement savings accounts.
iTrustCapital offers you access to the first fully regulated crypto trading platform for IRAs. You can easily rollover funds from an existing IRA, Roth IRA, SEP, SIMPLE IRA, 403b, or 401K into your own iTrustCapital IRA account, which you can manage yourself.
---
What Are The Setup & Trading Costs?
In order to set up your new custodial retirements account and facilitate the rollover of your retirement funds, iTrustCapital charges a one-time service fee. Additionally, there's also a minimal custodian and security fee. In terms of fees, iTrustCapital is significantly cheaper than its main competitor, BitcoinIRA.
Keep in mind that the exact cost is calculated for your particular investment amount, you can call iTrustCapital to receive a cost summary for your particular investment needs at 866-30-TRUST (866-308-7878).
Trading from within the iTrustCapital trading platform, you pay a low fee of 1% on each trade. Compared to similar services, this is an enormous cost reduction, as some services charge you double-digit margins.
Benefits of Using iTrustCapital
Having the ability to use funds from your existing IRA or 401K retirement savings accounts to invest in cryptocurrency is huge! By trading cryptocurrency with your iTrustCapital IRA account, you can invest in cryptocurrency tax free, as long as it remains into your IRA account. You get access to more capital, by using your existing IRA and/or 401K & have the ability to invest it in one of the fastest growing industries.
---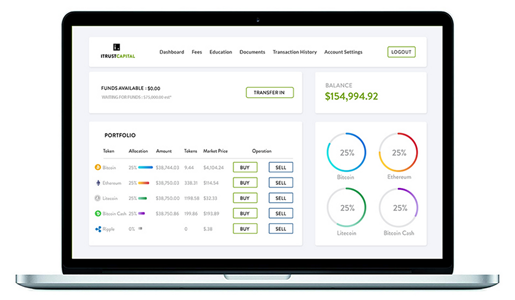 Copyright iTrustCapital
---
iTrustCapital currently offers cryptocurrency trading for a select number of coins: Bitcoin (BTC), Ethereum (ETH), Ethereum Classic (ETC), Ripple (XRP), Litecoin (LTC) and Bitcoin Cash (BCH).
Now, perhaps the most important feature of using iTrustCapital is that they provide you with a full service from start to finish. As soon as your account is set up, you can start trading immediately. During business hours, there's always someone available to offer you assistance if needed! Their trading platform is designed to be fully secure and it allows you to trade using an easy point-and-click interface.
The CEO of iTrustCapital
When you're trusting a company with your retirement savings, you'd better be sure that you can trust the people in charge of that company.
CEO Morgan Steckler has close to 20 years of experience in the retirement account space. Before starting iTrustCapital, he co-founded two other crypto IRA investment firms, one of which was the first company to offer this particular service. Through his experience at those two other firms, he gained the knowledge to start iTrustCapital from the ground up, offering the similar services at a much lower cost!
Visit Morgan Steckler's LinkedIn page for more information
Watch this interesting interview of Morgan Steckler by Crypto Cowboys (Youtube)
---
Subscribe to Get on the List!
Live trading via iTrustCapital will launch soon, you can enter your email address on the iTrustCapital website to get notified when the platform becomes available.
You can always ask for a price quote and more information on setting up an IRA account through iTrustCapital!

---
DISCLAIMER: This post is not meant to serve as financial advice. You are responsible for any decisions you make regarding investment of your own capital.